All About Bone Broth
Bone broth. Amazing nutrition for the human body. Our grandmothers knew what they were doing when they made homemade chicken soup for us when we were sick. Slow simmered broth based soups are packed full of magical health benefits. Broth is filled with vitamins, minerals, collagen, gelatin, magnesium, potassium and calcium. The long slow simmer breaks down bones releasing vitamins, minerals and nutrient-rich collagen. The powerful healing properties of bone broth include boosting gut health, joint pain relief, strengthening of kidneys, rebuilding damaged tissues, ligaments, cartilage, bone and generating energy. Collagen and gelatin in bone broth have the beauty enhancing abilities to brighten your skin, promote shiny hair, strengthen your nails and even help to keep the wrinkles away!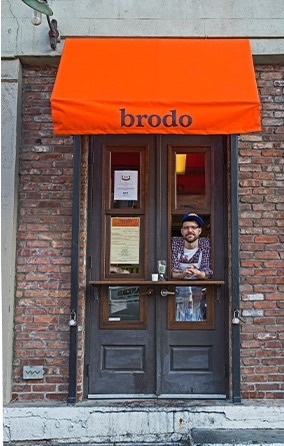 It's no wonder that Brodo, the new bone broth take-out window in New York City, has long lines for this miraculous old fashioned comfort food! As Chef Marco Canora, owner of Brodo, says "It's the world's finest comfort food, especially when it's made with a couple of tablespoons of pastina and some Parmesan cheese. The flavors are insane." Canora, a two time James Beard Award winning chef, realized the powers of bone broth after becoming stressed, depressed, overweight and ill. Upon seeing a nutritionist he was told he had several health conditions that needed to be addressed. It was then he began his quest for health, changed his lifestyle and discovered the healing abilities of broth, or brodo, as it is called in his native Italy. Marco now serves his sipping broths, "the world's first comfort food", with the option of stir-ins such as ginger juice, calabrian chili oil, bone marrow and roasted organic garlic puree. These days many are strolling the streets of the city sipping cups filled with piping hot broth rather than coffee. As Canora says, it's time to "rethink your hot beverage."
Check out the trending book, Nourishing Broths: An Old-Fashioned Remedy for the Modern World, by Sally Fallon Morell, co-founder of the Westin A. Price Foundation, it's everything you wanted to know about broth.......and more!
March is National Nutrition Month and bone broth is a fabulous way to nourish your body and "Bite into a Healthy Lifestyle" by sipping on bone broth!
And, of course, Swirls has a bone broth recipe just for you! You'll want to make our Slow Cooker Bone Broth and you're definitely going to "rethink your hot beverage"!