There's a new trend on Pinterest and, yes, I'm hopping on the bandwagon again! Here's a fun, different and fabulously delicious way to eat the nutritious, delicious and trendy cauliflower. Just slice the cauliflower into thick "steaks", season and cook!  A source of vitamins B6, C and K, fiber, manganese and omega-3s, cauliflower also provides nutrient support for the body's detox system, the antioxidant system and the anti-inflammatory system. Even better, it is low in fat and carbohydrates and high in fiber and folate! When buying this sweet nutty-flavored vegetable, look for clean creamy white colored heads that feel heavy for their size and are surrounded by fresh looking ribbed green leaves.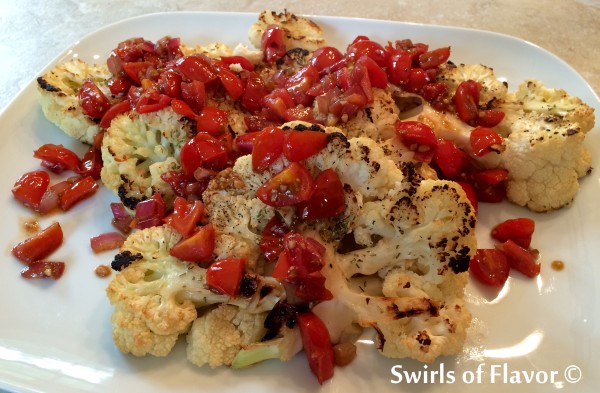 Cauliflower steaks are perfect as your main meal, especially on a Meatless Monday, and also as your vegetable side dish, the choice is yours! Either way I guarantee your cauliflower steaks will be fabulously delicious!
 Rosemary Balsamic Cauliflower Steaks
4 (1-inch) thick cauliflower slices, from 1 large head
4 Tbs. olive oil, divided
3/4 tsp. kosher salt, divided
1/4 tsp. crushed rosemary
1 cup chopped tomatoes
2 Tbs. chopped red onion
1 clove garlic, minced
1 tsp. Balsamic vinegar
1. Preheat oven to 425F.
2. Brush both sides of cauliflower slices with 3 Tbs. olive oil and sprinkle with 1/2 tsp. kosher salt and crushed rosemary.
3. Heat large non-stick skillet over medium-high heat and cook cauliflower, in batches, until lightly browned, turning once, about 4 minutes. Transfer cauliflower to baking sheet with low sides and cook in oven 25 minutes or until tender.
4. Meanwhile, in same skillet, heat remaining 1 Tbs. olive oil and cook tomatoes, red onion, garlic and remaining 1/4 tsp. kosher salt until just tender, 2 minutes. Stir in balsamic vinegar and cook until heated through, 1 minute.
5. Arrange cauliflower "steaks" on serving dish and top with tomato mixture.
Makes 4 servings.