No-Bake Spooky Spider Cookies are the perfect addition to your Halloween celebration this year! With their big googly eyes and creepy little legs, these no-bake Halloween cookies with be the hit of your ghoulish celebration and kids will love gobbling them up!
No-Bake Spider Cookies Recipe
Kids will love making No-Bake Spooky Spider Cookies as a craft project and they'll be delighted when they get to eat them too! Or just make them as the googly-eyed dessert to celebrate the spookiest of days. These adorable, I mean spooky, spiders are made from mini oreo cookies, black licorice and edible sugar eyes.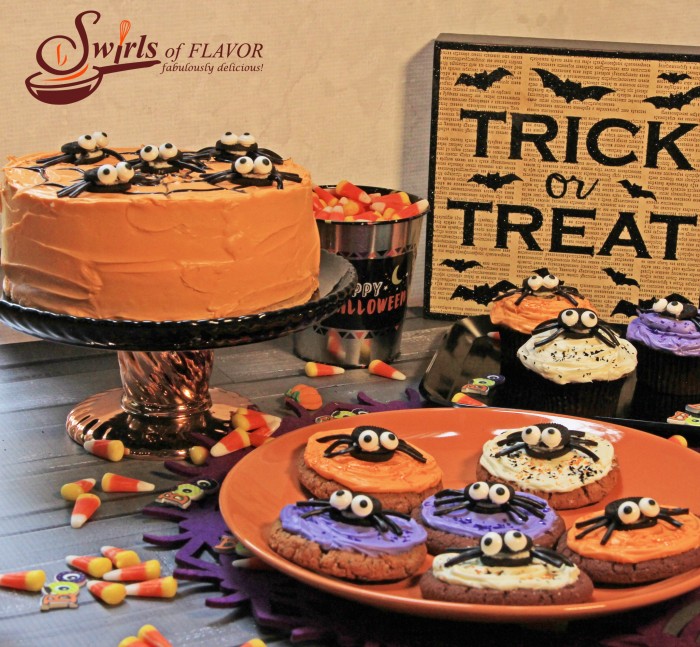 And these little spider creatures are just as happy on top of a cupcake or a spider-webbed layer cake as they are on a store-bought cookie. So let them crawl around on your dessert of choice! A quick trip to the grocery store, and the craft store for the sugar eyeballs, if your grocery store isn't quite up to speed for Halloween, and you'll be all set for this adorable Halloween treat!
This post contains affiliate links. If you make a purchase through one of these links, I make a small commission at no extra cost to you. (Privacy Policy)
I love to go all out and add more spider decorations to my table and this ceramic spider bowl is an adorable way to serve more treats! And why not sprinkle some plastic spiders on your table too! And don't forget to hang a huge 22-inch inflatable monster spider balloon from the ceiling too. Now that's a creepy crawly party!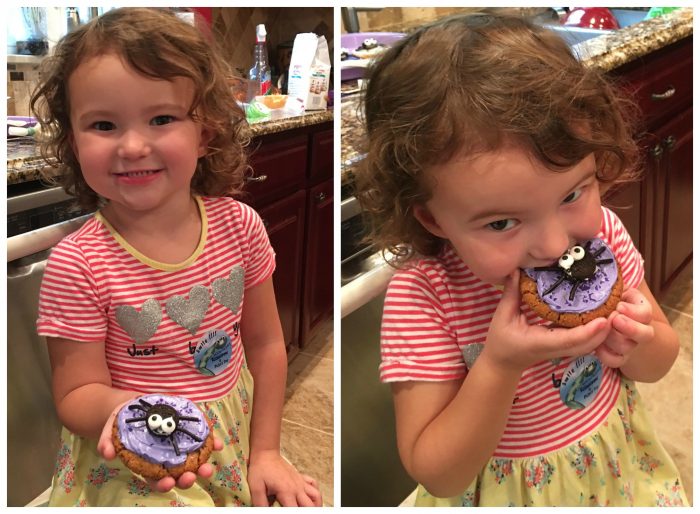 More Halloween Recipes
Bloodshot Eyeball Pizza is perfect for a Halloween party, after school snack before venturing out into the neighborhood to trick or treat, and oh so nice to come home to after going door to door for all that candy!
Made with just four ingredients, Halloween Mummy Quesadillas will get everyone in the Halloween mood and kids will have fun munching on these spooky quesadillas!
Halloween Graveyard Chips & Dip is a spooky, spicy and fabulously delicious dip that will certainly be a hit at your Halloween party this year!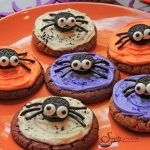 No-Bake Spooky Spider Cookies
No-Bake Spooky Spider Cookies are the perfect addition to your Halloween celebration this year! They can be an edible craft project for the kids or the googly-eyed dessert you've made to celebrate the spookiest of days.
Instructions
Spread frosting over top of cookie, about 1 Tablespoon frosting per cookie.

Sprinkle with cake sparkles.

Gently press licorice pieces into creme center of mini cookies to form spider legs.

Use remaining frosting to attach candy eyeballs to cookie.

Place cookie spider on top of cookie. Boo!
Recipe Notes
Makes 12 cookies.
Check out the No-Bake Spooky Spider Cookies video on YouTube!
Click on the link below!