Surrounded by a creamy cheddar sauce, every spoonful of cauliflower in Cauliflower Mac and Cheese is bursting with cheesy goodness! Trust me, you won't miss the pasta! Serve as a side dish or a main dish, the choice is yours. Macaroni and cheese will never be the same again.
Cauliflower Mac N Cheese Recipe
Who loves mac 'n cheese? We all love macaroni and cheese, of course! From early childhood on, macaroni and cheese cannot be denied as a go-to comfort food.
First Published: January 16, 2018... Last Updated: November 20, 2019
So let's take this beloved comfort food to a healthier, yet still so delicious, level with Cauliflower Mac 'N Cheese! That's right, we are replacing the carb heavy pasta, the "mac" part of mac 'n cheese, with cauliflower!
And, let me tell you, this tastes fabulous! Surrounded by a creamy cheddar sauce, every spoonful of cauliflower is bursting with cheesy goodness!
Who Invented Mac N Cheese?
So I got to thinking……how long has macaroni and cheese been around? And who actually invented macaroni and cheese? Seems there are several urban legends out there that credit Thomas Jefferson.
Apparently he brought a pasta machine and noodle recipes with him to the Colonies because there were none available here. When he was president he had his cook make macaroni, add lots and lots of York cheddar cheese and bake it.
And in 1802 he served macaroni and cheese at a state dinner in the White House. So macaroni and cheese is quite presidential! Who knew? Jefferson's mac 'n cheese was a baked macaroni and cheese which is mighty delicious and stove top mac 'n cheese versions are quite fabulous too!
In 1937, during the Great Depression, Kraft Foods launched it's boxed macaroni and cheese that is still a staple in households to this day. And now you can get elbow pasta, shells pasta, spiral pasta and even specialty pastas, such as Minions, A-B-C's and 1_2-3's, and Star Wars shapes! We've come a long way since Thomas Jefferson but I'm so thankful to him for creating macaroni and cheese, aren't you?
Ingredients you will need to make this recipe
butter
onion
cauliflower
evaporated milk
Worcestershire sauce
dry mustard
cheddar cheese
sliced scallions
Recipes With Cauliflower
Love Cauliflower like I do? Then you won't want to miss these Swirls' cauliflower recipes!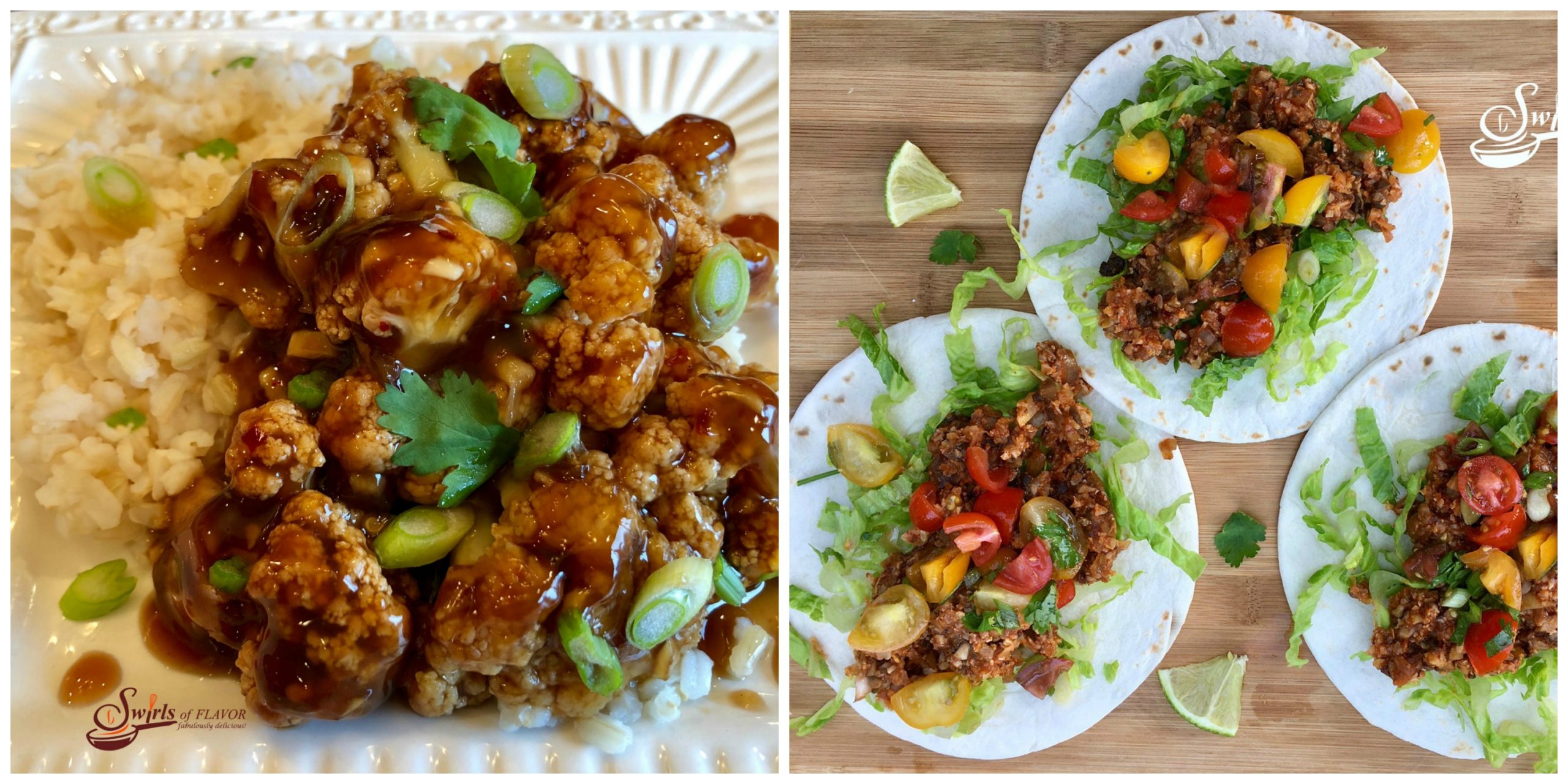 General Tso's Cauliflower will replace your Chinese take out! A silky sauce seasoned with fresh ginger, garlic and red pepper flakes, for just a touch of heat, surrounds tender cauliflower for the perfect meatless meal.
When you feel like doing Taco Tuesday on Meatless Monday then Oven Roasted Cauliflower Tacos will be perfect choice for you! Cauliflower slow roasts to delicious goodness and then combines with mushrooms giving a meaty flavor to this meatless taco filling.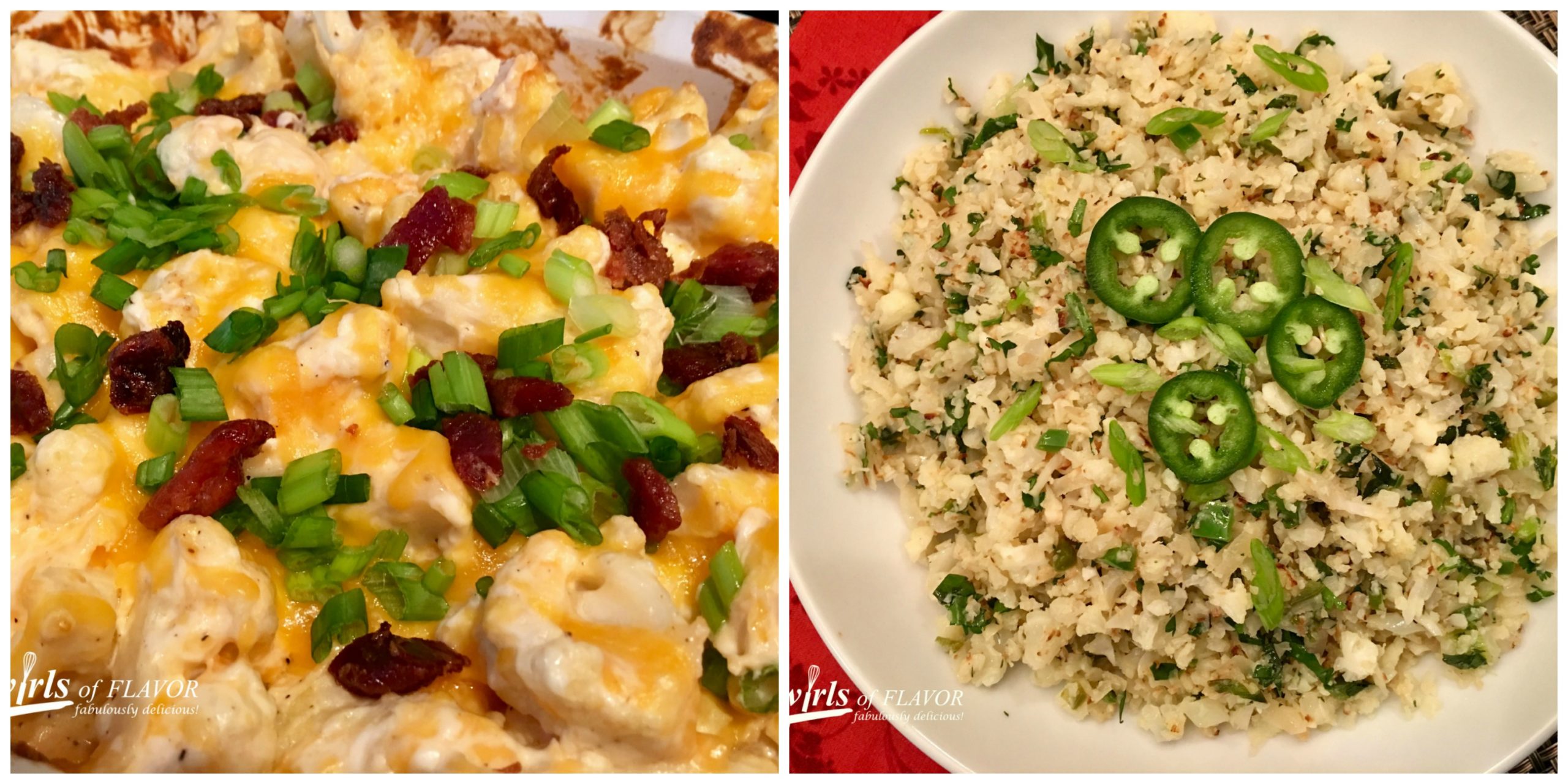 Jalapeno Lime Cauliflower Rice is bursting with flavor starting with a little kick from fresh jalapeno that's balanced with the freshness of chopped cilantro and lime juice! A nice change of pace from rice, cauliflower rice is low calorie, low carb, gluten free, grain free, diabetic friendly, delicious, nutritious, easy to make.
Loaded Baked Cauliflower Casserole is an easy side dish and a healthy alternative to the classic loaded baked potato. Cauliflower is cooked to perfection with cheesy goodness that melts into all the nooks and crannies.
As an Amazon Associate I earn from qualifying purchases.
Cauliflower Mac 'N Cheese
Surrounded by a creamy cheddar sauce, every spoonful of cauliflower in Cauliflower Mac 'N Cheese is bursting with cheesy goodness! You won't miss the pasta!
As an Amazon Associate I earn from qualifying purchases.
Ingredients
1/4

cup

butter

1/4

cup

chopped onion

4

cups

small cauliflower florettes

,1 pound

1

(12 ounces) can

evaporated milk

1 1/2

tsp.

Worcestershire sauce

1/2

tsp.

dry mustard

1 1/2

cups

shredded cheddar cheese

sliced scallions

,optional garnish
I earn a commission from Instacart from qualifying purchases.
Instructions
Melt butter in medium saucepot over medium-high heat. Add onion and cook until just tender and translucent, about 3 minutes.

Add cauliflower florettes and 1/4 cup water. Reduce heat to medium. Cover and cook until cauliflower is tender, about 10 minutes.

Uncover, add evaporated milk, Worcestershire and dry mustard and bring to a boil.

Reduce heat, stir in cheddar cheese and simmer until the cheese is melted and a sauce has formed, stirring occasionally.

Sprinkle with sliced scallions, if desired.
Nutrition
Calories:
306
kcal
|
Carbohydrates:
7
g
|
Protein:
13
g
|
Fat:
26
g
|
Saturated Fat:
16
g
|
Cholesterol:
75
mg
|
Sodium:
413
mg
|
Potassium:
370
mg
|
Fiber:
2
g
|
Sugar:
3
g
|
Vitamin A:
779
IU
|
Vitamin C:
49
mg
|
Calcium:
331
mg
|
Iron:
1
mg