What does cauliflower taste like? With its sweet and nutty flavor, cauliflower is a versatile vegetable that has gained popularity in recent years. Cauliflower can also take on the taste of seasonings and other ingredients in a recipe. Read on to learn all about cauliflower!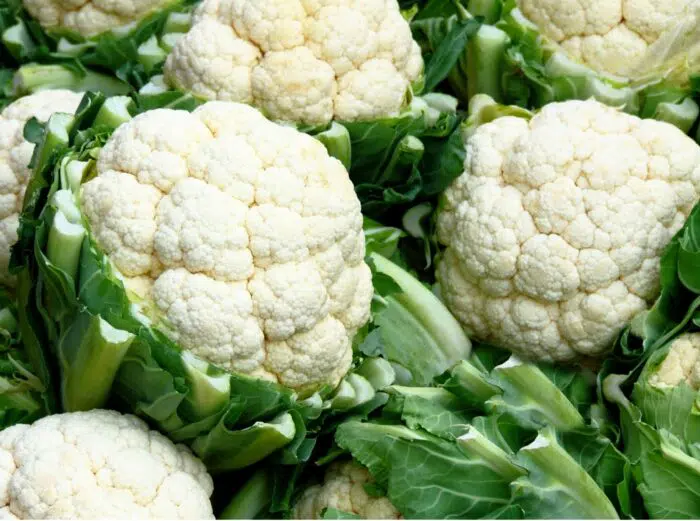 What does cauliflower taste like?
Let's begin with what cauliflower is. Cauliflower is what's known as a cruciferous vegetable, which means that it's related to cabbage. Arugula, broccoli, Brussels sprouts, collard greens, radishes and turnips are also included in this family of vegetables.
So here's a fun fact that I just found out.
Believe it or not, although cauliflower has been grown and eaten in Europe since the 1500's, we did not begin to grow it here in the United States until the 1900's. Who knew? Now you do!
Cauliflower has been selectively bred over the years to have an overall flavor that's fairly nutty and almost sweet. This makes it a desirable vegetable to eat and serve.
However, cauliflower also can have a bitter base note flavor. But don't worry, it's bitterness isn't unpleasant or overpowering, as it would be in whiskey or black coffee. Instead, the bitterness is a gentle note of something quite earthy and rich.
Therefore, you could describe cauliflower as being quite nutty and earthy, with a hint of sweetness.
Cauliflower also easily takes on the flavors in a recipe such as in our General Tso Cauliflower recipe.
How to buy cauliflower
First of all, make sure to find a head of cauliflower that has a rich, creamy white color.
The florets themselves should be free of blemishes, browning, or any kind of wet spots.
Uniform color of the florets is good. Any non-uniform spots will indicate somewhere that the cauliflower has been knocked, jostled, or has grown inadequately.
The cauliflower head should, for its size, feel heavy in your hand.
If you're buying purple, orange, or green cauliflower, the color should similarly be uniform across the surface of the florets.
Also, you should take a look at the leaves of cauliflower before buying it. They should be fresh and vibrant, which will be a sign that the vegetable has recently been harvested.
Freshly picked is best for all vegetables The flavors and nutrients are at their best when vegetables have just been picked.
Finally, take a sniff of the cauliflower itself. It shouldn't smell too pungent.
Instead, the head of cauliflower should have a faint aroma of fresh vegetables and greenery. If the scent is strong, then the cauliflower is likely past its prime and it will probably have an unpleasant taste.
Types of cauliflower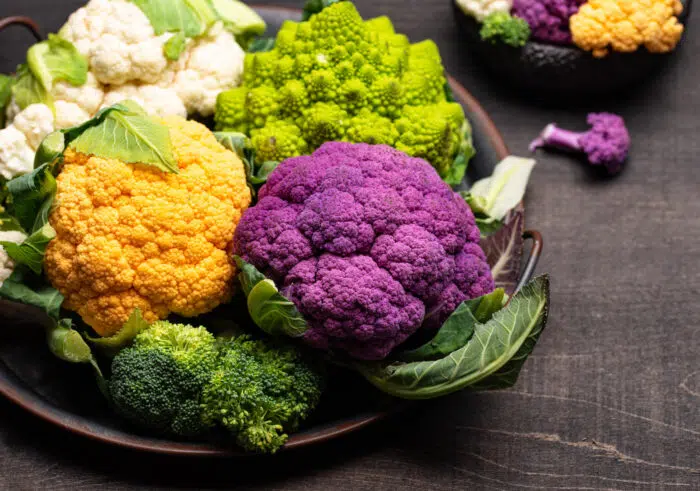 Several types of cauliflower, some very beautiful in color, are available including:
Classic white cauliflower
Purple cauliflower

Sweeter, milder and nuttier flavor than white cauliflower

Tends to lose some of its intense color during cooking. Adding lemon juice to the cooking water may help

More tender than white cauliflower

Green cauliflower

Also known as broccoflower because of its green color

Has a sweeter and milder taste than white cauliflower

Has a more fiberous texture than white cauliflower. You would not want to make cauliflower rice out of green cauliflower because of it texture.

Yellow/orange cauliflower

The color becomes more intense during cooking

Healthier than white cauliflower because of its higher beta-carotene levels

Sweeter milder flavor than white cauliflower

Romanesco cauliflower

Has pointy florets that give it a beautiful look

Crunchier texture than white cauliflower

Tastes more like broccoli than cauliflower

Has a delicate nutty flavor with sweet notes
How to store cauliflower
Cauliflower is best stored in a way that it can breathe a little.
When you buy cauliflower from a supermarket, it is typically completely wrapped in non-breathable plastic. This will result in condensation as you store the vegetable, promoting rot in turn.
If you buy a cauliflower that's stored in that way, I recommend unwrapping it immediately when you get home and transferring it to a loose plastic bag. The bag should be loosely tied to promote airflow.
Also, you might want to put a small piece of paper towel in the bag too. The paper towel will absorb moisture as the cauliflower is stored.
I find it helpful to always visit the FDA website for food storage guidelines.
How long does cauliflower last?
A whole head of cauliflower will last a little longer than florets. This is because there is some level of nutrients stored within the core, stalk, root, and leaves of the plant that the florets can draw from to extend their life a little.
The same principle applies to other ingredients in your kitchen. Most people notice this with garlic - cloves will last longer when kept in the bulb than if they're separated in your kitchen.
A whole head of cauliflower can be kept in a loosely sealed bag in your fridge for up to seven days.
Pre-cut florets, on the other hand, can't really be stored for more than four days.
Always take a quick sniff of any cauliflower before you use it. If the vegetable has spoiled the smell with be unpleasantly pungent.
You can always hop on over and check the FDA Guidelines for Food Safety.
I make commissions for purchases made through links in this post.
How to cook cauliflower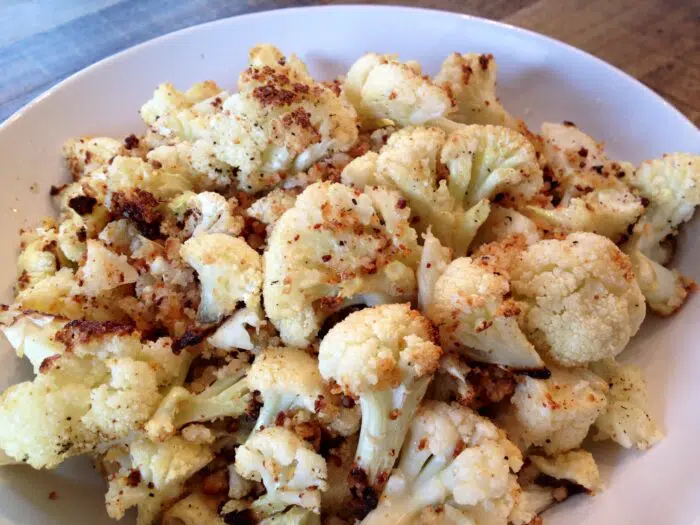 Cooking cauliflower is simple and there are several easy ways to cook this vegetable.
Boil

A quick and easy way to cook cauliflower is to break the head up into florets, boil them and then toss with some butter and seasonings.
Roast

You can also roast cauliflower florets in the oven with some finely minced garlic, olive oil and seasonings for 25 minutes in a 400F oven.

Also delicious, after roasting the cauliflower you can then toss them with some lemon juice and finely grated parmesan cheese.
Saute

Just heat some olive oil in a skillet and add your cauliflower and seasonings. Cook until tender, stirring occasionally.
Health benefits of cauliflower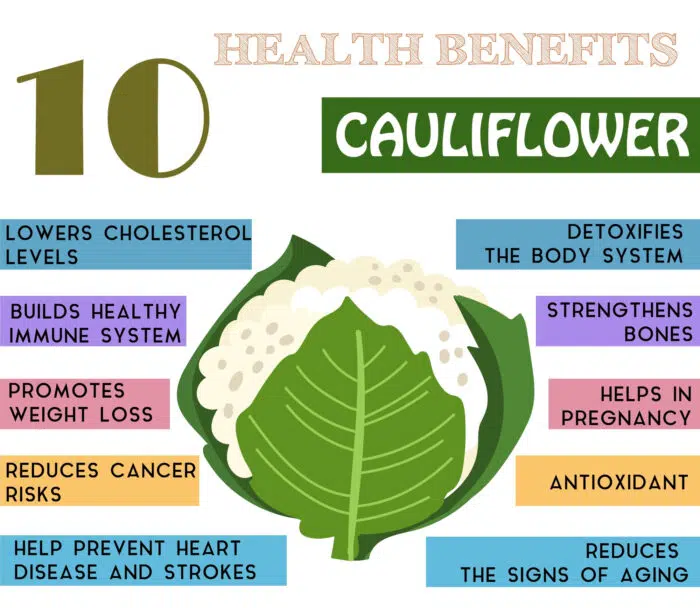 There are a number of health benefits to cauliflower, from the fiber content to the vitamins it's bursting with.
First of all, this unassuming vegetable contains at least a small amount of nearly every vitamin and mineral a person needs in their diet.
For example, a serving of cauliflower contains the following:
vitamin C
vitamin K
vitamin B6
folate
pantothenic acid
and five other nutrients
Secondly, cauliflower has a high amount of fiber within it. This can be seen in the plant as it cooks because it holds onto its shape when other vegetables tend to wilt.
Foods with a lot of fiber are important for digestive health. Good digestive health reduces the risk of several chronic diseases, leading to a healthier body overall!
Lastly, cauliflower also:
Builds a healthy immune system
Detoxifies the body system
Helps in pregnancy
Helps prevent heart disease and strokes
Is an antioxidant
Lowers cholesterol levels
Promotes weight loss
Reduce the signs of aging
Reduces cancer risks
Strengthens bones
Cauliflower is truly bursting with goodness for you.
What is cauliflower rice?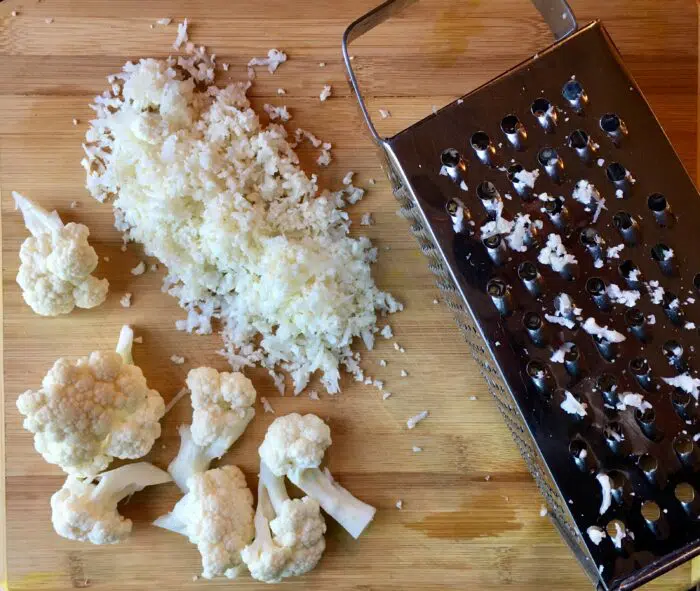 Quite simply, cauliflower rice is cauliflower that has been either finely chopped or grated such that it resembles grains of rice.
Typically, cauliflower rice is cooked and served in a similar way to rice, making a great replacement for people that are trying to cut down on starchy foods in their diet.
Cauliflower rice also makes a delicious cauliflower risotto.
You can easily make your own cauliflower rice and also find frozen cauliflower rice in your grocery store making it easy to keep on hand in your freezer.
What does cauliflower rice taste like?
Cauliflower rice tastes like, well, cauliflower!
It isn't a bad taste at all, but it certainly isn't a taste that's similar to plain rice itself. As I already mentioned, cauliflower is quite nutty and earthy, while also being a little sweet.
Cauliflower rice generally takes on the flavors of whatever you use to season it. This means that you can adjust your cauliflower side dish to take on whatever flavors you prefer whether that's soy sauce, parmesan or even curry.
Easy Cauliflower Recipes
Be sure to try out a few of our easy cauliflower recipes!
I absolutely adore cauliflower as a vegetable. Can you tell?
It's flavorful, healthy, and wonderfully versatile in the kitchen.
So head on over to the produce section of your grocery store, or even better, go to your local farmers market and get yourself some delicious and nutritious cauliflower today.
And be sure to visit the Swirls of Flavor Amazon Storefront for GG's personal kitchen recommendations!