This post contains affiliate links. (Disclosure policy)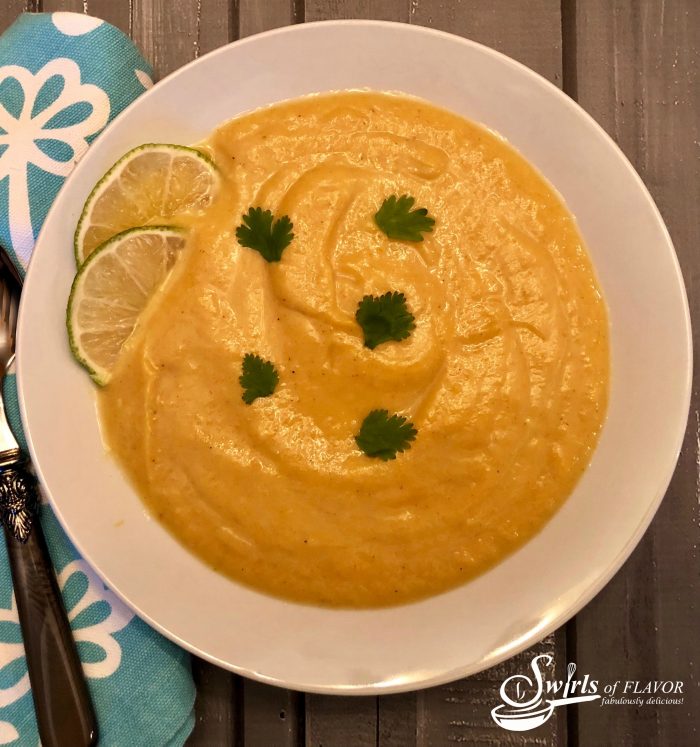 Ok, ok, ok. I'm finally getting on board with this instant pot craze that's been happening for about a year now. Yes, I know, I'm a little late but at least I'm here now! And I'm here with Instant Pot Curried Cauliflower Soup and I could not stop eating it! After all, it's my job. I must taste test until I get the most perfect balance of flavors for you. Well, yes, I did get it right on the first try and just kept eating it…..but I had to be sure! (haha) So do you have an Instant Pot yet? It's time to get on board folks. You're going to love it! Ready in a matter of minutes, this creamy Curried Cauliflower Soup is amazingly rich and silky. You won't believe that there's no cream or cheese in it. Your taste buds will tell you that Instant Pot Curried Cauliflower Soup is oh so decadent and creamy but you'll know that it's packed with fresh veggies and great flavors!
Instant Pot Curried Cauliflower Soup
2018-01-15 19:20:01
Serves 4
Nutrition Facts
Amount Per Serving
* Percent Daily Values are based on a 2,000 calorie diet. Your Daily Values may be higher or lower depending on your calorie needs.
Ingredients
2 Tbs. butter
4 cups (1 pound) cauliflower florettes
1 cup chopped onion
1 cup chopped carrots
1 cup chopped celery
2 cloves garlic, chopped
1 Tbs. chopped fresh ginger
1 cup unsweetened coconut milk
1 cup chicken broth*
1 Tbs. ground curry powder
1 tsp. kosher salt
cilantro leaves
Instructions
Set your Instant Pot to Saute.
Melt butter and cook cauliflower, onion, carrots, celery, garlic and ginger until tender-crisp, about 5 minutes, stirring occasionally.
Combine coconut milk, broth, curry powder and kosher salt. Pour over vegetables.
Cover and set at Soup setting for 15 minutes.
Release steam according to manufacturer's directions.
Remove cover. Using an immersion blender** puree until smooth.
Garnish with cilantro leaves.
Notes
Makes 5 cups.
*Prefer your soup a bit thinner? Just add additional broth in 1/2 cup increments until desired thickness.
**If using a standard blender, cool soup slightly and puree in small batches.
Swirls of Flavor https://swirlsofflavor.com/