This post contains affiliate links. (Disclosure policy)Have you seen all the sheet pan recipes on Pinterest lately? There are sheet pan chicken dinners, sheet pan fish dinners, sheet pan meatless dinners, sheet pan beef dinners and now there's sheet pan breakfasts too! Because why not make the start of your day as easy as the end of your day is with sheet pan cooking?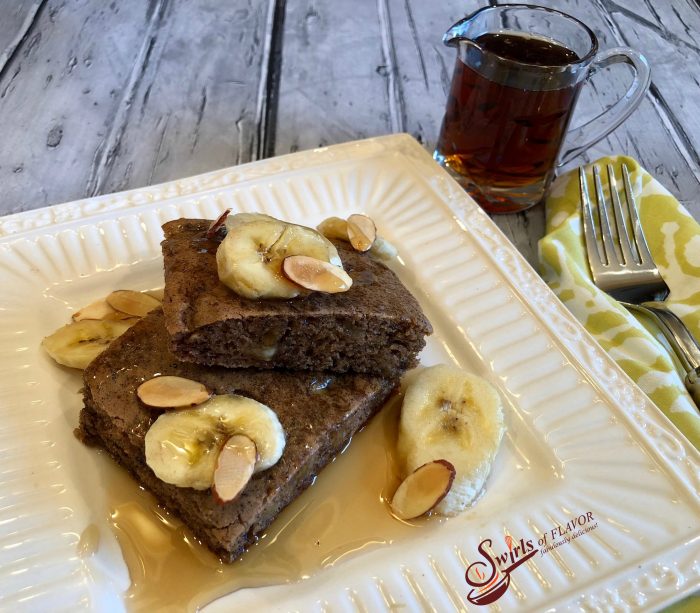 So do you love banana bread? Of course you do. Do you love pancakes? Of course you do. So let's do this! Let's combine cinnamon, brown sugar and bananas, the fabulous flavors of banana bread with a homemade pancake batter. And then let's pour it in a sheet pan, bake it and then cut it in squares. No more standing over a stove top griddle making pancakes one by one. Sheet Pan Banana Bread Pancakes for breakfast. Mornings just got easier and oh so delicious!
For the banana lovers you know, Chunky Monkey Bread Pudding will delight their taste buds! And for those leisurely mornings when you have the time for make individual pancakes, Flourless Chocolate Oat Pancakes and Pumpkin Spice Pancakes are both to die for! And don't forget to go bananas over the Best Ever Banana Bread!
Sheet Pan Banana Bread Pancakes
2018-02-05 18:38:04
Serves 4
Sheet Pan Banana Bread Pancakes make mornings easier and oh so delicious! Brown sugar, cinnamon and bananas bake in a pancake batter in just minutes!
Nutrition Facts
Amount Per Serving
* Percent Daily Values are based on a 2,000 calorie diet. Your Daily Values may be higher or lower depending on your calorie needs.
Ingredients
2 cups all-purpose flour
1/3 cup packed brown sugar
2 tsp. ground cinnamon
2 tsp. baking powder
1 tsp. baking soda
1/2 tsp. kosher salt
1 1/4 cups almond milk or whole milk
2 large eggs
1 cup mashed bananas, about 2 bananas
4 Tbs. butter, melted
1 tsp. vanilla extract
Serving Suggestions
sliced bananas
toasted sliced almonds
maple syrup
Instructions
Preheat oven to 425F. Line a 9 x 13-inch sheet pan with foil. Coat with melted butter or no-stick cooking spray.
In one bowl combine flour, brown sugar, cinnamon, baking powder, baking soda and salt.
In another bowl combine milk, eggs, mashed bananas, melted butter and vanilla.
Add wet mixture into dry mixture and stir until just blended.
Spread pancake batter evenly in prepared sheet pan.
Bake 15 minutes or until puffed nd baked through.
Cut into squares and serve with additional sliced bananas, sliced almonds and maple syrup
Swirls of Flavor https://swirlsofflavor.com/