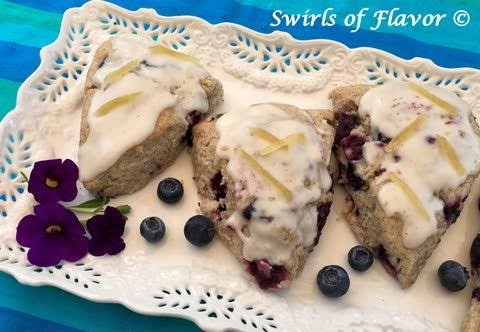 I love the ease of dining al fresco on a summer morning with Ginger Glazed Blueberry Scones and a pitcher of iced tea. Add a slight breeze and warm sunshine and my morning just went from good to fabulous! With blueberry season in full swing, scones are the perfect way to savor the sweetness of one of the highest antioxidant foods in the world! The list of the health benefits of blueberries is quite amazing.
Blueberries are :
high in fiber
low in calories
low on the glycemic index
a natural source of soluble fiber and insoluble fiber
rich in antioxidants which reverses damage by toxins and free redicals
Blueberries also:
aid in weight loss
restore hormone balance which counteracts acne
promote heart health
lower LDL cholesterol naturally
lower blood pressure naturally
raise HDL cholesterol naturally
protect your brain from degeneration, neurotoxicity and oxidative stress.
benefit your skin by reducing sun dmamge
So I say, please pass the Ginger Glazed Blueberry Scones!
Ginger Glazed Blueberry Scones
Scones:
2 cups flour
1/4 cup sugar
2 tsp. baking powder
1 tsp. ground cinnamon
1/4 tsp. salt
8 Tbs. cold butter, cut in small pieces
1 cup blueberries
1 Tbs. lemon zest
1/2 cup milk
1 egg, lightly beaten
Glaze:
1 cup confectioners' sugar
1/4 tsp. ground ginger
3-4 tsp. warm water
2 Tbs. thinly sliced crystallized ginger
Preheat oven to 400F. Grease baking sheet with nonstick cooking spray.
Scones: In bowl combine flour, sugar, baking powder, cinnamon and salt.
Using pastry cutter, or two knives, cut in butter until mixture is size of very coarse crumbs.
Stir in blueberries and lemon zest. Stir in milk until mixture just holds together.
On a lightly floured surface, knead dough slightly and shape into an 8-inch circle, about 1-inch thick. Cut into 8 wedges and transfer to prepared baking sheet.
Brush tops with beaten egg and bake 20 minutes or until tops are golden. Cool 2 minutes on baking sheet. Transfer to wire rack and cool slightly.
Glaze: In bowl combine confectioners' sugar, ground ginger and water, stirring until smooth. Glaze tops of scones. Top with sliced crystallized ginger. Serve warm or at room temperature.
Makes 8 scones.