You can have a piece of Blueberry Mug Cake With Lemon Glaze in just minutes with our easy mug cake recipe that "cooks" in your microwave in just minutes!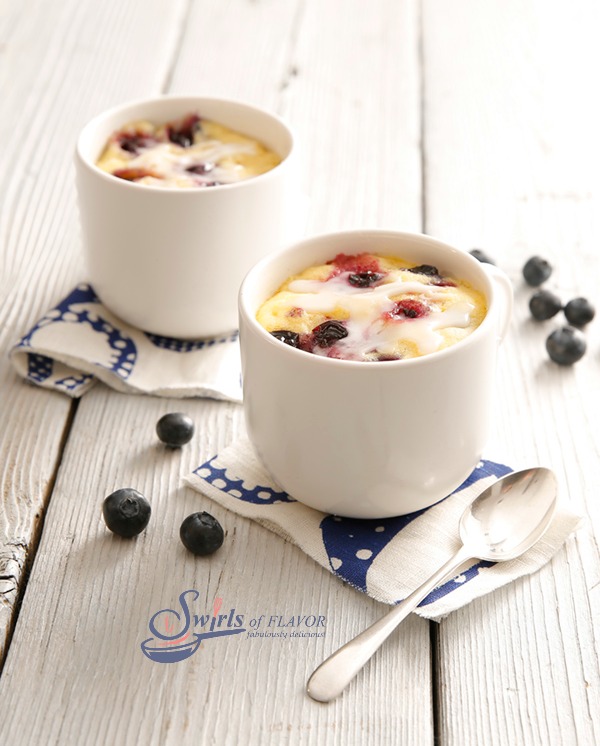 This post contains affiliate links. If you make a purchase through one of these links, I make a small commission at no extra cost to you. (Privacy Policy)
Blueberry Mug Cake Recipe
Blueberries are everywhere these days. Well, after all, it is National Blueberry Month. I would be very content with eating blueberries at every meal and definitely for every dessert. But when it's the middle of the summer and hot and humid outside, the last thing I want to do is turn on my oven. That's when I make my Blueberry Mug Cake With Lemon Glaze, a recipe that I developed for the U.S. Highbush Blueberry Council. Hop on over to their site and you'll find some great tips about blueberries! #ad
Mug cakes "bake" in your microwave in just minutes. With a few basic ingredients that you most likely have on hand in your kitchen, and a handful of fresh blueberries, you'll have a quick and easy dessert ready in no time at all. Best part is, it's the perfect serving size for just you so you won't be tempted by slices and slices of cake calling your name! Yes, cake calls my name all the time and I answer everytime!
A 12-14 ounce mug is the perfect size for one mug cake. These 14 ounce porcelain mugs in assorted colors of blue are so pretty and the perfect assortment of blue colors for making your Blueberry Mug Cake in. You'll feel special using these gorgeous Iridescence Rainbow Spoons as you savor every spoonful of your warm Blueberry Mug Cake.
Blueberry Recipes
With bushels of blueberries readily available, be sure to add these recipes to your menu this season. Glazed Blueberry Hand Pies, are a versatile hand pie that can be your dessert, your breakfast or your snack! Blueberry Peach Pecan Crisp is juicy sweetness smothered under a buttery sweet cinnamon topping makes for a beautiful summer evening. With blueberry season in full swing, Ginger Glazed Blueberry Scones are the perfect way to savor the sweetness of one of the highest antioxidant foods in the world! And with just four ingredients, you'll happily be making these from-scratch pancakes Gluten-Free Blueberry Pancakes over and over again for breakfast.
Read all about my tips and tricks for baking with blueberries in my interview on the U.S. Blueberry Highbush Council's blog.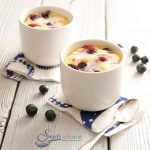 Lemon Glazed Blueberry Mug Cake
You can have a piece of Blueberry Mug Cake With Lemon Glaze in just minutes with our easy recipe that "cooks" in your microwave in just minutes!
Ingredients
2

Tbs.

butter

¼

cup

flour

2

Tbs.

sugar

1

egg yolk

1

Tbs.

milk

¼

tsp.

vanilla extract

¼

tsp.

baking powder

2

Tbs.

blueberries

¼

tsp.

chopped crystallized ginger

2

Tbs.

confectioners' sugar

½

tsp.

lemon juice
Instructions
In 12-14 ounce microwave-safe mug, microwave butter until melted.

Stir in flour, sugar, egg yolk, milk, vanilla and baking powder until blended.

Stir in blueberries and crystallized ginger and microwave 1 minute 30 seconds or until cake pulls away from sides. Let stand 5 minutes.

Meanwhile, in small bowl combine confectioners' sugar and lemon juice until smooth. Drizzle over cake.
Recipe Notes
Makes 1 mug cake.