You can have a Blueberry Mug Cake Recipe With Lemon Glaze in just minutes with our easy mug cake recipe that "cooks" in your microwave! A no bake dessert that will satisfy your sweet tooth and keep your kitchen cool on hot summer days!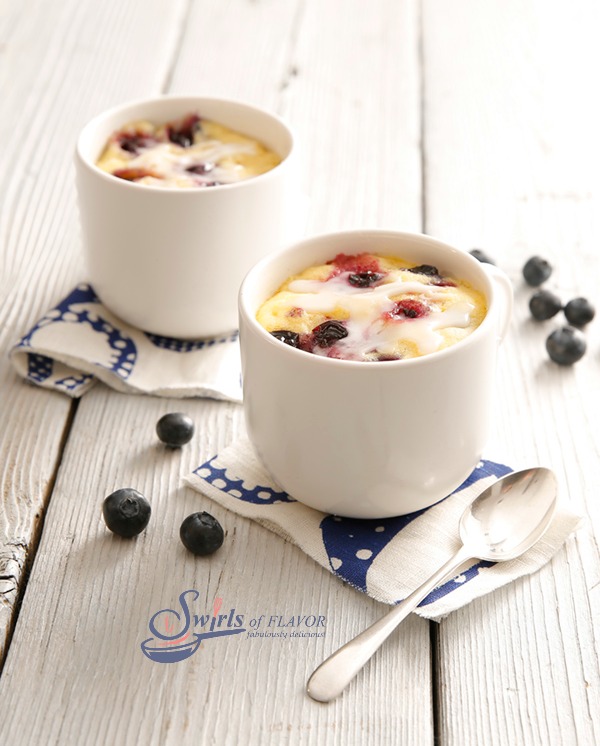 Blueberry Mug Cake Recipe
Blueberries are everywhere these days. Well, after all, it is National Blueberry Month. I would be very content with eating blueberries at every meal and definitely for every dessert.
But when it's the middle of the summer and hot and humid outside, the last thing I want to do is turn on my oven. That's when I make my Blueberry Mug Cake Recipe, a recipe that I developed for the U.S. Highbush Blueberry Council.
Hop on over to their site and you'll find some great tips about blueberries! #ad
And don't forget to make yourself a refreshing Blueberry Vodka Lemonade and enjoy all the fruity flavors in every sip!
I make commissions for purchases made through links in this post.
Be sure to visit the Swirls of Flavor Amazon Storefront for GG's personal kitchen recommendations!
Easy Mug Cake Recipe
Mug cakes "bake" in your microwave in just minutes. With a few basic ingredients that you most likely have on hand in your kitchen, and a handful of fresh blueberries, you'll have a quick and easy dessert in a mug that's ready in no time at all.
Best part is, it's the perfect serving size for just you so you won't be tempted by slices and slices of cake calling your name and it's a no bake dessert!
Technically, it's an easy microwave cake, no oven required. How quick and easy is that?
Yes, cake calls my name all the time and I answer every time!
A 12-14 ounce mug is the perfect size for one mug cake. These 14 ounce porcelain mugs in assorted colors of blue are so pretty and the perfect assortment of blue colors for making your Blueberry Mug Cake in.
You'll feel special using these gorgeous gold spoons as you savor every spoonful of your warm lemon blueberry mug cake.
Read all about my tips and tricks for baking with blueberries in my interview on the U.S. Blueberry Highbush Council's blog.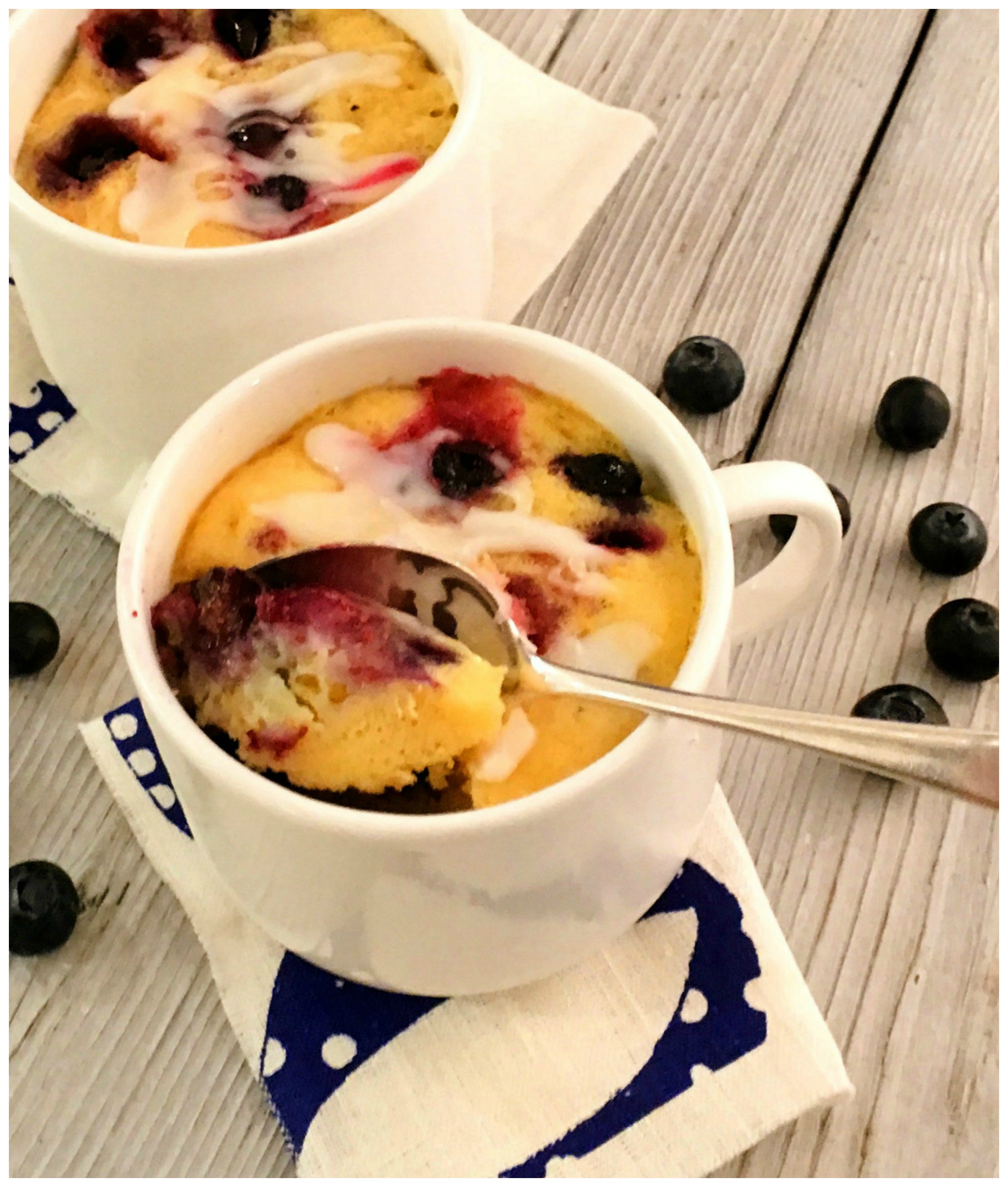 Blueberry FAQ's
When is blueberry season?
Blueberry season and harvest in North America begins in April and lasts until late September.
Blueberry season and harvest in South America runs from October through March.
Can you bake with fresh blueberries?
Yes, fresh blueberries are great for baking especially when your batter is thick because then the blueberries will remain suspended in the batter.
If your batter is thinner you can toss the blueberries in about a tablespoon or two of flour to coat them and this will help the blueberries to "grab" and hold onto the batter and prevent them from sinking.
It is best to gently fold the blueberries into a batter as your very last step when preparing your batter.
Are blueberries healthy?
Blueberries are considered to be a very healthy fruit.
Blueberries contain
fiber
folate
potassium
vitamin B6
vitamin C
Blueberries also:
contain no cholesterol
are low in calories
are high in antioxidants
are high in nutrients
So eat those good-for-you blueberries!
How to make a mug cake
Scroll down for the full recipe instructions and ingredient amounts in the recipe card below
In a microwave-safe mug, 12-14 ounces, microwave the butter until melted.
Stir in flour, sugar, egg yolk, milk, vanilla and baking powder, stirring until blended.
Add blueberries and crystallized ginger and microwave 1 minute 30 seconds or until cake pulls away from sides.
Let stand 5 minutes.
Meanwhile, combine confectioners' sugar and lemon juice in a small bowl stirring until smooth. Drizzle the glaze over the mug cake.
Swirls of Flavor Recipe Tips
Be sure to use a microwave-safe mug
It is important to coat the inside of your mug with cooking spray
Add your favorite berries, such as raspberries or chopped strawberries
Add whipped cream on top too!
Top with lemon curd
Omit the all-purpose flour and baking powder and make your mug cake with self-rising flour
Substitutions
Substitute your favorite berry for the blueberries
Make a lime glaze and use lime juice in place of the lemon juice
Easy Mug Cake Recipes

Ingredients for blueberry mug cake
butter
flour
granulated sugar
egg yolk
milk
vanilla extract
baking powder
blueberries
crystallized ginger
confectioners sugar
lemon juice
Blueberry Recipes
With bushels of blueberries readily available, be sure to add these recipes to your menu this blueberry season.
Triple Citrus Blueberry Frozen Yogurt Cups are bursting with fresh blueberries surrounded with crunchy granola and creamy Greek yogurt and flavored with a pop of citrus!
With blueberry season in full swing, Ginger Glazed Blueberry Scones are the perfect way to savor the sweetness of one of the highest antioxidant foods in the world!
Balsamic Blueberry Mascarpone Crostini Recipe is a quick and easy appetizer recipe. Perfect for last minute entertaining, crispy toasts are topped with a sweet and tangy mascarpone cheese, a blueberry compote with hints of balsamic vinegar and fresh basil.
Jalapeno Lime Summer Fruit Salad , an easy fruit salad recipe that's bursting with sweet juicy berries and watermelon, fresh mint, zesty lime and a hint of jalapeno heat, is a refreshing addition to your summer menu!
And with just four ingredients, you'll happily be making these from-scratch pancakes Gluten-Free Blueberry Pancakes over and over again for breakfast.
Blueberry Peach Pecan Crisp is bursting with the juicy sweetness of blueberries and peaches smothered under a buttery sweet cinnamon topping making this a delicious dessert for a beautiful summer evening.
Combine two favorite summer fruits, blueberries and peaches, for a fabulous side dish of Blueberry Peach Orzo , a lime-kissed orzo pasta is studded with fresh juicy peaches and succulent blueberries. Tender peppery arugula leaves offset the fruity sweetness creating a perfect balance of flavors.
Glazed Blueberry Hand Pies are filled with fresh blueberries tossed with blueberry preserves, cinnamon and lemon and baked to perfection in a buttermilk biscuit dough and drizzled with a confectioners sugar glaze. Make them for your on-the-go breakfast, your afternoon snack or your evening dessert!
Blueberry Mug Cake Recipe With Lemon Glaze
You can have a piece of Blueberry Mug Cake With Lemon Glaze in just minutes with our easy recipe that "cooks" in your microwave in just minutes!
As an Amazon Associate I earn from qualifying purchases.
I earn a commission from Instacart from qualifying purchases.
Instructions
In 12-14 ounce microwave-safe mug, microwave butter until melted.

Stir in flour, sugar, egg yolk, milk, vanilla and baking powder until blended.

Stir in blueberries and crystallized ginger and microwave 1 minute 30 seconds or until cake pulls away from sides. Let stand 5 minutes.

Meanwhile, in small bowl combine confectioners' sugar and lemon juice until smooth. Drizzle over cake.
Notes
Makes 1 mug cake.
Swirls of Flavor Recipe Tips
Change the lemon juice to lime juice
Add raspberries
Top with whipped cream
Nutrition
Calories:
562
kcal
|
Carbohydrates:
71
g
|
Protein:
7
g
|
Fat:
28
g
|
Saturated Fat:
16
g
|
Cholesterol:
257
mg
|
Sodium:
347
mg
|
Fiber:
2
g
|
Sugar:
45
g
|
Vitamin A:
959
IU
|
Vitamin C:
4
mg
|
Calcium:
113
mg
|
Iron:
2
mg
First Published: July 24, 2018... Last Updated: January 14, 2023 for better readability and user experience