Sweet and Sour Meatballs is an easy recipe for homemade meatballs and sauce. Ground veal is flavored with fresh ginger, cilantro, scallions and garlic, shaped into mini meatballs and simmered in a homemade sweet and sour sauce. Serve over rice noodles, rice or quinoa for a flavorful easy dinner.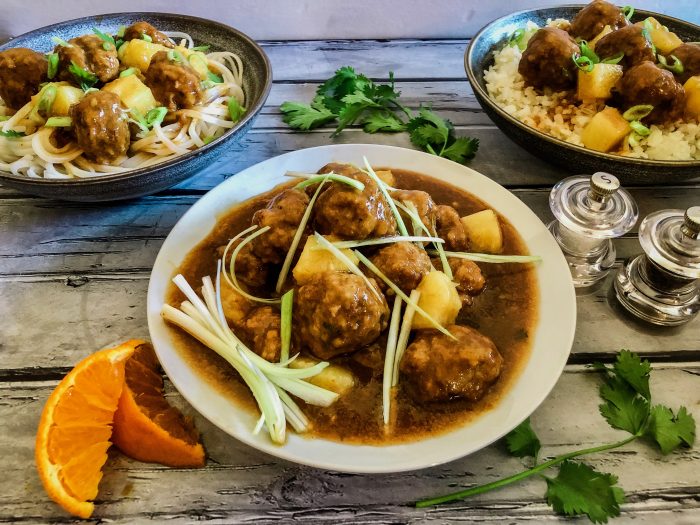 Sweet and Sour Meatballs Recipe
This post for Sweet and Sour Meatballs is sponsored by the New York Beef Council. All opinions are my own.
Everyone loves meatballs and you can never have too many meatball recipes. When you think about meatballs, the classic Italian flavors come to mind with a typical marinara sauce. But I changed things up a bit today with new flavor ingredients, a different ground meat and a sauce that's to die for.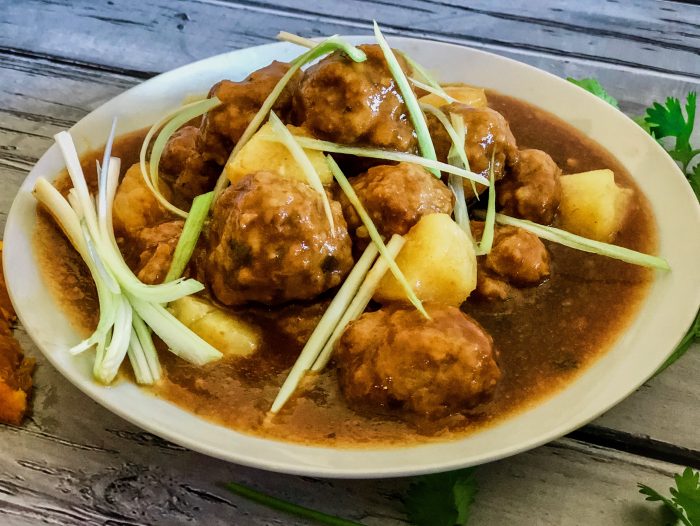 First, I'm using ground veal. Have you ever cooked with ground veal? I just love the way it carries any flavors that you add to it and that's precisely why Sweet and Sour Meatballs are bursting with the flavors of fresh ginger, cilantro, scallions and garlic.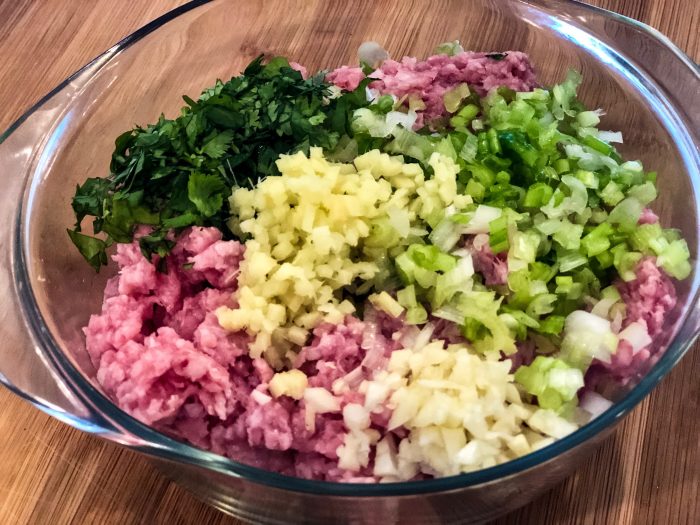 Every bite of these tender mini meatballs is filled with a perfect combination of flavors that are intensified with our homemade Sweet and Sour Sauce.
Recipe is part of Meal Plan Monday and Weekend Potluck.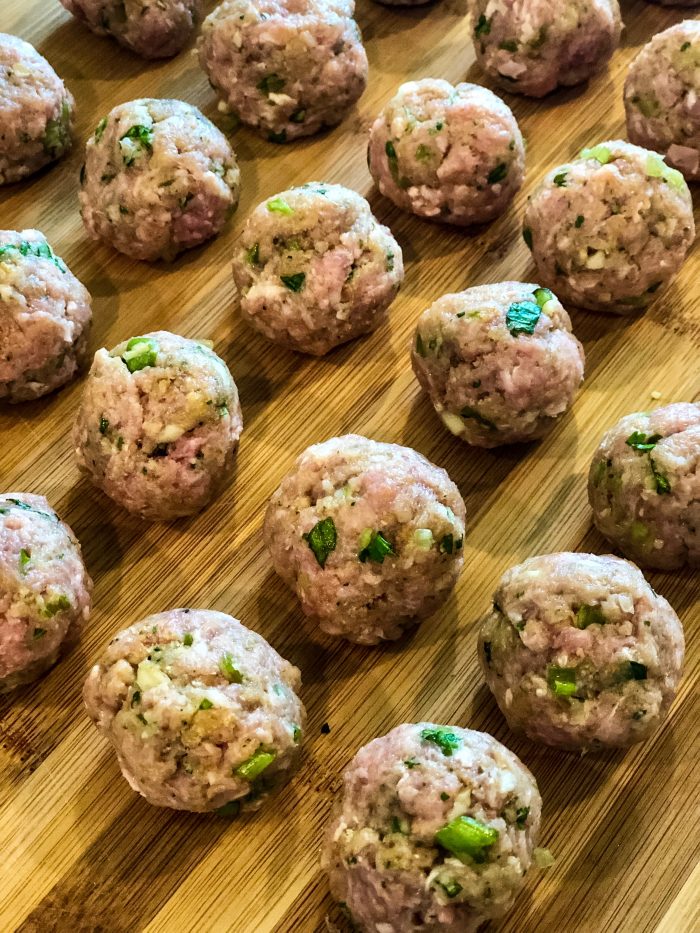 With just a few simple ingredients, a homemade Sweet and Sour Sauce is just minutes away from your table. Simmer the mini meatballs in our homemade sauce and they will cook up to tender perfection. I'm sure you will find this recipe to be "vealy" delicious! (pun intended)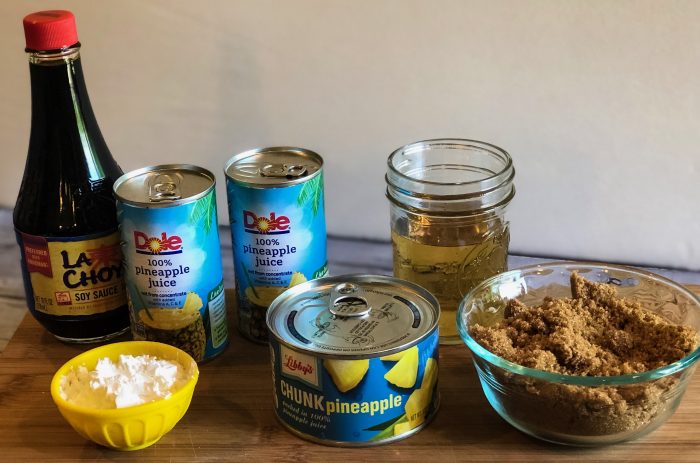 Once you taste how delicious ground veal is, you will want to make more recipes with veal. The Veal Made Easy web site is brimming with fabulous veal recipes and information and will quickly become your go-to for everything veal!
How to serve mini meatballs with sweet and sour sauce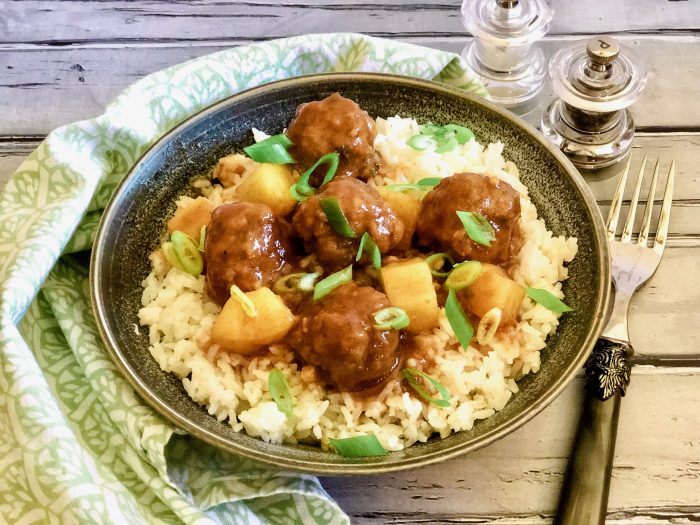 These flavorful sweet and sour meatballs with pineapple chunks are so versatile they can be served over:
rice noodles
white or brown rice
quinoa
cauliflower rice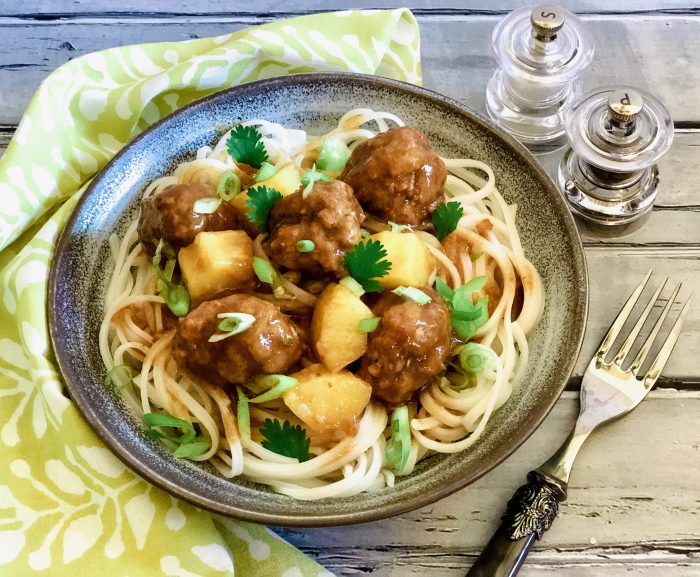 Will you be entertaining? Then you'll want to serve Sweet and Sour Meatballs to your guests too but not as an entree. You can even serve this recipe as an appetizer!
As an Amazon Associate I earn from qualifying purchases.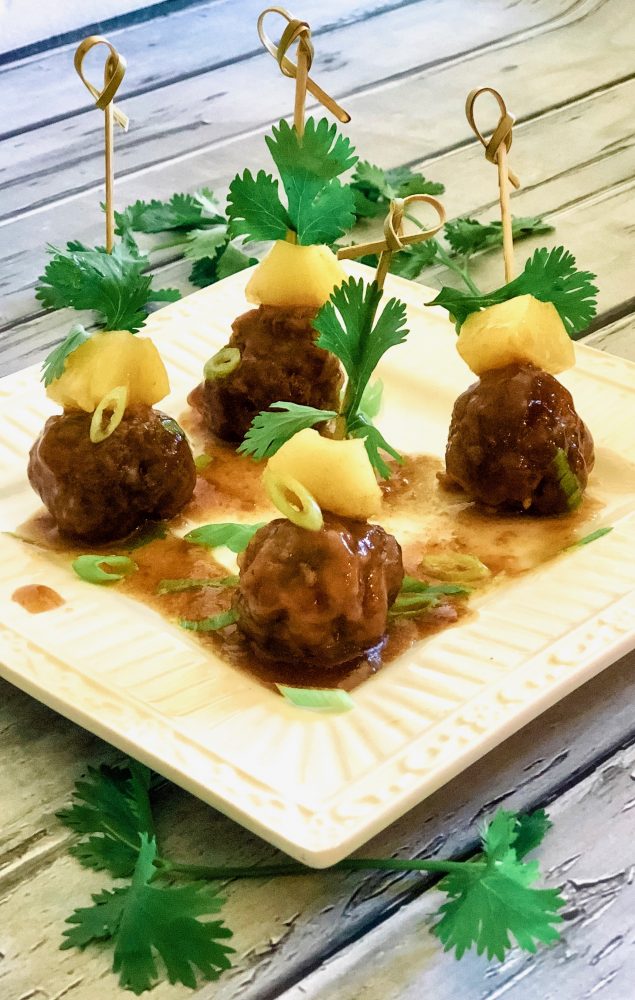 Just arrange a meatball, pineapple chunk and cilantro leaf on a fancy bamboo skewer and serve with the remaining sweet and sour sauce as a dipping sauce. Your guests will love these personal bites of deliciousness!
Visiting a veal calf farm
I was recently invited to a veal immersion tour by the New York Beef Council. It was such an eye opening education on how veal calves are raised and it is totally different from the old fashioned ideas I had in my head.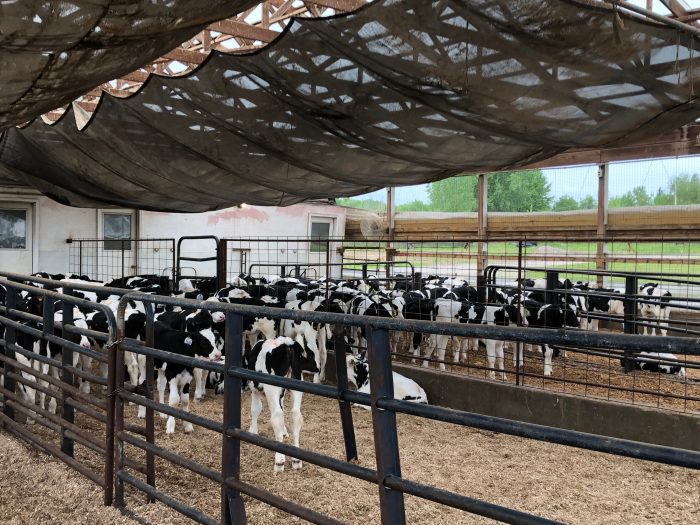 Along with other food bloggers and culinary instructors, I toured Provitello Farms, a veal farm in the Finger Lakes region of New York State. Veal calves arrive at the farm when they are about 10 days old. They are raised in outdoor pens where they are able to enjoy the fresh air and room to grow. As more calves arrive the groups are moved along to additional pens, including indoor barns that are naturally ventilated, still with room to move around and be together. Click here to read all about how veal calves are raised.
The veal calves at Provitello are fed specially formulated milk replacer and grain and each calf is monitored closely to ensure good health and growth. Veal calves are harvested at the age of 6 months when they weigh approximately 500 pounds.
Take a tour of the farm with this video and I'm sure you'll be just as impressed as I was!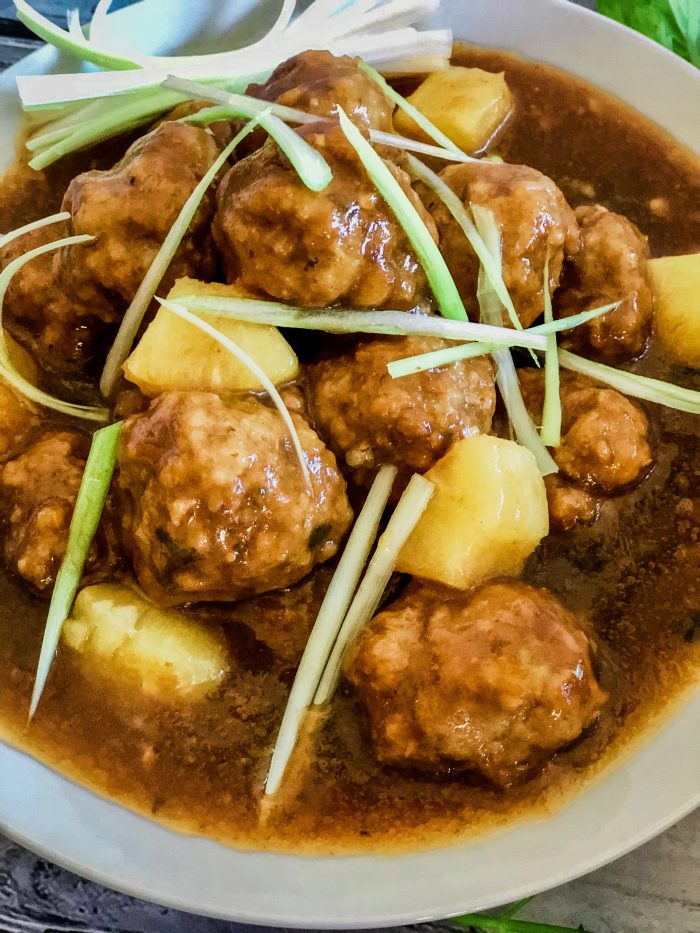 Ingredients you will need to make this recipe
canned pineapple chunks in 100% pineapple juice
cornstarch
pineapple juice
dark brown sugar
apple cider vinegar
water
soy sauce
ground veal
seasoned breadcrumbs
egg
scallions
cilantro
fresh ginger
garlic
kosher salt
All about Veal FAQs
Is veal a good source of protein?
Yes, a 3-ounce serving of veal is an excellent source of protein. A 3-ounce serving of cooked veal provides 27 grams of protein.
Is veal easy to prepare?
Yes, veal is easy to prepare and can be prepared in many ways including sautéing, stir frying, grilling, stewing and braising. Sweet and Sour Meatballs cooks by simmering in a sauce.
What does veal taste like?
Veal has delicate flavor, is versatile and compatible with many seasonings and flavor profiles.
Recipes With Meatballs
If you love meatballs the way I love meatballs, then you will love them on a pizza, in a soup and on a roll just to name a few ways! You can always substitute ground veal for the ground beef in these recipes.
Did you know that you can have your spaghetti and meatballs and eat your pizza too with Deep Dish Spaghetti & Meatball Pizza? The kids will love this pizza for sure!
Spaghetti and Meatball Soup is a fun twist on the all-time favorite comfort food. All the elements of a traditional spaghetti and meatball dinner, spaghetti, meatballs and tomatoes, are combined in a bowl of soup! An easy recipe that's on the table in less than 30 minutes and so much fun for kids too!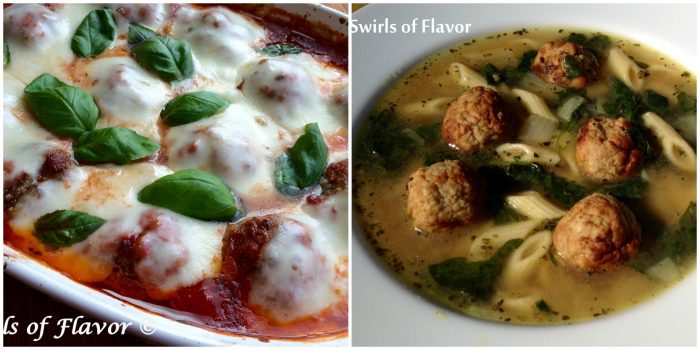 Baked Meatballs Parmesan is a cheesy, saucy, beefy recipe that will warm you up tonight! Serve over pasta or zucchini noodles, on a long roll as a meatball hero or just on it's own with a salad! The choice is yours. so shape those meatballs, smother them with sauce and let them bake themselves in the oven. dinner will taste so good tonight!
You're going to love that this Italian Wedding Soup recipe is a cinch to make with store bought meatballs and baby spinach! It's a homemade soup that's ready in about 30 minutes!
Basil Provolone Meatball Heroes is a sandwich recipe for homemade meatballs that simmer in a marinara sauce. Top with provolone cheese and fresh basil for a sandwich filled with the flavors of Italy.
Get out your slow cooker for these Cranberry Sweet & Sour Meatballs. Simply put frozen meatballs in your favorite slow cooker, top with just a few ingredients and let them cook themselves. You'll end up with amazingly saucy meatballs that your guests will go crazy over! Bet you can't eat just one!
Sweet and Sour Meatballs
Sweet and Sour Meatballs is an easy recipe for homemade
meatballs and sauce. Ground veal is flavored with fresh ginger, cilantro,
scallions and garlic, shaped into mini meatballs and simmered in a homemade
sweet and sour sauce. Serve over rice noodles, rice or quinoa for a flavorful
easy dinner.
Course:
Appetizer, Main Course
Keyword:
mini meatballs, sweet and sour meatballs
Ingredients
Meatballs
1

lb.

ground veal

½

cup

seasoned breadcrumbs

1

large

egg

1/4

cup

finely chopped scallions

2

Tbs.

chopped cilantro

1

Tbs.

minced fresh ginger

2

cloves

garlic,

minced

½

tsp.

kosher salt

2

scallions,

sliced

2

Tbs.

cilantro leaves
Serving Suggestions
rice noodles

white or brown rice

cauliflower rice
Instructions
Sweet and Sour Sauce
Drain pineapple chunks and juice. Reserve pineapple
chunks for later. Combine drained juice and cornstarch, stirring until smooth.

In medium sauce pot, combine pineapple juice, brown sugar,
vinegar, water, soy sauce and cornstarch mixture. Bring to a boil and boil 1
minute until thickened, stirring frequently.
Meatballs
Meanwhile, combine ground veal, breadcrumbs, egg,
scallions, cilantro, ginger, garlic and kosher salt. Shape into 30 mini
meatballs, about 1 Tablespoon each.

Carefully drop meatballs into sauce. Reduce heat and
simmer until meatballs are cooked through, about 15 minutes, stirring
occasionally. Stir in reserved pineapple chunks.

Top with sliced scallions and cilantro leaves.
Serving Suggestions
Serve over rice noodles, rice, quinoa or cauliflower
rice, if desired.
Recipe Notes
Serve an as appetizer: Sweet and Sour Meatballs can also be served as an appetizer on skewers! Just place one meatball, pineapple chunk and cilantro leaf on skewer and serve with additional sauce on the side for dipping.
Nutrition Facts
Sweet and Sour Meatballs
Amount Per Serving
Calories 322
Calories from Fat 54
% Daily Value*
Fat 6g9%
Cholesterol 93mg31%
Sodium 716mg31%
Potassium 371mg11%
Carbohydrates 47g16%
Protein 18g36%
Vitamin A 164IU3%
Vitamin C 2mg2%
Calcium 72mg7%
Iron 2mg11%
* Percent Daily Values are based on a 2000 calorie diet.