With just three ingredients, Slow Cooker Mango Turkey Meatballs will cook up in your slow cooker for a delightfully saucy appetizer or make it a main dish and serve over rice or noodles! Frozen meatballs, mango salsa and barbecue sauce simmer together for an easy crockpot recipe! Sprinkle with chopped parsley for that special finishing touch!
Slow Cooker Saucy Meatballs Recipe
Looking for an appetizer for game day or your holiday gathering? Or maybe you just want dinner ready when you get home in the evening? Either way, our barbecue turkey meatballs recipe fits the bill.
First Published: January 30, 2015... Last Updated: October 30, 2019
Just place frozen meatballs in a crockpot with barbecue sauce and mango salsa and relax while they cook themselves and make a delightful sauce in your slow cooker. Sweet, saucy and tangy, these meatballs will be everyone's favorite!
And they are so versatile that you can serve our saucy meatballs as an appetizer that you just pop in your mouth or as a main dish for dinner or at your Super Bowl party!
Slow cooker bbq turkey meatballs are guaranteed to be on your menu time and time again!
As an Amazon Associate I earn from qualifying purchases.
How to serve mini meatballs as a main dish
To make this recipe as a main dish for dinner, simply cook up pasta, cauliflower rice, quinoa, noodles or brown rice and top with 6 mini meatballs and sauce per serving!
To serve as a main dish at a party, keep the meatballs warm in your slow cooker. Offer pasta, cauliflower rice, quinoa or brown rice on the side and let your guests fill their bowls!
Ingredients you will need to make this recipe
frozen bite size turkey meatballs
mango salsa
barbecue sauce
parsley, optional
Easy Recipes with Meatballs

Baked Meatballs Parmesan, an easy homemade meatball recipe that's cheesy and saucy, will warm you up for dinner tonight! Just shape our homemade beef mixture into meatballs, smother with sauce and let them bake themselves in the oven. Serve over pasta or zucchini noodles, on a long roll as a meatball hero or just on it's own with a salad!
Sweet and Sour Meatballs is an easy recipe for homemade meatballs and sauce. Ground veal or beef is flavored with fresh ginger, cilantro, scallions and garlic, shaped into mini meatballs and simmered in a homemade sweet and sour sauce. Serve over rice noodles, rice or quinoa for a flavorful easy dinner.
Did you know that you can have your spaghetti and meatballs and eat your pizza too with Deep Dish Spaghetti & Meatball Pizza ? Cut in bite size pieces for a delicious party appetizer or serve as a main dish. Either way, kids (big and little) will love this pizza for sure!
Spaghetti and Meatball Soup is a fun twist on the all-time favorite comfort food. All the elements of a traditional spaghetti and meatball dinner, spaghetti, meatballs and tomatoes, are combined in a bowl of soup! An easy recipe that's on the table in less than 30 minutes and so much fun for kids too!
Basil Provolone Meatball Heroes is a sandwich recipe for homemade meatballs that simmer in a marinara sauce. Top with provolone cheese and fresh basil for a sandwich filled with the flavors of Italy.
One Pot Spaghetti and Meatballs is an easy recipe that cooks pasta and homemade meatballs together in a delicious tomato sauce. Ground beef meatballs simmer in a quick homemade sauce and then uncooked spaghetti is added. Skillet spaghetti and meatballs finishes cooking together in one pot for a saucy pasta dinner!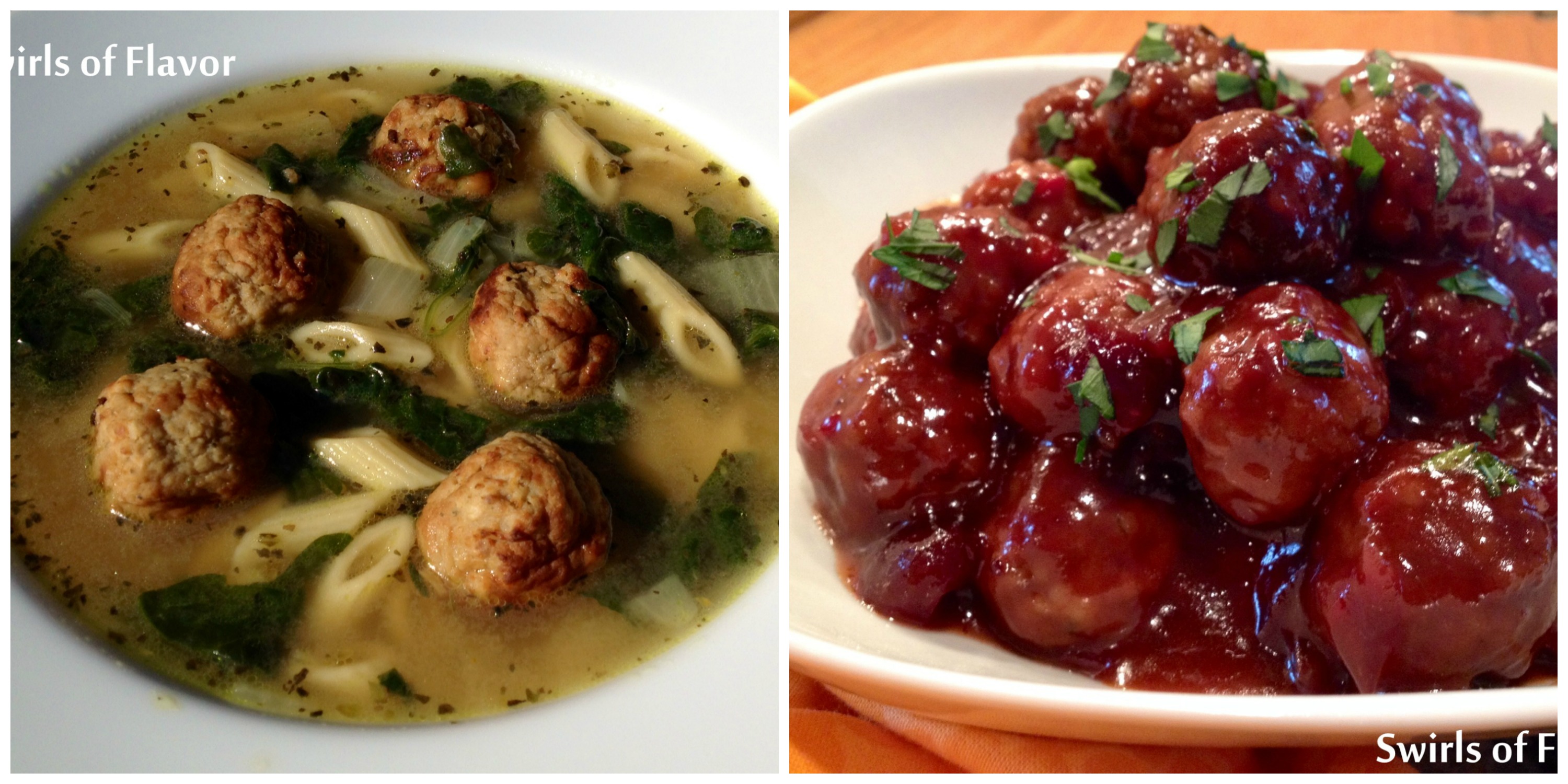 You're going to love that this Italian Wedding Soup recipe is a cinch to make with premade meatballs and baby spinach! It's a homemade soup that's ready in about 30 minutes!
Get out your slow cooker for these Cranberry Sweet & Sour Meatballs. Simply put frozen meatballs in your favorite slow cooker, top with just a few ingredients and let them cook themselves. You'll end up with amazingly saucy meatballs that your guests will go crazy over! Bet you can't eat just one!
Slow Cooker Mango Barbecue Turkey Meatballs
Slow Cooker Mango Barbecue Turkey Meatballs is an easy recipe that can be served as an appetizer or a main dish over pasta. Store bought turkey meatballs simmer in a mango salsa combined with a sweet and spicy barbecue sauce making each bite tangy and flavorful!
As an Amazon Associate I earn from qualifying purchases.
Ingredients
2

pkgs. (12 oz. each)

frozen bite size turkey meatballs

1

jar (16 oz.)

mango salsa

, such as Newman's Own

3/4

cup

Sweet 'N Spicy barbecue sauce

, such as Sweet Baby Ray's brand or your favorite barbecue sauce

2

Tbs.

chopped parsley

, optional
I earn a commission from Instacart from qualifying purchases.
Instructions
Place turkey meatballs in slow cooker.

In bowl combine salsa and barbecue sauce until blended. Pour over meatballs.

Cook 4 hours on low.

Serve in slow cooker or transfer to serving dish. Sprinkle with chopped parsley, if desired.
Notes
Makes 16 appetizer servings/ 3 meatballs per serving
* For a main dish, serve with hot cooked quinoa, cauliflower rice, brown rice, noodles or pasta.
Makes 8 main dish servings/6 meatballs per serving.
Nutrition
Calories:
24
kcal
|
Carbohydrates:
6
g
|
Protein:
1
g
|
Fat:
1
g
|
Saturated Fat:
1
g
|
Cholesterol:
1
mg
|
Sodium:
139
mg
|
Potassium:
34
mg
|
Fiber:
1
g
|
Sugar:
4
g
|
Vitamin A:
72
IU
|
Vitamin C:
1
mg
|
Calcium:
5
mg
|
Iron:
1
mg