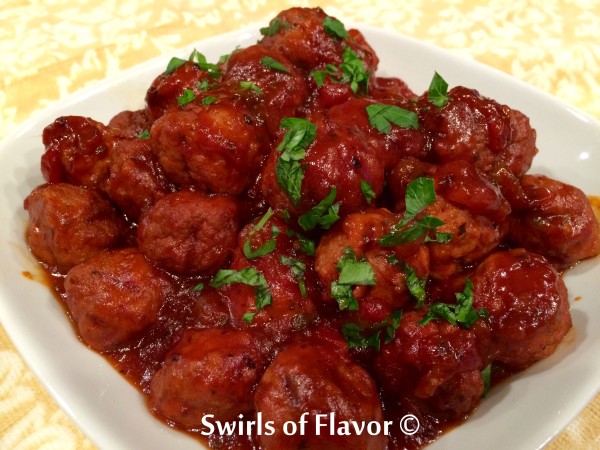 Slow Cooker Mango Barbecue Turkey Meatballs are so versatile that you can serve them as an appetizer or serve them as a main dish* at your Super Bowl party! Just top frozen turkey meatballs with mango salsa and barbecue sauce and relax while they cook themselves and make a delightful sauce in your slow cooker. Saucy and fabulously delicious, these meatballs will be a favorite of fans of both teams!
Slow Cooker Mango Barbecue Turkey Meatballs
2 pkgs. (12 oz. each) frozen bite size turkey meatballs
1 jar (16 oz.) mango salsa, such as Newman's Own
3/4 cup Sweet 'N Spicy barbecue sauce, such as Sweet Baby Ray's brand
2 Tbs. chopped flat leaf parsley
1. Place turkey meatballs in slow cooker.
2. In bowl combine salsa and barbecue sauce until blended. Pour over meatballs.
3. Cook 4 hours on low.
4. Serve in slow cooker or transfer to serving dish. Sprinkle with chopped parsley.
Makes 16 appetizer servings/ 3 meatballs per serving
* For a main dish, serve with hot cooked quinoa, rice or pasta.
Makes 8 main dish servings/6 meatballs per serving.