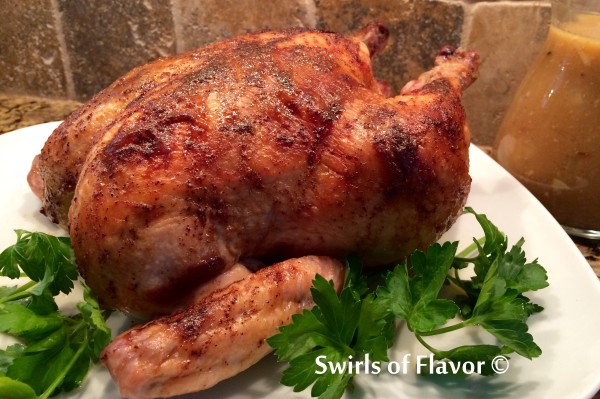 A little bit of brown sugar….a little bit of ancho chile pepper…..that spells Sweet 'N Smokey Chicken to me! Roast that chicken on a bed of minced onion and you've got the beginnings of Roasted Onion Gravy. Now that we are firmly into the snowy, icy days of winter here in the northeast, a roasted chicken is the perfect comfort food for dinner on a wintery evening. The nutritionist in me is urging you to purchase an organic, grass-fed, hormone-free, antibiotic-free chicken for your optimum health. And don't throw away those bones! Save them, in your freezer or fridge, for an upcoming Swirls' bone broth recipe you won't want to miss out on! 
Sweet 'N Smokey Chicken with Roasted Onion Gravy
1 medium onion, minced, 1 cup
1 clove garlic, minced
1 roasting chicken, about 5 lbs.
3 Tbs. butter, at room temperature, divided
2 Tbs. packed brown sugar
1 tsp. ancho chile pepper
1/2 tsp. garlic powder
1/2 tsp. kosher salt
1/2 cup white wine
2 Tbs. flour
2 tsp. chicken bouillon granules
1. Preheat oven to 350F.
2. Arrange minced onion and garlic in center of roasting pan to form a "bed" for your chicken.
3. Place chicken directly on top of bed of onion and garlic.
4. In small bowl combine 2 Tbs. butter, brown sugar, ancho, garlic powder and kosher salt until smooth and blended. Loosen skin from breast and legs of chicken. Place ½ of butter mixture in a thin layer under the skin. Rub remaining butter mixture over top of skin.
5. Roast chicken 1 hour 30 minutes or until meat thermometer inserted in thickest part of chicken registers 165F. Transfer chicken to serving platter and let chicken rest 10 minutes.
6. While chicken is resting, combine white wine and flour in small bowl, stirring until smooth and blended. Add 1 1/2 cups water, wine mixture and chicken bouillon granules to roasting pan with roasted onions and pan drippings. Bring to a boil over medium heat until thickened, stirring occasionally and scraping up any brown bits in pan…..those brown bits are packed with flavor and will give your gravy a wonderful depth of chicken flavor! Stir in remaining 1 Tbs. butter and cook until melted, stirring. Simmer gravy on low until ready to serve with chicken.
Makes 6-8 servings and 2 1/4 cups gravy.