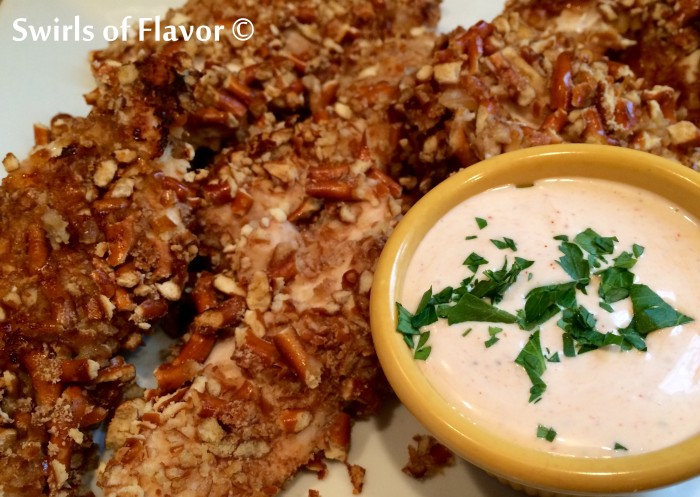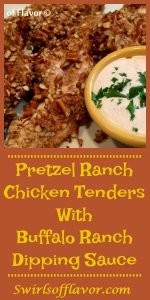 Time to start getting ready for the big game! Super Bowl 2015 is just a week away and that means planning a winning kick-off menu! Did you know that the Super Bowl is the most popular food day in America, second only to Thanksgiving? The fans will love Pretzel Ranch Chicken Tenders! Chicken tenders dipped in ranch dressing and coated in a crunchy crushed pretzel coating and baked to perfection! And as if it doesn't get any better than that……serve these game-winning tenders with a buffalo ranch dipping sauce! Like it hotter? Add hot sauce to the ranch coating too before coating the tenders! Need to transport these to a party? Plan to cook them ahead of time and just reheat in the oven when you arrive at the party.
Don't just stop at one appetizer! Nacho Stuffed Peppers , Cheeseburger Empanadas and Baked Zucchini Fries, not to mention Sweet 'N Spicy Tropical Guacamole, Sweet Pepper Jalapeno Poppers and Meat Lovers' Pizza Bread will all make for a fabulously delicious get together!
Pretzel Ranch Chicken Tenders & Buffalo Ranch Dipping Sauce
Chicken Tenders:
1 lb. boneless chicken tenderloins
3/4 cup Ranch dressing
1 1/2 cups crushed pretzels
Buffalo Ranch Dipping Sauce:
1 cup Ranch dressing
2 Tbs. hot sauce, such as Frank's Red Hot
1 Tbs. chopped parsley
1. Preheat oven to 425F. Coat a large baking sheet with nonstick cooking spray.
2. Chicken Tenders: Dip chicken tenders in Ranch dressing and then in crushed pretzels to evenly coat.
3. Arrange in single layer on prepared baking sheet. Spray tops of tenders with nonstick cooking spray….this helps the tenders to get crispy!
4. Cook 25 minutes or until golden and cooked through.
5. Meanwhile, prepare Buffalo Ranch Dipping Sauce by combining 1 cup Ranch dressing and hot sauce. Sprinkle with chopped parsley.
Makes 6-8 appetizer servings.*
*Recipe can be doubled to feed a crowd! Just be sure not to crowd the chicken on the baking sheet. I recommend cooking in two batches so that chicken gets crispy. If chicken is crowded on the baking sheet it will get steamed and become soggy….and no one likes a soggy chicken tender!