This post contains affiliate links. If you make a purchase through one of these links, I make a small commission at no extra cost to you. (Privacy Policy)
Gluten-Free Blueberry Pancakes Recipe
Gluten Free Blueberry Pancakes are a cinch to make and oh so delicious! With just four ingredients, you'll happily be making these from-scratch pancakes over and over again. I developed this recipe for the U.S. Highbush Blueberry Council and loved every minute of the process, especially the tastings! Lemon Maple Syrup is the perfect finishing touch on these fruity pancakes that are low in sodium and have no added sugar. They are by far a much healthier alternative to the processed pancake mix in the grocery store. Round out breakfast with more fresh blueberries and seasonal summer fruits and your healthy Gluten-Free Blueberry Pancakes will surely become an often requested breakfast. Better yet, this recipe can also be doubled to make a bigger batch of these easy Gluten Free Blueberry Pancakes because they'll be asking for seconds for sure! #ad
The U.S. Blueberry Highbush Council interviewed me for their blog. Read all about my tips and tricks for baking with blueberries!
Behind The Scenes At The Photo Shoot
Here's a behind the scenes look at the photo shoot we did for these blueberry pancakes. It was a full day of blueberry recipes. Yum!
Yes, it takes a village to do a photo shoot! Our team consisted of the photographer, food stylist (yours truly), food styling assistant, several PR account representatives and, of course, the client. A photo shoot day is a lot of work but I love being "on set", especially when the team is as great as this one! We have music playing in the back ground which sets the mood for everyone's creative juices to flow.
When the client cannot be at the photo shoot, the shots are sent to the client for approval before moving onto the next recipe. Everyone adds their expertise at a photo shoot. We each have something to contribute to the final composition of the shot making it the best it can be.
A prop stylist gets the set ready with the surface, dishes, silverware and other props while I get the "hero", or the "beauty" as it is sometimes called, ready for the camera. For this shot we decided to do an action shot pouring the syrup over the pancakes so I had backup pancakes ready for multiple takes.
Blueberry Recipes
With bushels of blueberries readily available, be sure to add these recipes to your menu this season. Meyer Lemon Glazed Pound Cake starts with a pound cake mix that's studded with fresh blueberries for a pop of summer berry flavor then drenched in a Meyer lemon syrup and finished off with a Meyer lemon glaze. Every bite will be a taste of heaven! Blueberry Peach Orzo is filled with lime-kissed orzo pasta is studded with fresh juicy peaches and succulent blueberries. Tender peppery arugula leaves offset the fruity sweetness creating a perfect balance of flavors. Kissed with the flavors of freshly squeezed lime juice and fragrant mint leaves, Blueberry Cantaloupe Salad is a summery addition to any meal. Glazed Blueberry Hand Pies, are a versatile hand pie that can be your dessert, your breakfast or your snack! Blueberry Peach Pecan Crisp is juicy sweetness smothered under a buttery sweet cinnamon topping makes for a beautiful summer evening.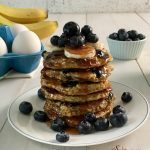 Gluten-Free Blueberry Pancakes
With just four ingredients, you'll happily be making these from-scratch pancakes Gluten-Free Blueberry Pancakes over and over again for breakfast.
Ingredients
Pancakes:
1

banana,

1/2 cup, mashed

2

large eggs

1/3

cup

gluten-free oats*

1/2

cup

fresh blueberries
Instructions
Pancakes:
Combine banana, eggs and oats and let stand 10 minutes to thicken.

Spray a large non-stick skillet with cooking spray and heat over medium heat.

Spoon mixture, 2 tablespoons at a time, onto skillet and top with some of the blueberries. Cook until browned, 1-2 minutes. Turn and cook additional 1 minute or until cooked through.
Lemon Maple Syrup:
Combine maple syrup and lemon zest and serve with pancakes.
Recipe Notes
Makes 4 servings; 8 small (about 3-inch diameter) pancakes.
*If gluten free isn't a necessity in your house, then feel free to use regular oats!