Parmesan Basil Fried Squash Blossoms are filled with a ricotta and Parmesan cheese mixture. Add a fresh herb, coat in a light batter and fry to crispy perfection, and I bet you can't eat just one! Our sauteed squash blossoms is an easy summer appetizer recipe that's perfect for entertaining!
Fried Squash Blossoms Recipe
Squash blossoms, those delicate orange and yellow flower blossoms, also called zucchini flowers, are absolutely gorgeous and especially delicious when filled with a cheese mixture.
Add a fresh herb, coat in a light batter and fry to crispy perfection, and I bet you can't eat just one! Parmesan Basil Fried Squash Blossoms capture the flavor of summer in every bite!
When is squash blossom season?
While strolling through the farmers market this week I began to jump for joy when I spotted the first squash blossoms of the season! Those gorgeous squash blossoms are everywhere now, at the farmers market, in your vegetable garden and in the produce section of your grocery store.
Squash blossom season begins in late spring and lasts all the way through the early fall. People go crazy for squash blossoms, including me! And once you taste Parmesan Basil Fried Squash Blossoms you will too!
And once those blossoms drop and zucchinis grow, you'll want to make our baked Zucchini Fries and our Plum Tomato Zucchini Frittata that's filled with protein-perfect eggs, packed with fresh zucchini, cheesy mozzarella and fresh basil.
How do you keep squash blossoms fresh?
It is best to use your squash blossoms right after harvesting or purchasing them. Squash blossoms tend to wilt rather quickly.
If you have to store them for a short time before using them:
Line a storage container with a damp paper towel
Arrange the blossoms in a single layer leaving a little space between the blossoms so that they are not touching
You can then place another damp paper towel over those blossoms and arrange another single layer of blossoms on top
Top with another damp paper towel and seal the container
Refrigerate for one day, maybe two, but not much longer.
Food52 has a great article on How to Buy and Store Squash Blossoms. It's worth clicking over to for some great squash blossoms info!
Ingredients you will need to make this recipe
ricotta cheese
egg
Parmesan cheese
fresh basil
kosher salt
pepper
squash blossoms
flour
club soda
olive oil
I make commissions for purchases made through links in this post.
Easy Zucchini Recipes
Where there are zucchini flowers, there are zucchini and you'll be needing a recipe or two for the abundant zucchini this summer. Quick question, do you have a veggie spiralizer yet? There are so many on the market to choose from now.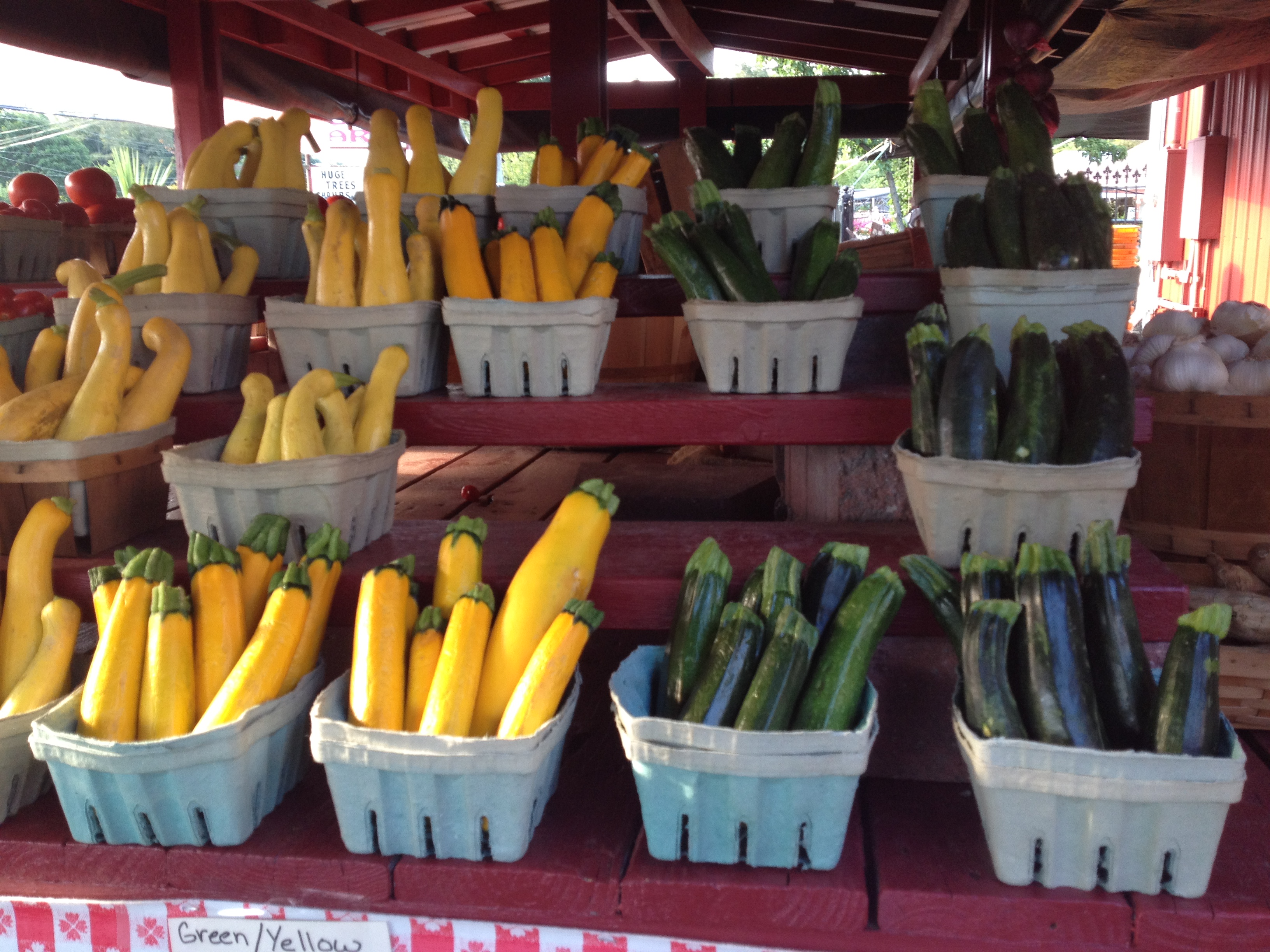 Keep it simple with the OXO Good Grips Handheld Spiralizer or step it up a notch with the Spiralizer Ultimate 7-Blade Vegetable Slicer for sliced vegetables in all shapes and sizes! Don't feel like hand-cranking those veggies tonight? Then it's time for a motorized spiralizer like the Ontel Veggetti Power 4-in-1 Electric Spiralizer! Ok, back to our zucchini recipes, zucchini noodle recipes, that is.
Zucchini Noodles & Broccoli With Peanut Sauce combine zucchini noodles with broccoli, cherry tomatoes, scallions and peanuts tossed in a silky peanut sauce for a fabulous vegetarian entrée.
You won't need a veggie spiralizer for these garden fresh zucchini recipes! Fresh vegetables, including zucchini, are tossed together with farro in a lime scented dressing making Zucchini & Corn Farro Salad both refreshing and nutritious.
Zucchini Pasta Pomodoro is bursting with the summertime flavors of zucchini noodles, tomatoes and fresh basil.
Ok, that should get your through a bumper crop of zucchini this summer! Enjoy!
Parmesan Basil Fried Squash Blossoms
Parmesan Basil Fried Squash Blossoms are filled with a ricotta and Parmesan cheese mixture. Add a fresh herb, coat in a light batter and fry to crispy perfection, and I bet you can't eat just one!
Course:
Appetizer, Main Course, Side Dish
Keyword:
fried zucchini flowers, stuffed squash blossoms
Ingredients
Cheese Filling:
8

ounces

ricotta

1

egg,

lightly beaten

1/2

cup

grated Parmesan cheese

2

Tbs.

chopped basil leaves

1/2

tsp.

kosher salt

1/4

tsp.

pepper

24

squash blossoms
Instructions
Cheese Filling:
Combine ricotta, egg, Parmesan cheese, basil, kosher salt and pepper.

Transfer cheese mixture into a pastry bag or ziplock plastic bag. Snip off end of pastry bag or, if using, one corner of ziplock plastic bag and pipe filling into squash blossoms, dividing evenly between blossoms. Arrange blossoms in a single layer on a baking sheet and refrigerate until ready to fry.
Batter:
Place flour in a large bowl and whisk in the club soda or seltzer. Let the mixture rest 30 minutes until liquid is absorbed and a thin batter forms.

Meanwhile, heat oil in a deep sided skillet over medium-high heat until temperature of oil is 360°F on a deep-fry thermometer.

Working in batches of 4-5 blossoms at a time, dip each blossom in batter so that it is well-coated. Then using tongs, carefully place blossoms in oil and cook until filling is hot and cooked and blossoms are golden and crunchy, about 3-4 minutes. Transfer blossoms to paper towels. Repeat with remaining batches of blossoms. Be sure that oil returns to 360°F temperature before cooking each batch of blossoms.

Season with additional kosher salt to taste and serve.
Nutrition Facts
Parmesan Basil Fried Squash Blossoms
Amount Per Serving
Calories 858
Calories from Fat 783
% Daily Value*
Fat 87g134%
Cholesterol 40mg13%
Sodium 258mg11%
Potassium 72mg2%
Carbohydrates 13g4%
Protein 8g16%
Vitamin A 353IU7%
Vitamin C 2mg2%
Calcium 138mg14%
Iron 1mg6%
* Percent Daily Values are based on a 2000 calorie diet.