As summer comes to an end, it's time to take advantage of the bounty of fresh fruit with a Blueberry Cantaloupe Salad! Kissed with the flavors of freshly squeezed lime juice and fragrant mint leaves you will surely savor those last days of the season. Blueberry Cantaloupe Salad is the prefect way to hang on to summer just a little bit longer…..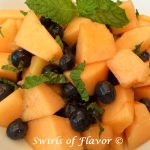 Blueberry Cantaloupe Salad
2015-08-28 07:44:40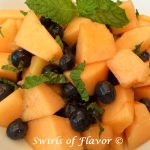 Serves 4
Nutrition Facts
Amount Per Serving
* Percent Daily Values are based on a 2,000 calorie diet. Your Daily Values may be higher or lower depending on your calorie needs.
Ingredients
2 Tbs. freshly squeezed lime juice
2 Tbs. superfine sugar
4 cups chopped cantaloupe, from 1 large cantaloupe
1 cup fresh blueberries
1 Tbs. chopped fresh mint leaves
Instructions
Combine lime juice and superfine sugar, stirring until sugar is dissolved.
Toss cantaloupe, blueberries, mint and lime juice mixture until evenly coated.
Notes
Makes 4 cups.
Swirls of Flavor https://swirlsofflavor.com/