Elevate your recipes to a whole new level with homemade honey syrup! With just two ingredients you can add natural sweetness to your coffees, teas, cocktails and dressings!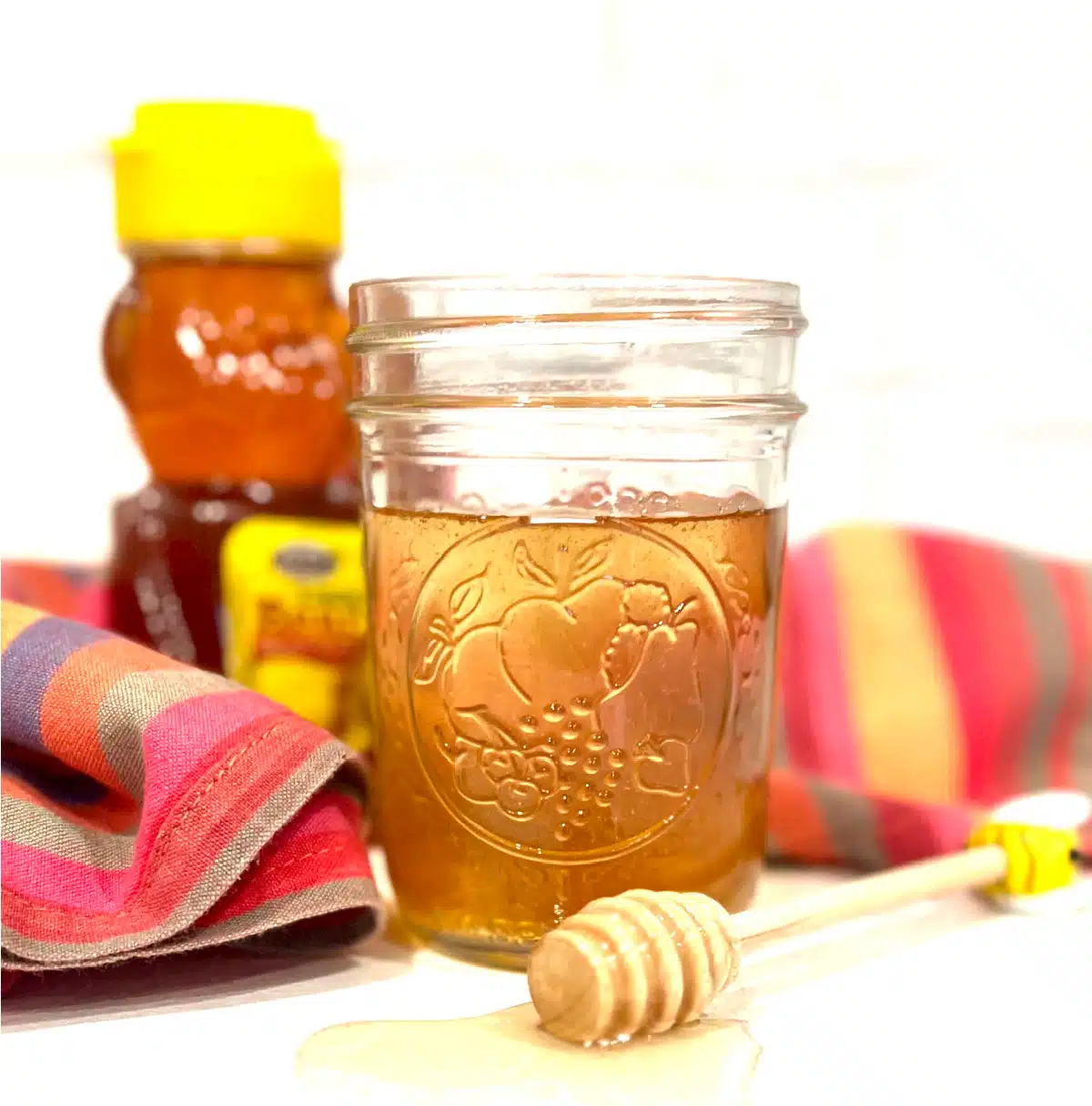 Honey Syrup Recipe
Grab the honey in your cupboard and some water and let's make a delicious Honey Syrup!
With just two ingredients you can transform the honey in your cupboard into a tasty, versatile honey simple syrup!
This homemade syrup is deliciously sweet and perfect for dressings, marinades, or to sweeten up your morning coffee.
Turning honey into a homemade simple syrup allows typically thick sticky honey to blend easily in drinks, dressings and a multitude of recipes.
Classically used for cocktails, simple syrup has always been an easy way to sweeten a recipe. But this honey version is even better.
Made with more natural sugar than the classic simple syrup, homemade simple syrup with honey is a great way to bring added flavor to just about any dish.
Plus, it simmers into delicious sweetness in just a few minutes making it the perfect way to use up even the older jar of honey in your cupboard.
Be sure not to bring the honey mixture to a boil since this will destroy some of the amazing benefits that honey has.
Just simmer the mixture over a low heat until the honey has dissolved into the water turning it into a thin syrup.
Keep in mind that there are different types of honey. Raw honey and whipped honey will have a thicker texture than processed honey.
The flavor of each honey will vary based on its source.
Examples of honey flavors are clover honey, wildflower honey, alfalfa honey and orange blossom honey.
Each will add flavor and color to the honey.
The kind of honey that I always love having on hand is the local honey from my area. Check out your farmers market for vendors selling local honey.
This Honey Syrup Recipe will give you a runny honey mixture making this natural sweetener easy to dissolve in drink recipes, especially a cold beverage.
Your favorite honey latte, iced coffee, happy hour cocktail recipes, salad dressings and desserts will all taste amazing with a splash of your own honey syrup!
How To Make Honey Simple Syrup
Scroll down for the full recipe instructions and ingredient amounts in the recipe card below.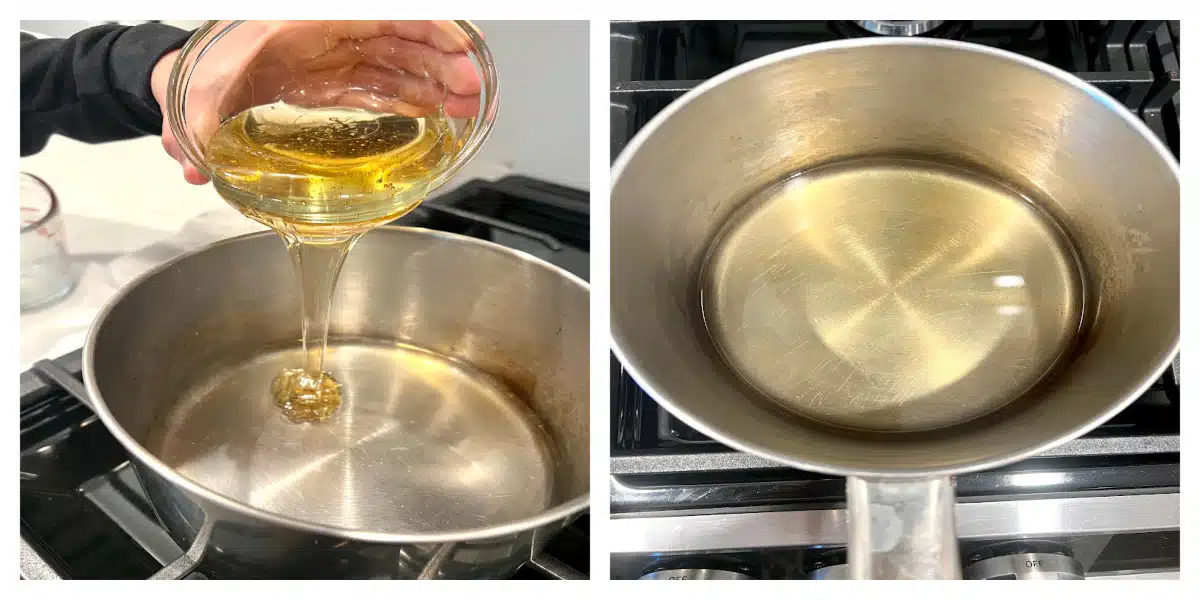 In a small saucepan, combine equal parts honey and water over medium heat.
Continue to heat until the mixture is at a simmer and the honey dissolves.
Let the honey syrup cool before transferring it to a mason jar and storing it in the fridge.
Swirls Of Flavor Recipe Tips
The ideal ratio for the honey syrup is 1:1, as in this recipe. This makes it a runny consistency perfect for drizzling. If you're infusing other flavors, stick to the 1:1 base ratio.
If you prefer a thicker simple syrup, add a touch more honey to the mixture starting with ¼ cup.
Bring the honey mixture just to a simmer, but do not boil. Boiling the honey will reduce its amazing benefits as well as create a sticker mess. Instead, you want to dissolve the honey into the water until combined.
Depending on the honey you use, melting it down may take longer especially if you use creamed honey or raw honey.
Likewise, each type of honey has a slightly different flavor, so the kind you choose will subtly alter the taste as well.
Substitutions
You can substitute maple syrup for the honey and easily make a maple simple syrup
Agave can be used in place of honey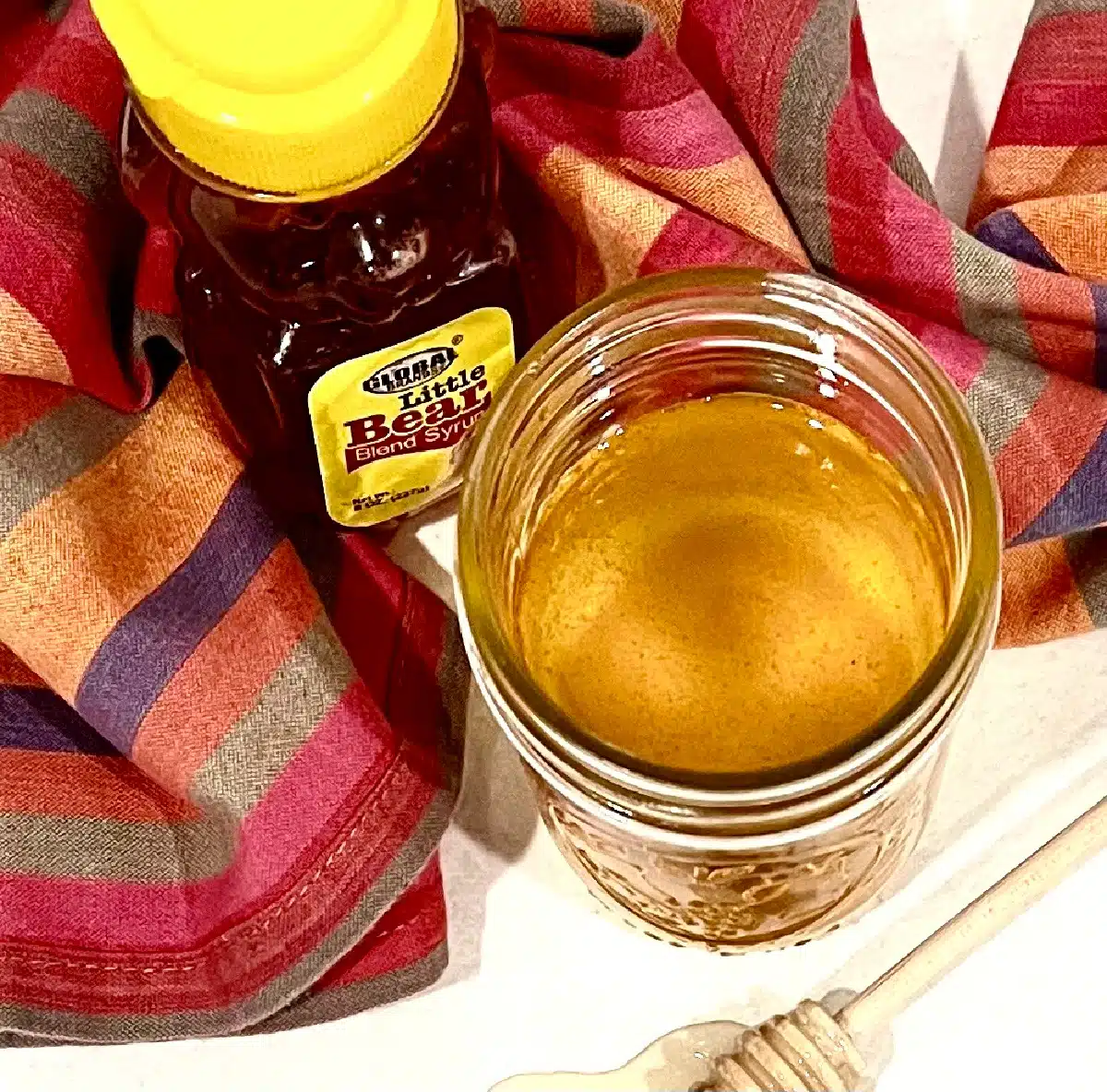 Variations
The best part about this honey simple syrup recipe is that it is so easy to customize and vary!
To make infused simple syrup use the following steps:
Peel and slice whatever you're infusing before adding it to the pot of water.
Bring the combination to a boil and let it simmer for 15 minutes.
Reduce the heat to low and whisk in the honey. Simmer until the honey has dissolved.
Using a fine sieve, strain the mixture and discard the solid pieces.
With this technique, you can easily make ginger honey syrup using fresh ginger pieces, which is great for cold season.
Other unique and delicious flavors can be made by adding in:
cinnamon sticks
vanilla beans
lemon or orange for a citrus twist
culinary lavender flowers
whole spices, such as star anise, cloves or whole peppercorns
In fact, because this simple syrup is so easy to customize, it also makes a thoughtful gift for friends and family around the holidays.
Equipment
Homemade Syrup Recipes
Ingredients For Simple Syrup With Honey
This easy honey syrup only requires two main ingredients, and you already have them in your kitchen!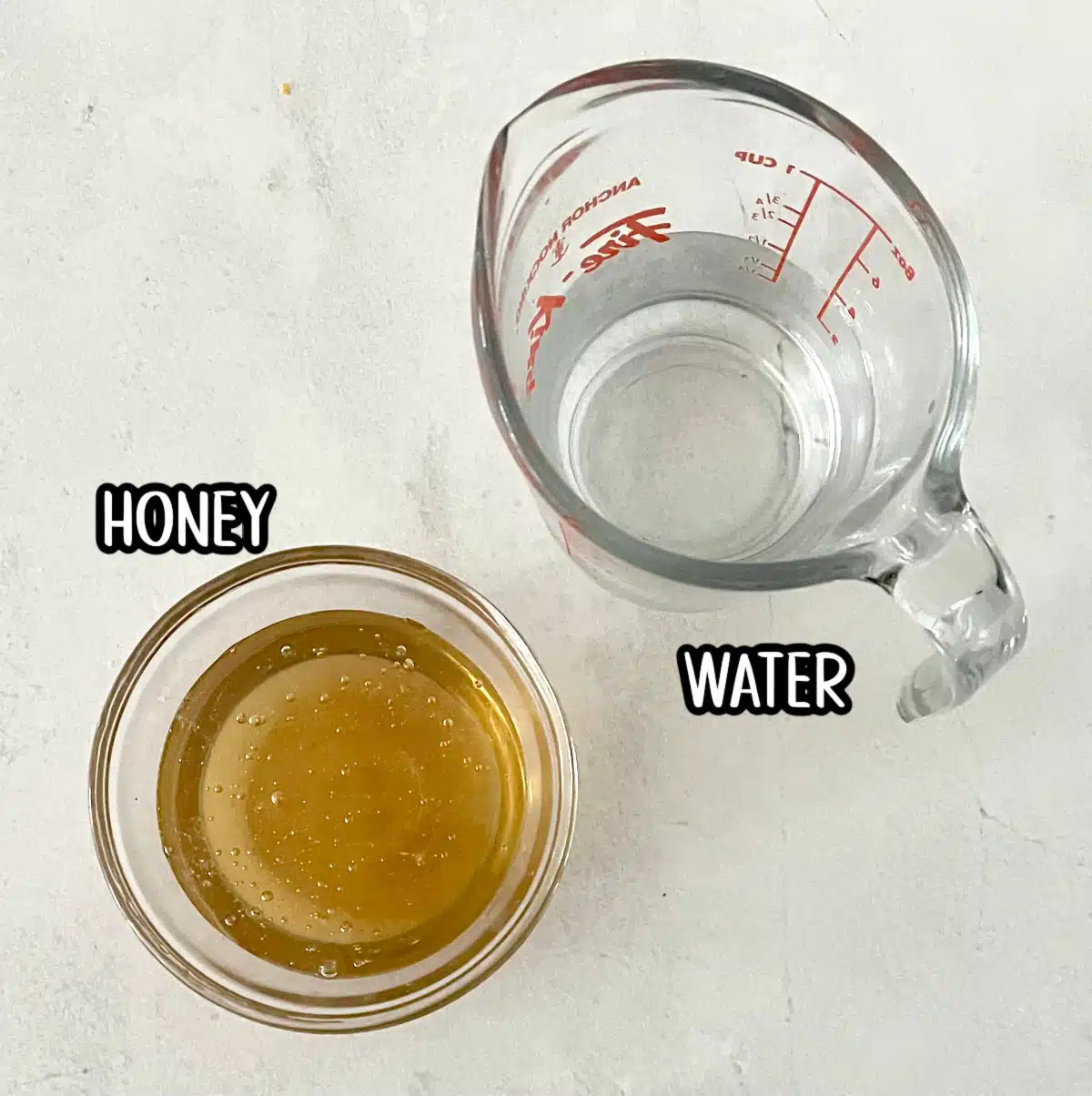 How Long Will Honey Syrup Last?
You want to store the honey syrup in the refrigerator in an airtight container once it's cooled. Stored like this and made with a 1:1 ratio, the syrup will last for up to one month.
Making a thicker syrup with a 2:1 honey to water ratio will last up to six weeks when stored in the refrigerator.
Can you freeze simple syrup?
Yes, you can easily freeze a simple syrup and have it on hand whenever you need some.
I recommend freezing it in silicone ice cube trays with tops

for easy removal.

Frozen simple syrup will last in the freezer for up to 3 months
How To Use Honey Syrup
Homemade simple syrup is versatile and can be used on just about anything that needs a hint of sweetness and delicious taste of honey.
Some amazing ways to use honey syrup are:
For cocktails: simple syrup can be added to the cocktail mixture directly or used to garnish the glass beforehand.
Ice cream: your movie night will get sweeter with this addition! Drizzle some honey syrup onto your favorite frozen treat and enjoy the elevated flavor.
Coffees and teas: skip the coffee shop line and make your own later at home! Use the honey syrup in the coffee itself, or if you're topping it with warm milk or whipped cream, drizzle it on top!
Salad dressing: honey syrup is ideal for salad dressings because it's already been liquefied. This makes it so that it blends into the other ingredients much easier than using honey by itself.
Summer fruit salad: toss a fresh fruit salad with a drizzle of honey syrup and your tastebuds will thank you
Though simple syrup is often added to other dishes to bring out a tastier flavor, this honey syrup is also great to help relieve a scratchy throat. Whisk some into warm water or a nighttime tea for some welcome relief.
Keep in mind though that the honey you use may alter the flavor of what you serve it with.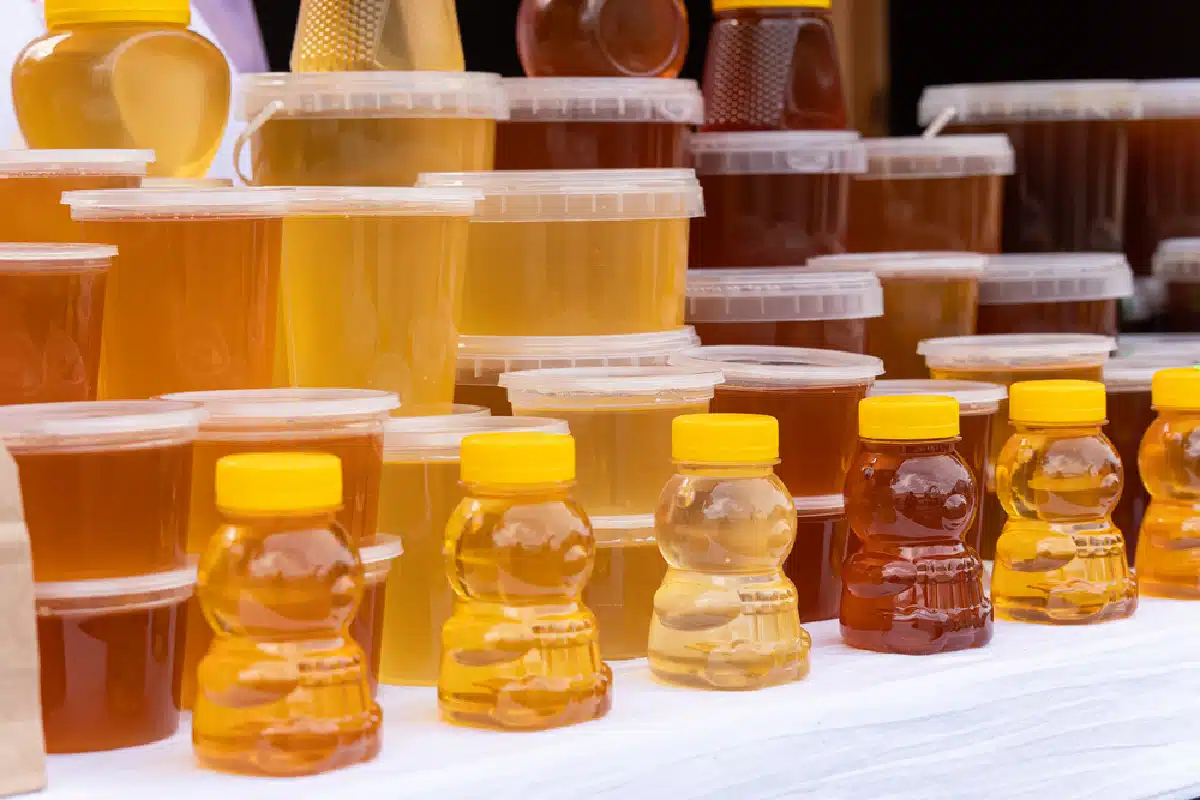 Which honey is best for honey syrup?
All varieties of honey will work to make honey syrup, however, the kind you choose will subtly alter the flavor. Some honey varieties are better suited than others depending on what you need them for.
Milder honey, such as clover and acacia, are ideal for adding a hint of sweetness to cocktails.
Darker varieties, like buckwheat, have a stronger flavor and are great for strong spirits or whisking honey syrup into tea to soothe a sore throat.
Does simple syrup go bad?
Stored in the refrigerator in a sealed mason jar or airtight container, honey syrup will last up to 4 weeks.
When using simple syrup make sure to use a fresh, dry spoon to remove the honey syrup from the jar so that no bacteria get into the jar. This will ensure it doesn't go bad in that time frame.
You can also drizzle the honey syrup directly from the jar.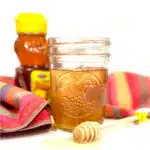 Print
Honey Syrup Recipe
Elevate your recipes to a whole new level with this honey syrup! All you need is two ingredients to whip it up and you can add some natural sweetness to your dressings, coffees, and cocktails!
As an Amazon Associate I earn from qualifying purchases.
I earn a commission from Instacart from qualifying purchases.
Instructions
Combine honey and water in a small saucepot over medium heat.

Simmer until the honey has dissolved.

Let cool then transfer to a mason jar or airtight container and refrigerate for up to 4 weeks.