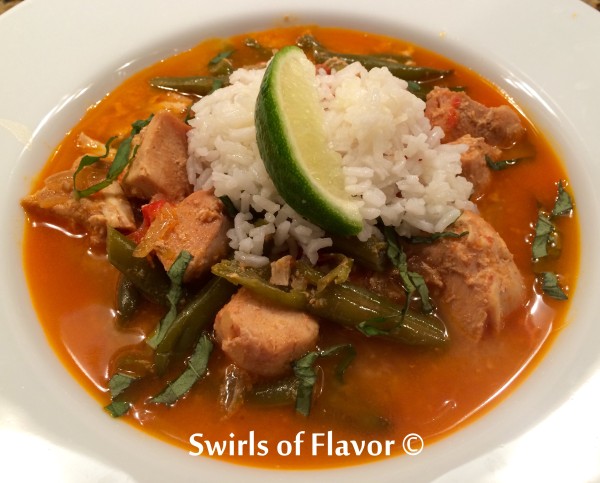 Slow cooker season makes me so happy! Just assemble the ingredients in the morning, turn on the slow cooker, and dinner is served when you get home! Yes, I love slow cooker season and the chill in the air! I also love the flavors of Thai food…..coconut, curry, ginger, basil, lime…..an amazing combination of fabulous flavors! Coconut Curry Thai Chicken's light curry broth is the perfect blend of seasonings guaranteed to wake up your taste buds! Perfect with hot cooked rice and a wedge of lime! Coconut Curry Thai Chicken will quickly become a family favorite!
Slow Cooker Coconut Curry Thai Chicken
2 red bell peppers, seeded, thinly sliced, 2 cups
1 large onion, thinly sliced, 1 1/2 cups
2 cups green beans, 8 ounces
2 lbs. boneless skinless chicken breasts, cut in 2-inch chunks
1 can (13.66 oz. – 14 oz.) unsweetened coconut milk
1/4 cup red curry paste, Thai Kitchens
3 cloves garlic, minced
1 Tbs. minced fresh ginger
1 tsp. kosher salt
1/3 cup thinly sliced fresh basil
3 Tbs. lime juice
hot cooked rice, serving suggestion
lime wedges, serving suggestion
hot sauce, serving suggestion
1. Combine red peppers, onion and green beans in bottom of slow cooker. Top with chicken.
2. Combine coconut milk, red curry paste, garlic, ginger and kosher salt. Pour over chicken and vegetables.
3. Cook 7-8 hours on low or 3-4 hours on high.
4. Stir in basil and lime juice. Top with hot cooked rice, lime wedges…..and hot sauce, for those who like it hot!
Makes 6 cups.