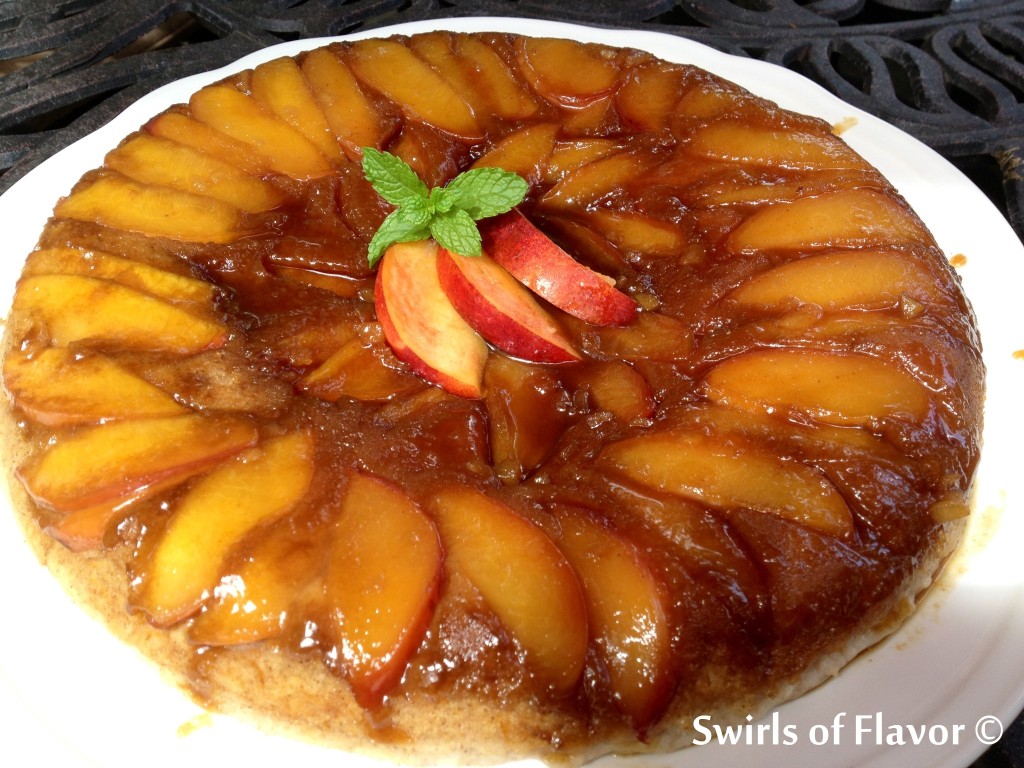 Sometimes it's just too hot to turn on your oven but you can't shake that craving for a sweet juicy fruity homemade cake. Not to worry, I've got the perfect solution for you….a skillet cake! Yes, it's a cake that "bakes" in a skillet on your stovetop! No oven necessary! The fresh fruit cooks in a buttery brown sugar glaze topped with cake batter that is perfectly spiced with cinnamon and ginger. And with summer's bounty bursting with fresh fruit you can choose your favorite. I chose nectarines but peaches, plums and even apricots would all taste fabulously delicious, so the choice is yours. Once you taste this skillet cake you'll be making it over and over. Try it with different fruits each time, I guarantee you'll be happy no matter which fruit you choose. Almost forgot to mention, it's especially delicious served with whipped cream or ice cream…..or both!
Nectarine Upside Down Skillet Cake
4 Tbs. butter
1/2 cup packed dark brown sugar
1/4 cup orange juice
1 tsp. finely chopped crystallized ginger
1 lb. nectarines, pitted, sliced, about 3 cups
1 box (16 oz.) poundcake mix
1 Tbs. ground cinnamon
1 tsp. ground ginger
3/4 cup 2% milk
2 eggs
1. In large non-stick skillet over medium heat melt butter. Stir in brown sugar, orange juice and crystallized ginger. Heat until just bubbly.
2. Arrange fruit slices in concentric circles, overlapping slightly. Simmer 5 minutes.
3. Meanwhile, in bowl combine poundcake mix, cinnamon and ground ginger until blended.
4. Add milk; with mixer on medium speed, beat until combined, about 1 minute.
5. Add eggs; beat until a batter forms, 1-2 minutes, scraping sides of bowl as necessary.
6. Carefully pour batter evenly over fruit to cover.
7. Reduce heat to low. Cook, covered with domed glass lid, until cake is "baked" through, 30 minutes. Do not remove the glass lid while cooking.
8. Remove from heat. Let stand, uncovered, 15 minutes.
9. Invert onto serving dish. Serve warm or at room temperature.
Makes 12-16 servings.