This post contains affiliate links. (Disclosure policy)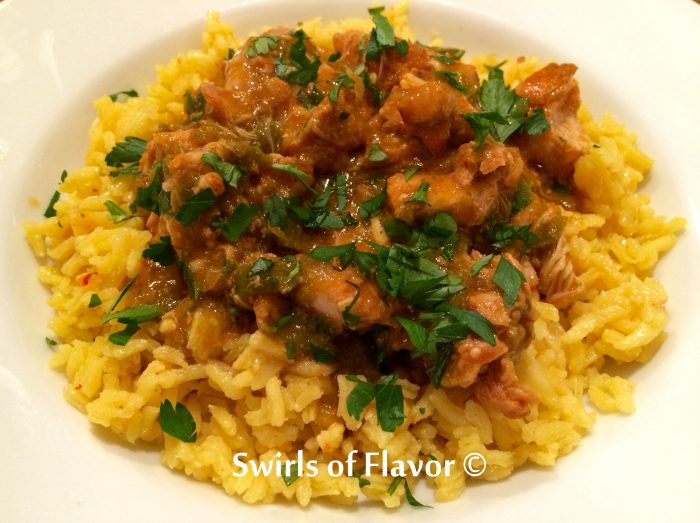 As the holidays come to an end, here in the northeast we are beginning to think about the impending cold weather of the winter months ahead…..and let me tell you, baby it's cold outside already! To me winter weather means comfort food that sticks to your ribs and warms your bones. Salsa Verde Chicken will soon become your new go-to favorite comfort food that's as easy to make as it is delicious….and with just four ingredients, simmered in a slow cooker, served over rice, it doesn't get much easier or more delicious! Salsa verde, similar to the red tomato-based salsa that we all know and love, is made with tomatillos instead of tomatoes, giving it it's green color. The tomatillo, also known as a husk tomato and native to Mexico and Central America, looks like a small green tomato covered in a husk. Tomatillos also provide Vitamin C, iron, calcium and magnesium. I'm thinking it's time to turn on the slow cooker and fill your home with "Swirls of Flavor" as Salsa Verde Chicken simmers for tonight's dinner!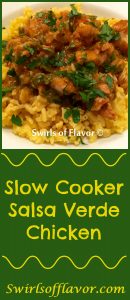 Slow Cooker Salsa Verde Chicken
2 lbs. boneless skinless chicken thighs, cut in chunks
1 envelope (1 oz.) taco seasoning mix
1 jar (16 oz.) salsa verde
2 Tbs. chopped cilantro
hot cooked yellow or white rice, serving suggestion
1. In bowl combine chicken and taco seasoning mix, tossing until evenly coated. Arrange in bottom of slow cooker.
2. Pour salsa verde over chicken. Cook 7-8 hours on low or 3-4 hours on high.
3. Stir and sprinkle with cilantro. Serve over hot cooked rice.
Makes 5 cups + rice.