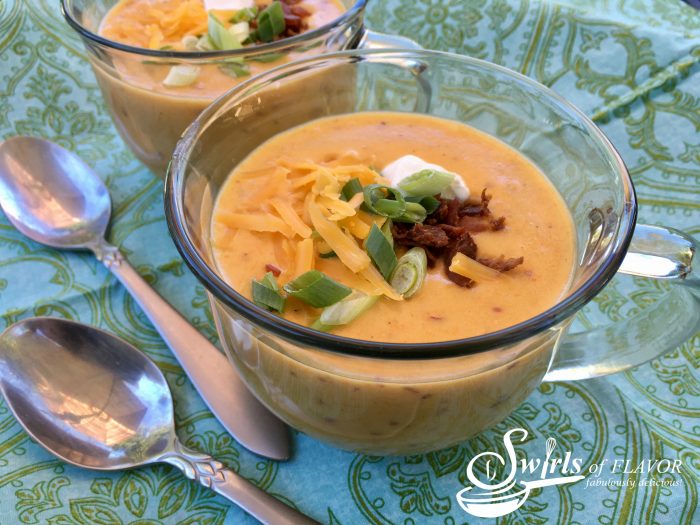 Baby it's cold outside! There's a certain chill in the air that's hinting at the inevitable arrival of a cold and snowy winter. It's nothing that a piping hot bowl of creamy soup can't fix. I personally am a big fan of a hearty rib-sticking potato soup and Cheddar Potato Soup is so creamy, silky and cheesy, with a hint of bacon, that you will quickly become a potato soup fan too! Cooked in about 30 minutes on top of the stove and pureed to perfection with an immersion blender, this soup is a quick and easy way to warm up to the chill of an impending winter. Bring it on winter, we're ready for you now!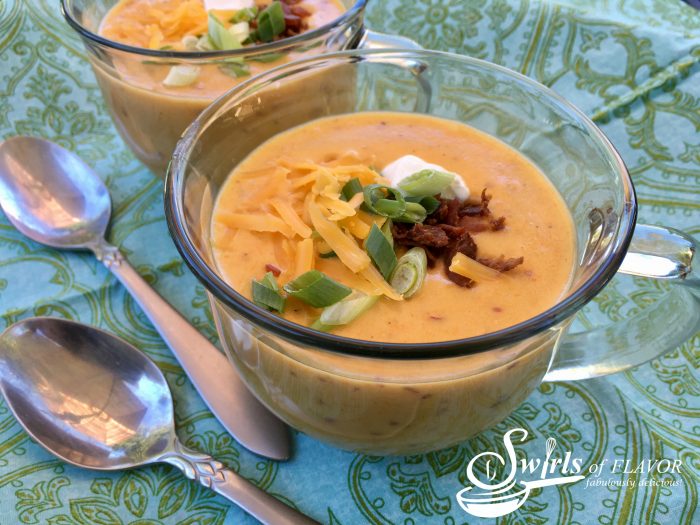 Cheddar Potato Soup
2016-12-08 22:05:00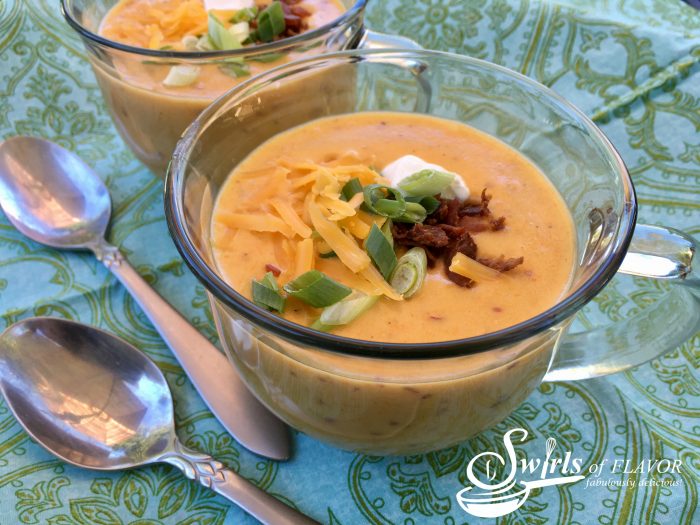 Serves 4
Cheddar Potato Soup is creamy, silky and cheesy with a hint of bacon and quick and easy to make for dinner!
Nutrition Facts
Amount Per Serving
* Percent Daily Values are based on a 2,000 calorie diet. Your Daily Values may be higher or lower depending on your calorie needs.
Ingredients
1 slice bacon, chopped
2 Tbs. butter
2 leeks, white and light green, chopped, 2 cups
2 carrots, peeled and chopped, 1 cup
1 stalk celery, chopped, 1/2 cup
1 clove garlic, minced
1/2 tsp. kosher salt
1/4 tsp. pepper
1 lb. red potatoes, cut in 1-inch pieces, about 3 cups
4 cups chicken broth
1 cup shredded sharp cheddar cheese
Suggested garnishes: shredded cheddar cheese, chopped scallions, sour cream, crumbled crisp-cooked bacon
Instructions
In medium saucepot cook bacon and butter until butter is melted. Add leeks, carrot, celery, garlic, kosher salt and pepper and cook until vegetables are softened, 5-7 minutes.
Add potatoes and broth and bring to a boil over medium-high heat. Cook 20 minutes or until potatoes are very tender.Add cheese, stirring until cheese is melted.
Using an immersion blender, puree soup.
Garnish, if desired, with additional cheddar cheese, chopped scallions, sour cream and crumbled crisp-cooked bacon.
Swirls of Flavor https://swirlsofflavor.com/