Beef Taco Cups is an easy recipe that will soon become your favorite and fun way to celebrate Taco Tuesday! Tortillas bake into cute crunchy taco cups that are filled with our saucy beef mixture and taco toppings.
Beef Taco Cups Recipe
Let's change up Taco Tuesday with a fun taco recipe this week, shall we? Let's make Beef Taco Cups!
Everyone loves Taco Tuesday and it's so much fun to make tacos different ways. Here at Swirls we have so many Taco Tuesday recipes for you. You can let your imagination run wild.
First Published: October 16, 2018… Last Updated: September 17, 2019
There are open-faced tacos, tacos in taco boats, taco bowls, vegan tacos, vegetarian tacos, steak tacos, fish tacos, chicken tacos, tacos in baked potatoes and even walking tacos….the list goes on and on.
But today we are serving our tacos up in these adorable mini taco bowls made from tortillas!
This post contains affiliate links. If you make a purchase through one of these links, I make a small commission at no extra cost to you.
How To Make Taco Cups With Tortillas
To make taco cups, simply bake tortillas in a muffin tin for just ten minutes to form a crunchy shell that will be the bowl for your taco filling. A flavorful saucy ground beef mixture and toppings finish off this beef taco cups recipe. Kids, and grown ups too, will have so much fun on Taco Tuesday when Beef Taco Cups are on the menu!
Gently overlap the tortillas and they will fold easily to fit into the muffin tin. For even easier folding, simply heat them for several seconds in the microwave to warm them up and make them more pliable!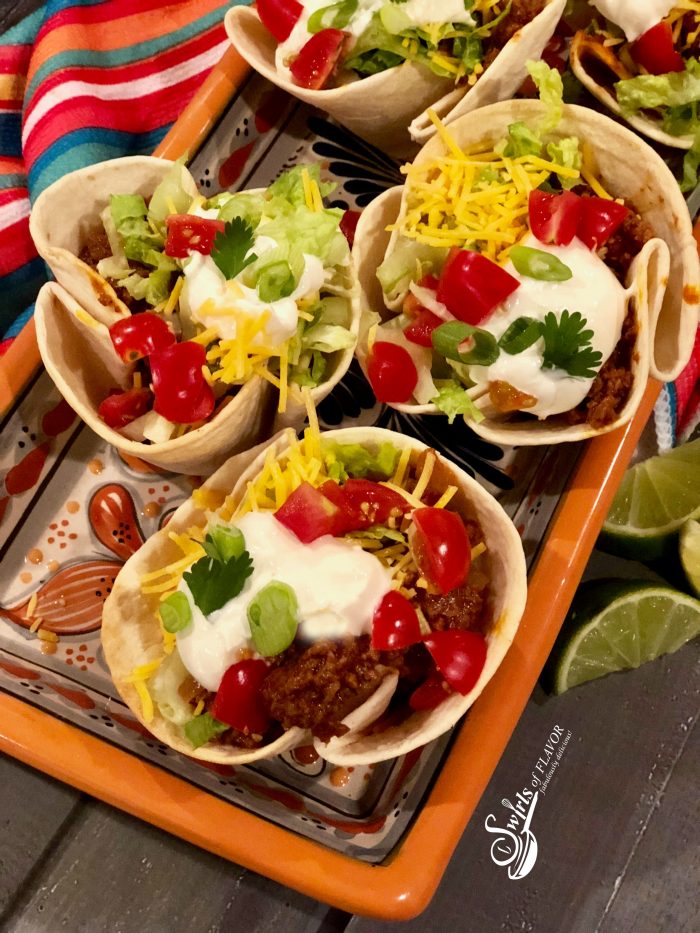 Ingredients you will need to make this recipe
flour tortillas, taco style
extra lean ground beef
onion
homemade taco seasoning or store bought taco seasoning
tomato sauce
shredded cheddar cheese
lettuce
sour cream
scallion
tomato
cilantro

Taco Toppings
Have fun with your taco cups and top them with your favorite toppings! Here are a few suggestions!
avocado
black beans
cheese
chopped onions
chopped tomatoes
cilantro
refried beans
rice
salsa
scallions
shredded lettuce
sliced jalapenos
sour cream
Decorations for a taco party
Taco time is a good time for a taco party! Tacos are the best party food and always put me in a fiesta state of mind!
If you decide to actually go all out and have a taco party, you definitely must start with hanging this Taco About A Party Banner (this makes me crack up every time!).
Then add a colorful Serepe Plastic Tablecloth, or this set of hand woven serape table runners in fextive colors (or both!) and these adorable Fiesta Paper Striped Party Straws with Tacos, Sombreros and more on them.
A taco serving plate with all the sections is an ideal way to serve all your favorite toppings and be sure to don your let's taco about it t-shirt (again, cracking up here!) and let the fiesta begin!

Taco Recipes
I know that you will want to make Beef Taco Cups every week, because they are so much fun, but trust me, you'll also want to try these taco recipes too. Remember, variety is the spice of life!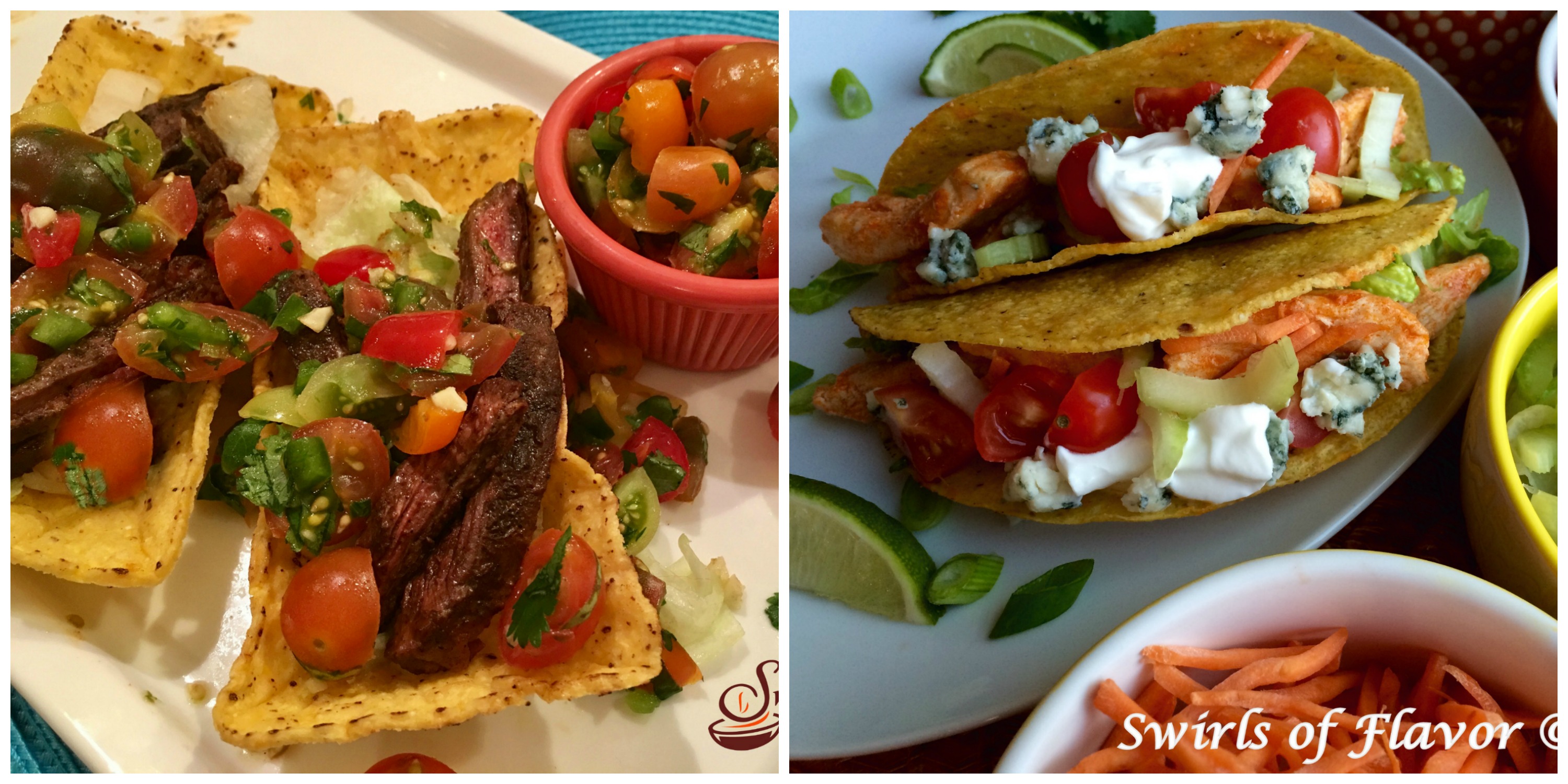 Season slices of juicy skirt steak with a few basic spices and enjoy them nestled in a crunchy corn shell topped with a lime-scented mixture of fresh heirloom tomatoes. Spiced Skirt Steak Tacos are a party in your mouth with a burst of flavor in every bite!
A taco filled with saucy spicy buffalo chicken topped with celery, carrots, tomatoes and creamy Roquefort blue cheese puts a twist on tacos that combines your favorite foods, tacos and buffalo chicken, and make Buffalo Chicken Tacos!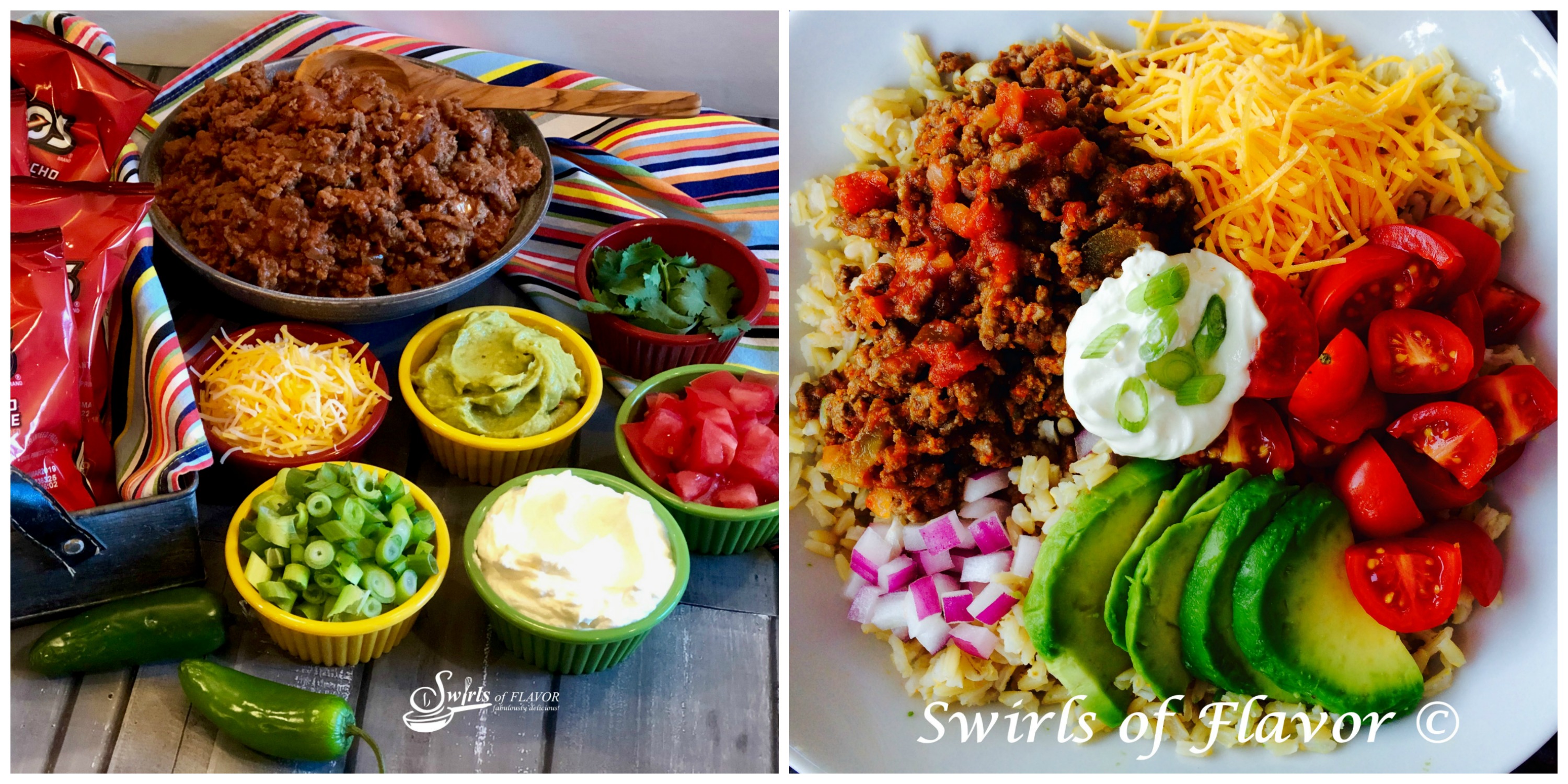 A Walking Taco Bar is the perfect way to serve up a saucy taco filling and your favorite toppings in a bag of chips for the big game. Crush the chips in your bag, top them with a flavorful beef taco filling, pile high with lots of taco toppings, add a plastic fork and you're all set!
Brown Rice Taco Bowl is a taco in a bowl! Your Taco Bowl is filled with a seasoned ground beef and salsa mixture, creamy avocado, juicy tomatoes, cheddar cheese and red onion all on top of hearty good-for-you brown rice.
Beef Taco Cups
Beef Taco Cups is an easy recipe that will soon become your favorite and fun way to celebrate Taco Tuesday! Tortillas bake into cute crunchy cups that are filled with our saucy beef mixture and taco toppings.
Ingredients
8

(6-inch diameter)

flour tortillas,

taco style

1

lb

extra lean ground beef

½

cup

chopped onion

2

Tbs.

homemade taco seasoning

or store bought taco seasoning

1

can (8 ounces)

tomato sauce

1

cup

shredded cheddar cheese

2

cups

chopped lettuce

1/2

cup

sour cream

1

scallion,

sliced

1

tomato,

chopped

Cilantro leaves
Instructions
Heat oven to 350°F.

Line 8 muffin cups with tortillas. Carefully overlap edges of tortillas to leave openings in centers for the filling. Bake 10 min.

Meanwhile, heat a large non-stick skillet over medium-high heat. Cook ground beef, onion and taco seasoning until beef is browned, about 7 minutes.

Stir in tomato sauce and bring to boil. Reduce heat and simmer 10 minutes, stirring occasionally.

Spoon beef mixture, about 1/3 cup per bowl, into tortilla bowls. Top with lettuce, cheese, sour cream, tomato and scallion. Garnish with cilantro leaves.
Recipe Notes
4 servings/2 bowls per serving
Makes 2 ½ cups filling.