Chicken Parmesan Penne Pasta is an easy recipe bursting with all the flavors of Chicken Parmesan. Our chicken Parmesan pasta is bursting with seasoned chicken, penne pasta, tomato sauce and cheese, that cook up all together for a quick weeknight dinner. And it's ready in just 30 minutes!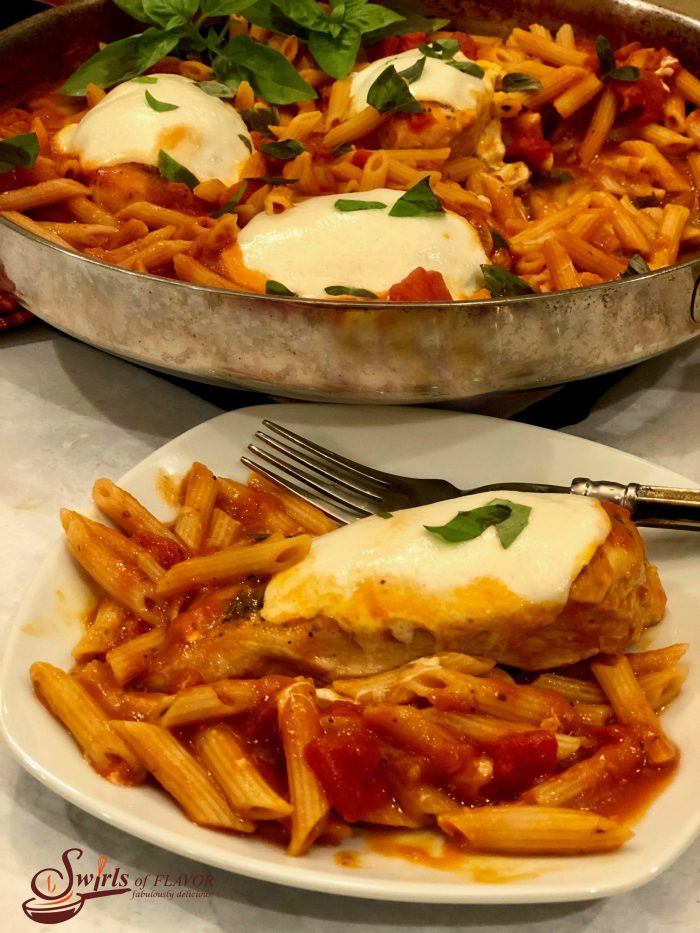 Chicken Parm Pasta Recipe
Being the mom of four hungry sons, I soon learned how to get dinner on the table quickly over the years! And that's how One Pot Dinners were born, out of sheer necessity. Over time I have created many one pot recipes so that there is a good variety of flavors in my line up and I'm so happy to be able to share them with you here at Swirls!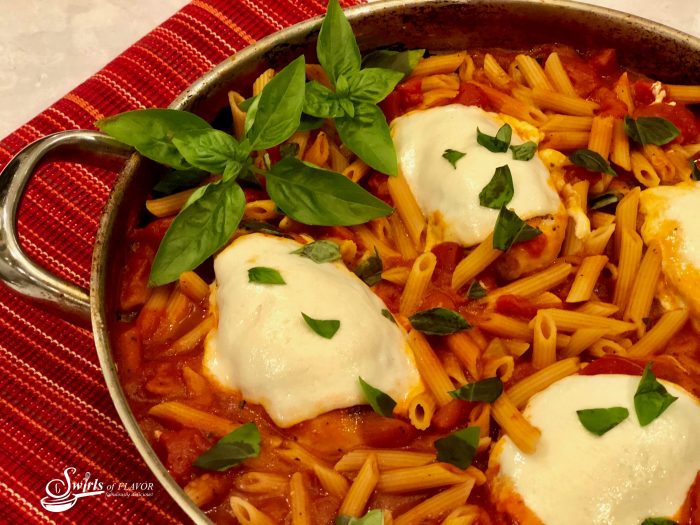 Traditional Chicken Parmesan has a breaded coating and bakes in the oven or fries up in a skillet. If you want pasta with your Chicken Parm you'll have to bring a pot of water to a boil to cook the pasta while your chicken is cooking. But not with my One Pot Chicken Parmesan Pasta recipe!
There's no breading, making this recipe a better for you and healthy chicken Parmesan recipe. Adding to your skinny chicken, this is also an easy chicken recipe you'll have only one pot to cook and serve in. Now that's a win-win in my books. You'll quickly agree that this is the best chicken Parmesan pasta recipe ever!
As an Amazon Associate I earn from qualifying purchases.
This recipe is part of Meal Plan Monday and The Weekend Potluck
Ingredients you will need to make this recipe
olive oil
boneless skinless chicken breasts
grated Parmesan
dried Italian seasoning
garlic powder
kosher salt
tomato sauce
diced tomatoes with basil and oregano
water
mini penne pasta
red wine
fresh mozzarella
fresh basil
Easy One Pot Recipes
So do you love the ease of One Pot Recipes as much as I do? Aren't they are the perfect way to get dinner on the table in a matter of minutes on those busy nights? Then be sure to add these recipes to your weeknight recipe line up too!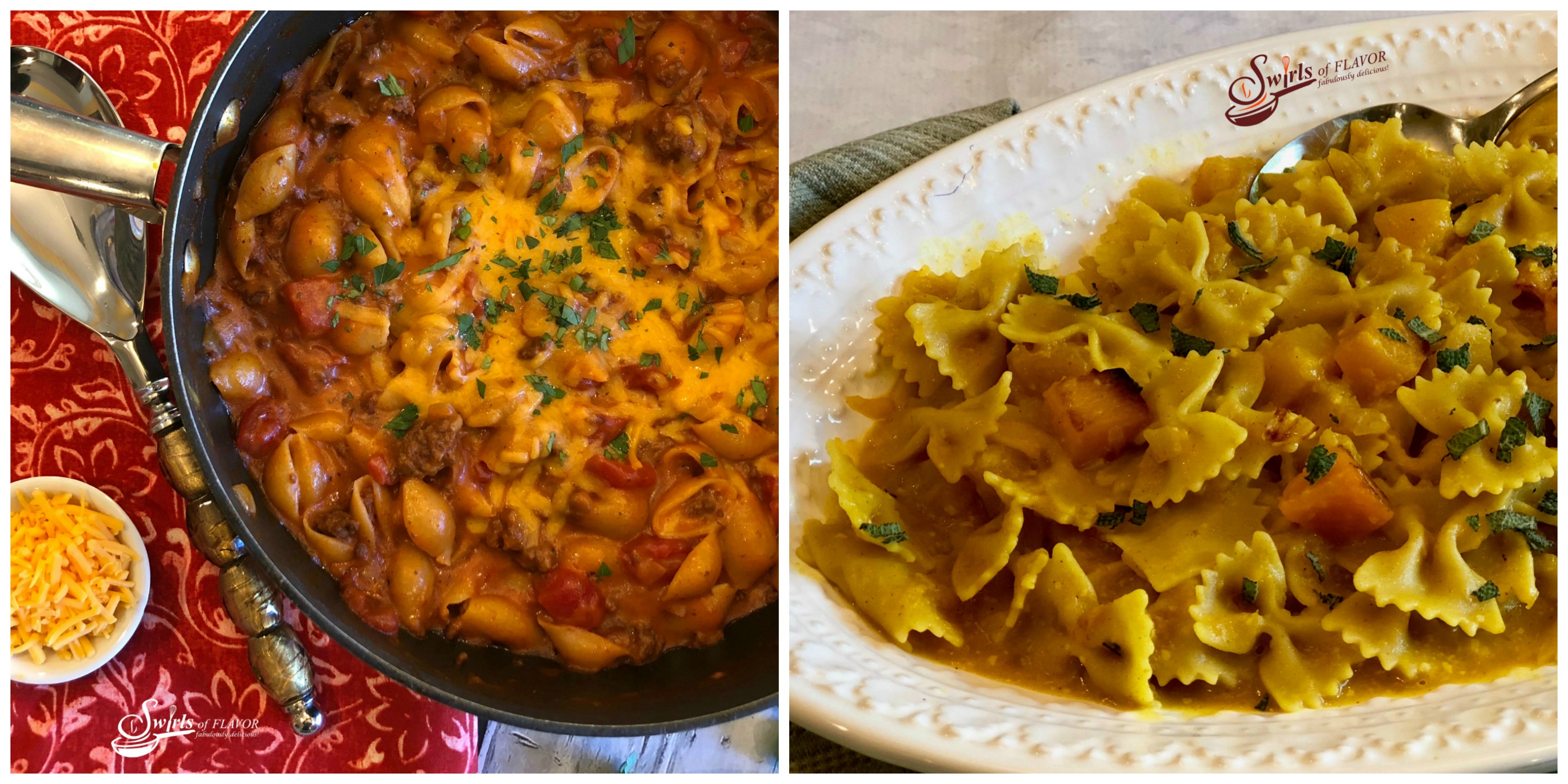 One Pot Chili Mac and Cheese is an easy dinner recipe that combines two all time comfort food favorites, mac and cheese and chili. This one pot recipe is filled with cheesy saucy goodness, and yes, it's made in just one pot! Kids, and grownups, will love when this tasty chili mac and cheese recipe is on the menu!
The sweet nutty flavor of butternut squash and fragrant aroma of fresh sage combine with pasta in a light buttery sauce making One Pot Butternut Squash Pasta With Sage your soon-to-be favorite vegetarian one pot dinner.
One Pot Fettuccine Bolognese is an easy recipe brimming with beef, carrots, celery and onions and forms a sauce with diced tomatoes, tomato sauce, red wine and seasonings as it cooks with the pasta in the same pot. Perfect pasta and sauce recipe for a busy weeknight dinner and great to serve when entertaining too!
I've upgraded mac and cheese from the blue box and made it better and super easy for you with One Pot Mac 'N Cheese with the pasta, cheesy sauce and breadcrumb topping all cooked together in the same skillet!
Change up your Taco Tuesday this week with our One Pot Taco Beef and Rice. A taco skillet recipe that's quick, easy and delicious will soon become a family favorite taco alternative. With all the flavors of a taco, you can eat this easy taco rice recipe in a bowl or in taco shells.
One Pot Spaghetti and Meatballs is an easy recipe that cooks pasta and homemade meatballs together in a delicious tomato sauce. Ground beef meatballs simmer in a quick homemade sauce and then uncooked spaghetti is added. Skillet spaghetti and meatballs finishes cooking together in one pot for a saucy pasta dinner!
One Pot Chicken Parmesan Pasta
One Pot Chicken Parmesan Pasta is an easy recipe bursting with all the flavors of Chicken Parmesan, seasoned chicken, penne pasta, tomato sauce and cheese, that cook up all together for a quick weeknight dinner that's ready in just 30 minutes!
Instructions
Heat oil in large non-stick skillet over medium-high heat.

Season chicken with Parmesan, Italian seasoning, garlic powder and kosher salt.

Cook chicken until browned on both sides, about 6 minutes, turning once.

Add tomato sauce, diced tomatoes with their juices, water, uncooked pasta and red wine and bring to a boil.

Cook 10 minutes or until chicken is cooked through and pasta is al dente.

Top chicken with mozzarella slices. Reduce heat to low and cook, covered, until mozzarella is melted, about 2 minutes.

Sprinkle with Parmesan and top with fresh basil.
Nutrition
Calories:
542
kcal
|
Carbohydrates:
45
g
|
Protein:
41
g
|
Fat:
20
g
|
Saturated Fat:
7
g
|
Cholesterol:
102
mg
|
Sodium:
693
mg
|
Potassium:
601
mg
|
Fiber:
2
g
|
Sugar:
2
g
|
Vitamin A:
401
IU
|
Vitamin C:
2
mg
|
Calcium:
283
mg
|
Iron:
2
mg