One Pot Fettuccine Bolognese is an easy recipe for pasta that's brimming with beef, carrots, celery and onions. A sauce of diced tomatoes, tomato sauce, red wine and seasonings forms as it cooks with the pasta in the same pot. Fettuccine Bolognese is the perfect pasta and sauce recipe for a busy weeknight dinner and great to serve when entertaining too!
Fettuccine Bolognese Recipe
Sadly, summer is over and it's time to get back to the old routine. You know, school, activities, sports, work and all that jazz. One Pot Fettuccine Bolognese will get dinner on the table in a matter of minutes on those busy nights with just one pot to clean up!
Brown your ground beef along with vegetables and seasonings, add your tomatoes, liquids and pasta and boil until done. Voila! The family will be happy with a hearty pasta dinner and no one will have to know it was such an easy fettuccine bolognese to make but you!
Add a salad to round out your meal and a dessert, if you're so inclined. And with our fettuccine bolognese recipe cooking itself on the stove top, you'll definitely have time to get everything else ready or just pour yourself a glass of wine and call it day!
First Published: September 4, 2018… Last Updated: July 24, 2019
You are going to love how our one pot bolognese forms a flavorful sauce as it cooks with the pasta in the same pot. This hearty pasta and meat sauce dinner will satisfy the hungriest family member.
Bolognese Sauce FAQ's
What is Bolognese sauce made of?
Bolognese sauce is a meat-based sauce made with wine, tomatoes and chopped vegetables. Bolognese is known as "ragu alla bolognese" in Italian.
Where did Bolognese sauce get it's name from?
Bolognese sauce got it's name from the town of Bologna in Italy where the sauce recipe originated.
As an Amazon Associate I earn from qualifying purchases.
What is the best pot to use for this recipe?
It is important to make our one pot fettuccine recipe with a deep skillet so that all of the liquid ingredients fit into the pot before the sauce begins to cook down. One of my favorite deep skillets is the Simply Calphalon Deep 12-inch Pan.
Another pot I highly recommend for our Bolognese Fettuccine is the Calphalon 1932442 Classic Nonstick All Purpose Pan. Both pots come with lids, have metal handles so they are also oven safe and have deep sides so all the ingredients from your one pot recipes will fit easily into them.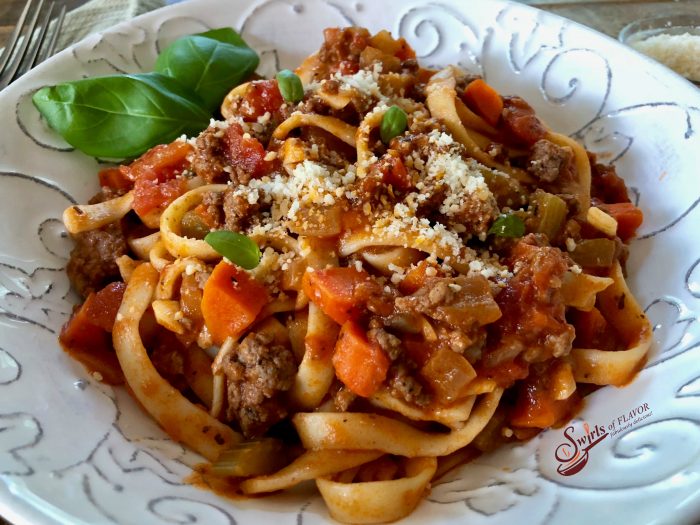 Ingredients you will need to make this recipe
onion
carrots
celery
garlic
dried Italian seasoning
kosher salt
ground beef
diced tomatoes with basil, garlic and oregano
tomato sauce
water
red wine
fettuccine
Parmesan
fresh basil
One Pot Recipes
Do you love the ease of One Pot Recipes as much as I do? They are the perfect way to get dinner on the table in a matter of minutes on those busy nights. I guarantee you'll love these one pot recipes as much as you love One Pot Fettuccine Bolognese.
One Pot Chili Mac and Cheese is an easy dinner recipe that combines two all time comfort food favorites, mac and cheese and chili. This one pot recipe is filled with cheesy saucy goodness, and yes, it's made in just one pot! Kids, and grownups, will love when this tasty chili mac and cheese recipe is on the menu!
One Pot Creamy Tomato Basil Pasta is easy recipe that will soon be a family favorite. Our one pot pasta recipe makes it's own velvety tomato sauce and gets it's creaminess from a secret ingredient! Just stir the ingredients together in one pot, bring to a boil and cook until the pasta is al dente. Stir in arugula, basil and the secret ingredient, cream cheese, and serve!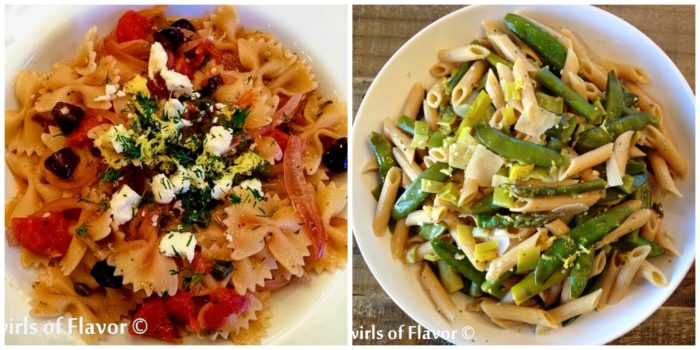 Travel to Greece with One Pot Greek Lemon Dill Pasta, pasta flavored with capers, olives and red onion in a buttery tomato broth. Cook everything together in the pot, sprinkle with fresh dill, lemon and feta cheese. Perfect for Meatless Monday or top with cooked sliced chicken.
One Pot Springtime Pasta Primavera, is an easy pasta recipe bursting with the flavors of springtime vegetables. Pasta cooks together in one pot with sugar snap peas, asparagus, leeks and seasonings, forming a light buttery brothy sauce. Perfect for springtime!
One Pot Mexicali Bowtie Pasta is seasoned with salsa, chili powder and cumin, giving it a Mexican flair. Top it with melty cheese and fresh scallion and all you'll need is cornbread and a salad and you're all set for a Mexican fiesta!
The sweet nutty flavor of butternut squash and fragrant aroma of fresh sage combine with pasta in a light buttery sauce making One Pot Butternut Squash Pasta With Sage your soon-to-be favorite vegetarian one pot dinner.
One Pot Unstuffed Peppers With Rice is an easy and quick way to have your stuffed peppers without all the fuss! Ground beef, rice, bell peppers and seasonings cook together in one pot in less than 30 minutes. All the flavors of traditional stuffed peppers in one pot.
I've upgraded mac and cheese from the blue box and made it better and super easy for you with One Pot Mac 'N Cheese with the pasta, cheesy sauce and breadcrumb topping all cooked together in the same skillet!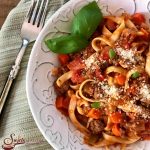 One Pot Fettuccine Bolognese
One Pot Fettuccine Bolognese is an easy recipe brimming with beef, carrots, celery and onions and forms a sauce with diced tomatoes, tomato sauce, red wine and seasonings as it cooks with the pasta in the same pot. Perfect pasta and sauce recipe for a busy weeknight dinner and great to serve when entertaining too!
Keyword:
fettuccine bolognese
Instructions
In large non-stick skillet with deep sides combine ground beef, onion, carrots, celery, garlic, Italian seasoning and salt.

Cook until beef is browned and vegetables are tender-crisp, 10 minutes, stirring occasionally.

Stir in diced tomatoes with their juices, tomato sauce, water and red wine. Add fettuccine, breaking in half if necessary, and bring to a boil. Cook, boiling,12 minutes or until fettuccine is al dente.

Serve with Parmesan and garnish with fresh basil leaves.
Recipe Video
Recipe Notes
Makes 4 servings/8 cups.
Nutrition Facts
One Pot Fettuccine Bolognese
Amount Per Serving
Calories 611
Calories from Fat 261
% Daily Value*
Fat 29g45%
Cholesterol 139mg46%
Sodium 572mg25%
Potassium 721mg21%
Carbohydrates 50g17%
Protein 33g66%
Vitamin A 5624IU112%
Vitamin C 6mg7%
Calcium 236mg24%
Iron 4mg22%
* Percent Daily Values are based on a 2000 calorie diet.