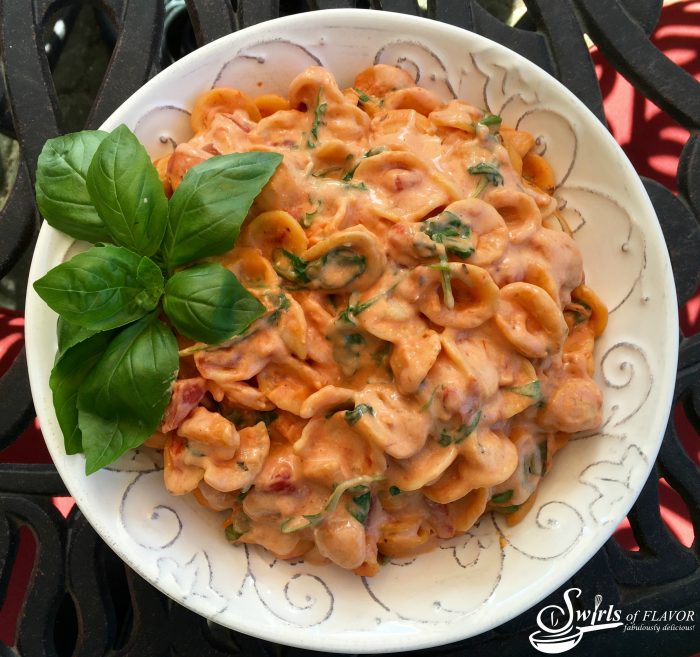 One Pot Creamy Tomato Basil Pasta makes it's own velvety tomato sauce and gets it's creaminess from a secret ingredient….cream cheese! After a busy day everyone deserves a nourishing meal in just minutes. The ease of cooking everything in just one pot and having dinner on the table in a quick minute can't be beat! I know you love my One Pot recipes and I really do too! For One Pot Creamy Tomato Basil Pasta just stir the ingredients together in one pot, bring to a boil and cook until the pasta is al dente. Stir in the cream cheese, arugula and basil and serve! Pour yourself a glass of wine, butter that crusty bread and relax at the end of your beautiful day with a bowl of One Pot Creamy Tomato Basil Pasta!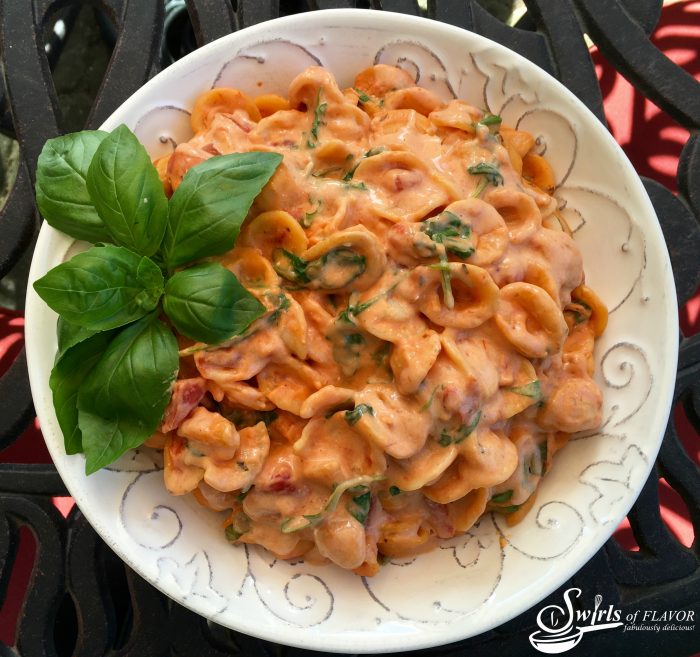 One Pot Creamy Tomato Basil Pasta
2016-09-15 10:23:47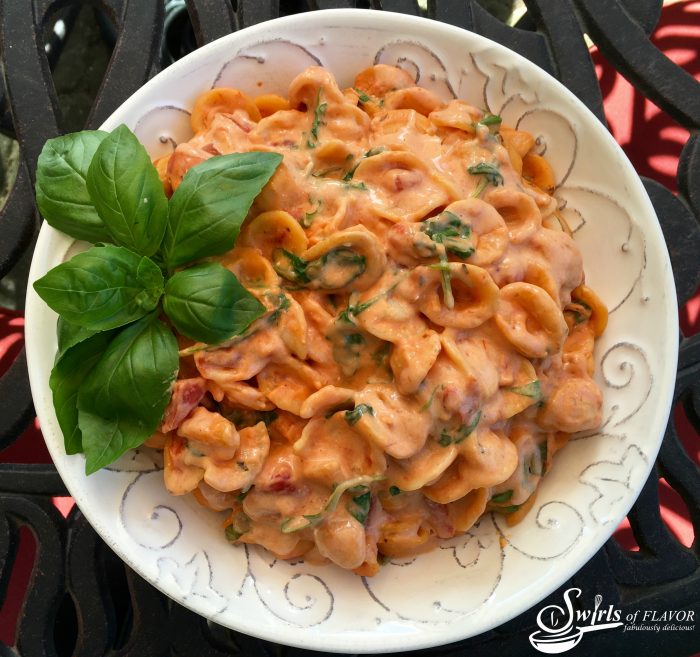 Serves 4
Nutrition Facts
Amount Per Serving
* Percent Daily Values are based on a 2,000 calorie diet. Your Daily Values may be higher or lower depending on your calorie needs.
Ingredients
8 ounces uncooked orecchiette pasta, about 2 1/4 cups
2 1/4 cups water
1 can (14.5 ounces) diced tomatoes with basil and oregano
1 can (8 ounces) tomato sauce
2 cloves garlic, minced
1 tsp. kosher salt
4 ounces cream cheese, cut in cubes, at room temperature
2 cups arugula leaves
1/4 cup sliced fresh basil leaves
Instructions
In skillet with tall sides, preferably non-stick, combine pasta, water, diced tomatoes with their juices, tomato sauce, garlic and kosher salt.
Bring to a boil over medium-high heat.
Boil 10 minutes or until pasta is just al dente.
Reduce heat to medium and add cream cheese, stirring until a creamy sauce has formed.
Remove from heat and stir in arugula and basil.
Notes
Makes 4 servings (about 6 cups)
Swirls of Flavor https://swirlsofflavor.com/