Have I ever mentioned that summer is my absolute favorite season? Well, I might not have because, up until just recently, I honestly did like all of the seasons equally. This post contains affiliate links. (Disclosure policy)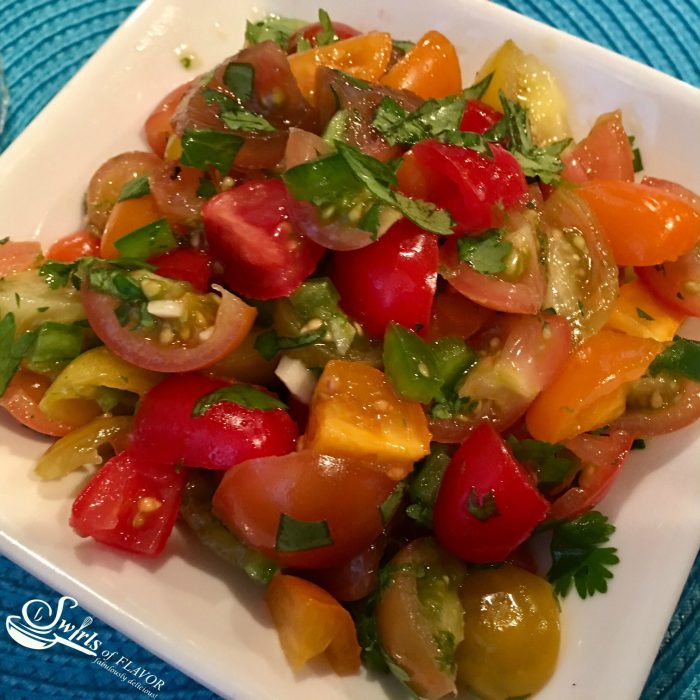 I love crisp autumn days and the slight chill at night. I love being snowed in my warm and cozy home with a fridge full of food, hot chocolate heating up on the stove and Netflix streaming on the television. I love…. well, I used to love….spring days of sunshine and colorful flowers budding but this year we had spring days of rain, rain and more rain. So, sadly, spring has been demoted to the bottom of the list of favorite seasons for me. And hello summer! You have risen to the top of my list because I can no longer deny that a season filled with outings to the farmers market, abundant fresh fruits and vegetables, tall glasses of iced tea and cold brew coffee and days at the beach (or "down the shore" as we say here in Jersey) must get the recognition that it deserves.

So Summer, I can now honestly say that you are my favorite child! I mean, just look at all this gorgeous farmers market produce! I cannot get enough! How can I not be in love with summer?
A Fresh Heirloom Tomato Salsa is something that you just can't get out of a jar and won't be as fresh without summer tomatoes, agree? These colorful little heirlooms are readily available in your produce aisle but I truly hope that you are near a farmers market so you don't just purchase these juicy colorful tomatoes there but you can also get to know your local farmer who has grown them especially for you with love and care. A trip to the farmers market should be a social experience that fills your senses.

Oh and while you're at the market be sure to pick up some jalapenos, a fragrant bunch of cilantro, a head of garlic and some limes so you'll be all set for your Fresh Heirloom Tomato Salsa, bursting with fresh flavors of lime and jalapeno, when you get home. I added a few extra limes to your shopping list because if there's salsa there must be margaritas! You're welcome!
Serve your Fresh Heirloom Tomato Salsa in these gorgeous salsa bowls and let the party begin!
Fresh Heirloom Tomato Salsa
1 pint heirloom cherry tomatoes, chopped
1/4 cup cilantro
2 Tbs. minced jalapeno
1 Tbs. lime juice
1 clove garlic, minced
1 tsp. lime zest
3/4 tsp. kosher salt
1. Combine all ingredients in bowl and serve immediately or refrigerate until ready to serve.
2. Serve with your favorite tortilla chips or use as a topping on tacos, chicken or fish.
Makes 2 cups.