Summer Salad Recipe
Heirloom Tomato & Cucumber Summer Salad! There's nothing quite like the fresh flavors of summer fruits and vegetables to make a foodie happy! And you don't even have to be a foodie….if you enjoy good food and good nourishment then summer is for you! Here in New Jersey there are many farmer's markets* and roadside farm stands during the warm sunny months, after all, we are the Garden State! If you don't have easy access to fresh farm produce, not to worry. These days grocery stores are filled with beautiful local produce too! The tomatoes in this Heirloom Tomato & Cucumber Summer Salad can be easily found in your produce aisle as well as at your local farmer's market. A tangy red wine vinaigrette lightly coats the gorgeous vegetables in this easy side dish recipe. So get ready for bursts of fresh flavor in every bite! It's fabulously delicious!
Farmers Market Near Me
Looking to find a local farmer's market? Check out these links from my Source Guide:
FARMERS MARKETS/NATIONAL LISTINGShttp://www.pbs.org/food/features/farmers-market-listings/ Find a farmer's market near you for great fresh produce and fresh herbs!
FARMERS MARKETS/LOCAL HARVEST http://www.localharvest.org/farmers-markets/ Find farmer's markets by zip code. "real food, real farmers, real community"
Summer Side Dish Recipes
How about adding some delicious side dish recipes to your summer menu rotation? Fresh vegetables are tossed together with farro in a lime scented dressing making Zucchini & Corn Farro Salad both refreshing and nutritious. Zucchini Pasta Pomodoro is bursting with the summertime flavors of zucchini noodles, tomatoes and fresh basil. Strawberry Pistachio Quinoa lightly coated in a lemon oregano vinaigrette is a great way to use those fragrant strawberries of summer. The crunch of fresh fennel, the juiciness of mandarin oranges and the crispness of radishes all come together in a lime-kissed vinaigrette to make Fresh Fennel & Mandarin Salad an amazing combination of flavors and textures. Lemon Basil Avocado Quinoa is a light yet satisfying addition to any summer meal. Don't you just love summer?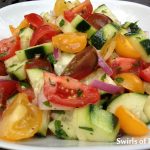 Heirloom Tomato & Cucumber Summer Salad
Heirloom Tomato & Cucumber Summer Salad is an easy summer side dish bursting with tomatoes and cucumbers lightly coated in a tangy red wine vinaigrette.
Ingredients
2

Tbs.

olive oil

2

Tbs.

red wine vinegar

1/2

tsp.

sugar

1/2

tsp.

kosher salt

1/4

tsp.

pepper

12

ounces 

assorted small size heirloom tomatoes,

quartered, 2 cups, OR 1 pkg. (12 oz.) Gourmet Medley tomatoes**

1

(12 oz.)

cucumber,

peeled in stripes, sliced 1/2-inch thick then quartered, 2 cups

1/4

cup

thinly sliced red onion

1

Tbs.

chopped parsley
Instructions
In serving bowl combine oil, vinegar, sugar, kosher salt and pepper until blended.

Add tomatoes, cucumber and parsley.

Toss until evenly coated.
Recipe Notes
Makes 4 cups.
**When purchasing tomatoes at your local grocery store these will be perfect for your summer salad!