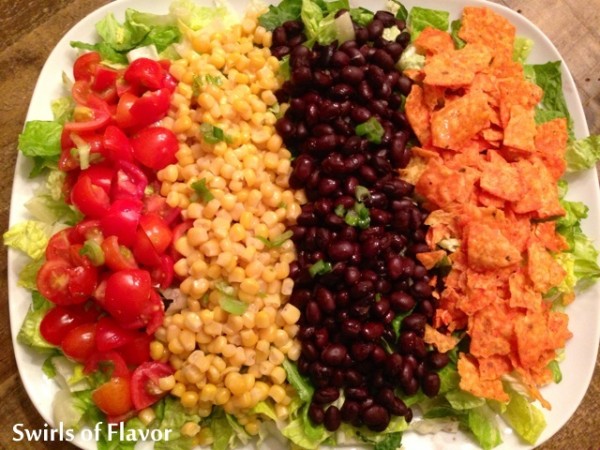 Whether you're looking for a Meatless Monday main dish or a fabulously delicious salad to serve alongside your dinner, Mexicali Chopped Salad with Cilantro Lime Vinaigrette is your answer! Filled with vegetables and protein and dressed in a delightful vinaigrette, this salad will satisfy both your tummy and your tastebuds.  Top with cooked chicken, shrimp or beef and it becomes a meal for any day of the week!
Mexicali Chopped Salad with Cilantro Lime Vinaigrette
4 cups chopped romaine lettuce
1 can (10.5 oz.) black beans, rinsed and drained
1 can corn kernels, drained
1 cup grape tomatoes, halved lengthwise
1 cup crushed spicy nacho tortilla chips
1/3 cup olive oil
2 Tbs. lime juice
1 Tbs. red wine vinegar
1 tsp. lime zest
1/2 tsp. sugar
1/4 tsp. kosher salt
1 scallion, chopped
2 Tbs. chopped cilantro
1. Arrange chopped lettuce on serving platter. Top with beans, corn, tomatoes and tortilla chips.
2. In small bowl whisk olive oil, lime juice, vinegar, lime zest, sugar and kosher salt together until blended. Stir in chopped scallion and cilantro. Serve with chopped salad.
Makes 6 cups tossed.