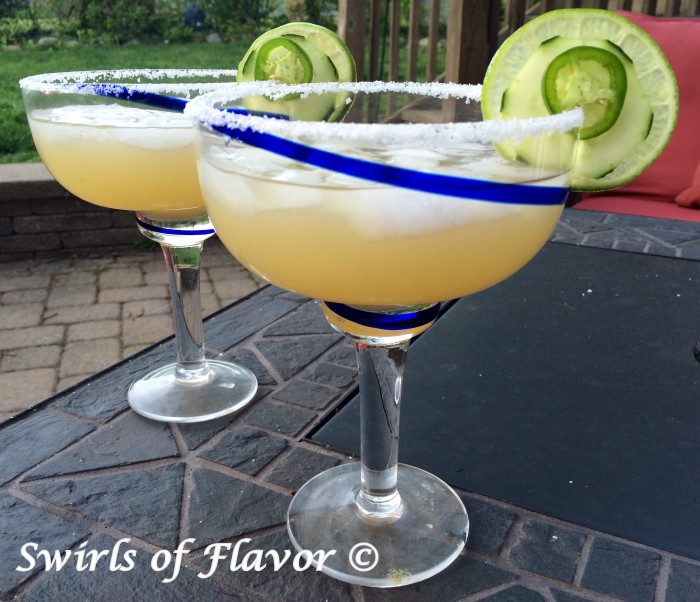 Jalapeno and cucumber are infused in a margarita mixture lending just the right amount of heat from the jalapeno, that builds at the end of each sip, balanced with the cool crisp flavor of the cucumber. With Cinco de Mayo just a few days away I'm making up a batch of Jalapeno Cucumber Margaritas and serving them in the most beautiful margarita glasses ever! And I highly recommend that you add Jalapeno Cucumber Margaritas to your Cinco de Mayo menu line-up too…..you'll be very happy you did! Cheers! #CorralejoTequila #CincodeMayo
Jalapeno Cucumber Margaritas
2016-04-29 15:43:23
Serves 4
Nutrition Facts
Amount Per Serving
* Percent Daily Values are based on a 2,000 calorie diet. Your Daily Values may be higher or lower depending on your calorie needs.
Ingredients
2/3 cup sugar
2/3 cup water
1 cup Corralejo Tequila*
1 cup lime juice, preferably fresh squeezed
1/2 cup orange liqueur, such as Grand Marnier
1 small cucumber, peeled and thinly sliced, about 1 cup + additional cucumber slices for garnish
1 jalapeno, trimmed, seeded and sliced in rounds + additional jalapeno slices for garnish
1 lime
kosher salt for rims of glasses
Instructions
Combine sugar and water in small saucepot and cook over medium heat until sugar has dissolved and mixture is clear to make a simple syrup. Do not stir! Remove from heat and cool.
In pitcher combine simple syrup, tequila, lime juice, orange liqueur, cucumber slices and jalapeno slices. Refrigerate 1 hour.
Strain mixture and discard the cucumber slices and jalapeno slices.
Cut part of the lime into 4 slices and reserve for garnish. Cut remaining lime into wedges and use wedges to moisten the rims of 4 margarita glasses. Dip rims into kosher salt.
Divide margarita mixture evenly between glasses, adding ice if desired.
Garnish glasses with cucumber, jalapeno and lime slices.
Notes
Makes 4 servings (about 3/4 cup per serving).
*Corralejo Tequila is made in Hacienda Corrajelo in the Guanajuato region of Mexico, the perfect place for growing the famous Weber Blue Agave used in making tequila. These hand-harvested agave plants are slowly steam cooked in traditional stone clay ovens for twenty seven hours. The agave then rests for twelve hours and then goes to the mill where the sweet juice is extracted and then goes on to fermentation. Each bottle is double-distilled in copper stills imported from Spain. Corralejo Tequila has a smooth, rich and natural flavor and distinct aroma due to the unique distillation method they use.
Known for its tall colorful bottles, Corralejo tequilas include Silver, Reposado and Añejo. It is believed that these bottles stand tall with pride!
Swirls of Flavor https://swirlsofflavor.com/
Disclosure:
I received the Corralejo Tequila for purposes of reviewing and recipe development. All opinions are my own. This post contains affiliate links.