The blood orange, a member of the citrus family, is both beautiful in color and delicious in flavor. With it's raspberry-citrus notes and deep red color, the blood orange adds a refreshing flavor and brightens up recipes. Let's learn All About Blood Oranges!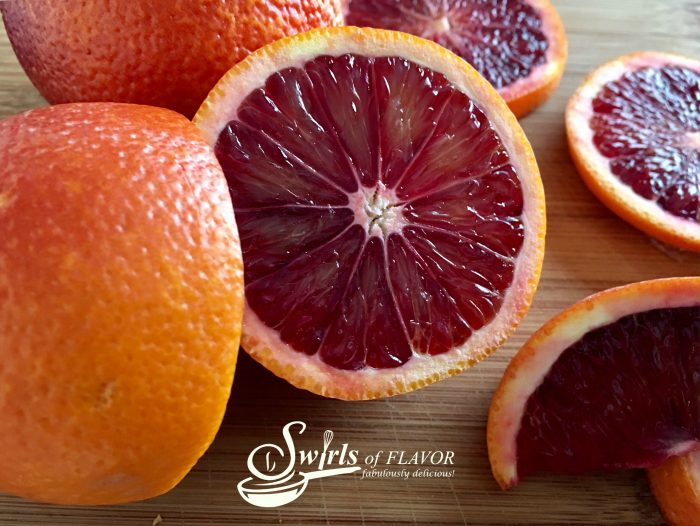 All About Blood Oranges
Citrus adds a clean bright flavor to recipes and winter is it's prime season. Oranges have many species....mandarin, pomelo, Seville, navel, blood orange, and cara cara to name a few.... and of these, the blood orange is my absolute favorite! It's great just to eat on it's own, use the segments in a salad or stir fry or microplane the zest to stir into salad dressings and batters for a fabulous citrus flavor! Feel free to substitute a blood orange for any other type of orange in a recipe! So let me introduce you to my good friend the blood orange!
This post contains affiliate links. If you make a purchase through one of these links, I make a small commission at no extra cost to you. (Privacy Policy)

Facts About Blood Oranges:
Are available December through May
Have few or no seeds
Get their name from the deep rich garnet color of their flesh
Have an orange rind with a bright red blush
Have a beautiful red juice
Have a sweet-tart citrus juice with a hint of raspberry
Are primarily grown in Italy and are also grown in California and Texas
Typically will have 3 oranges in 1 pound
1 pound of blood oranges will yield about 1 cup of juice

Blood Orange Nutrition
Rich in antioxidants
Source of Vitamin C
Contain calcium
Provide 28% of the recommended daily intake of fiber
Contain Vitamin A
A medium blood orange is 70 calories and contains no fat, sodium or cholesterol!
How to Select and Store Blood Oranges
Select a firm fruit
Be sure the orange is heavy in weight for it's size
Store at room temperature for a few days
Store in the refrigerator for up to two weeks
How to Use Blood Oranges
Cut into wedges and combine with onion wedges and roast with chicken
Stir orange segments into a stir fry
Add slices to iced tea, a punch , a cocktail or seltzer…with vodka, if you'd like
Stir zest into cookie dough or cake batter
Add orange segments to a salad
Stir zest into a salad dressing
Let me know how you enjoy your
blood oranges!