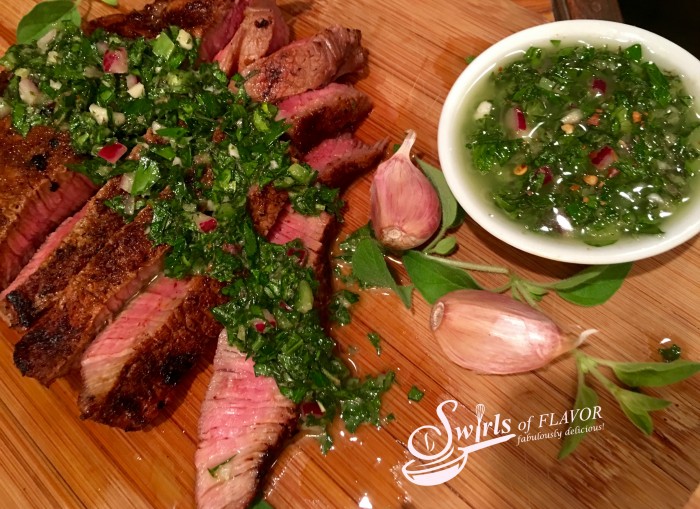 Chimichurri Sauce, the Argentinean fresh herb sauce, is typically served over grilled meat. It is very much like an Italian pesto and is just as versatile. It actually can be served tossed with pasta, over vegetables, on bread….it's not just for grilled meat anymore! Quick and easy to make, Chimichurri Sauce is garlicky, herby, spicy and tangy all at the same time! Serve it over a perfectly seasoned and grilled steak and and Spice-Rubbed Sirloin With Chimichurri Sauce fresh vibrant flavors will be dancing on your palate!
Spice-Rubbed Sirloin With Chimichurri Sauce
2016-09-14 20:53:13
Serves 4
Nutrition Facts
Amount Per Serving
* Percent Daily Values are based on a 2,000 calorie diet. Your Daily Values may be higher or lower depending on your calorie needs.
Chimichurri Sauce
1 cup chopped fresh parsley leaves
1/2 cup extra virgin olive oil
1/4 cup red wine vinegar
2 cloves garlic, minced
2 Tbs. chopped fresh oregano leaves
1 jalapeno, seeded and minced
1 Tbs. minced red onion
1 tsp. kosher salt
Spice-Rubbed Sirloin
1 lb. boneless sirloin
1 tsp. chili powder
1/2 tsp. kosher salt
Instructions
Chimichurri Sauce: In bowl combine parsley, olive oil, vinegar, oregano, jalapeno, red onion and kosher salt. Let stand while preparing sirloin.
Spice-Rubber Sirloin: Preheat grill for direct heat grilling. Season sirloin with chili powder and kosher salt and grill, turning once, until steak is desired doneness. Steak will register 145F on meat thermometer when cooked to medium-rare.
Let sirloin stand 5 minutes, then slice and serve with Chimichurri Sauce.
Notes
Makes 4 servings and 1 cup sauce.
Swirls of Flavor https://swirlsofflavor.com/