Grilled Skirt Steak Recipe with Cocoa Spice Rub, flavored with a sweet and spicy dry rub, will be a hit at dinner tonight. Our cocoa steak rub adds the perfect balance of sweet and savory flavors.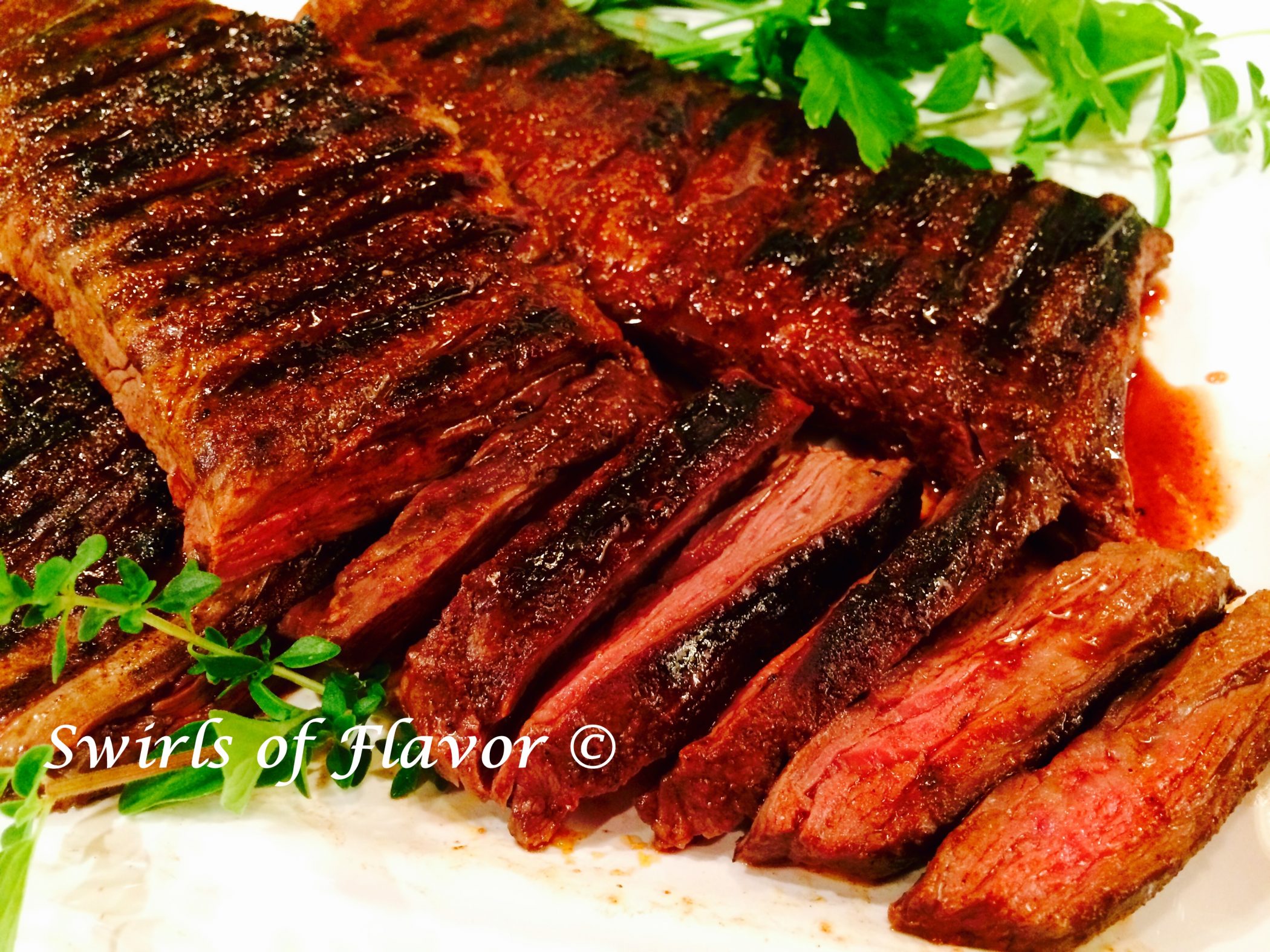 Skirt Steak Recipe
I can guarantee that Dad will be extremely happy when you fire up the grill and make this Skirt Steak Recipe for him on Father's Day!
There's nothing quite like grilling a steak especially when it's seasoned with spices and a hint of cocoa!
And what man doesn't love a grilled skirt steak with a cocoa steak rub?
Our chocolate steak rub combines brown sugar with the cocoa powder to balance the bite of the cocoa powder. Add in chili powder and cayenne and your spice-rubbed steak takes on a new dimension of flavor!
The combination of sweet and savory in the dry rub compliments the richness of the skirt beef steak adding an amazing intense flavor.
The secret to adding the most flavor to beef is to rub the seasoning mix on the steak and let it stand for 30 minutes so that the cocoa steak rub seeps into the steak! Oh yum!
Hop on over to the Certified Angus Beef web site where you can learn about the many cuts of beef and the best choices of beef for grilling.
I make commissions for purchases made through links in this post.
Love your beef and want the ease of home delivery? Get your steaks delivered right to your door from Omaha Steaks.
Love grilling, smoking, and bbq? Then you'll want to sign up for the Grill Masters Club and get a box of sauces, rubs, marinades, wood chips, new recipes, and grilling accessories delivered right to your door.
A great gift for Dad on Father's Day. Choose from 1 month, 3 months, 6 months or a 1 year subscription.

Swirls of Flavor Recipe Tips
Like it a little spicier? Increase cayenne pepper to 1/4 teaspoon
Make this recipe with flank steak or London broil
Cook under the broiler instead of on the grill
Ingredients you will need to make this recipe
dark brown sugar - adds sweetness
unsweetened cocoa powder - chocolate flavor
chili powder - a hint of heat
kosher salt - makes the flavors pop
garlic powder - savory note
cayenne pepper - spicy flavor
beef skirt steak - flavorful cut of beef
What to serve with grilled steak
So many things go well with a flavorful juicy steak especially these recipes here at Swirls! First you will need a cocktail and an appetizer to start!

A bottle of sangria and your favorite frozen berries are all it takes to whirl up a Berry Sangria Slushy, your favorite childhood summertime beverage, with an adult twist of course! And you'll love it's deep intense flavor and the beauty of it's gorgeous color.
Caprese Skewers With Pesto is an easy recipe for a homemade pesto dipping sauce served with skewers of fresh basil, mozzarella and tomatoes. A well deserved indulgence when you unwind after a busy week and perfect for entertaining.
Have you tried grilling your salad too? Grilled Romaine with Creamy Roasted Garlic Herb Dressing. The leaves of lettuce are gently charred on the grill imparting an unexpected and fabulously delicious flavor. Homemade Creamy Roasted Garlic Herb Dressing combines sweet caramelized garlic with the fresh flavor of summer herbs.
Serve your steak up with our Grilled Smashed Rosemary Potatoes, a fun and flavorful way to make potatoes on the grill. Just boil, smash, yes smash, season then grill!
Grilling corn gives it a fabulous added flavor. Imagine grilling then serving with a butter that's flavored with fresh basil and sundried tomatoes! That's our Grilled Corn with Tomato Basil Butter recipe! You're going to love it!
The crowning glory of a dessert, Peanut Butter Cup Brownie Trifle, will surely be a dad....and a crowd....pleaser! You'll love every bite of peanut butter cups and brownies combined with peanut butter mousse and whipped topping in our trifle dessert!
Yes, it's going to be a fabulously delicious Father's Day!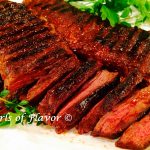 Print
Grilled Skirt Steak Recipe with Cocoa Spice Rub
When you season your steak with a sweet and spicy dry rub, Grilled Skirt Steak Recipe with Cocoa Spice Rub will be a hit at dinner tonight. Our Cocoa Spice Rub adds the perfect balance of sweet and savory flavors to this grilled steak recipe.
Instructions
Combine brown sugar, cocoa powder, chili powder, kosher salt, garlic powder and cayenne.

Rub both sides of skirt steak with Cocoa Spice Rub and let stand 30 minutes at room temperature.

Meanwhile brush grill grates with oil and preheat grill for direct heat grilling.

Grill steaks until desired doneness, turning once. Meat thermometer will register 145F for medium-rare.

Let stand 5 minutes before slicing.
Notes
Makes 8 servings.
Swirls of Flavor Recipe Tips
Like it a little spicier? Increase cayenne pepper to 1/4 teaspoon
Make this recipe with flank steak or London broil
Cook under the broiler instead of on the grill
Nutrition
Calories:
191
kcal
|
Carbohydrates:
4
g
|
Protein:
25
g
|
Fat:
9
g
|
Saturated Fat:
3
g
|
Cholesterol:
71
mg
|
Sodium:
391
mg
|
Potassium:
367
mg
|
Fiber:
1
g
|
Sugar:
3
g
|
Vitamin A:
338
IU
|
Calcium:
13
mg
|
Iron:
2
mg
First Published: June 14, 2019... Last Updated: May 7, 2021 for better readability and user experience