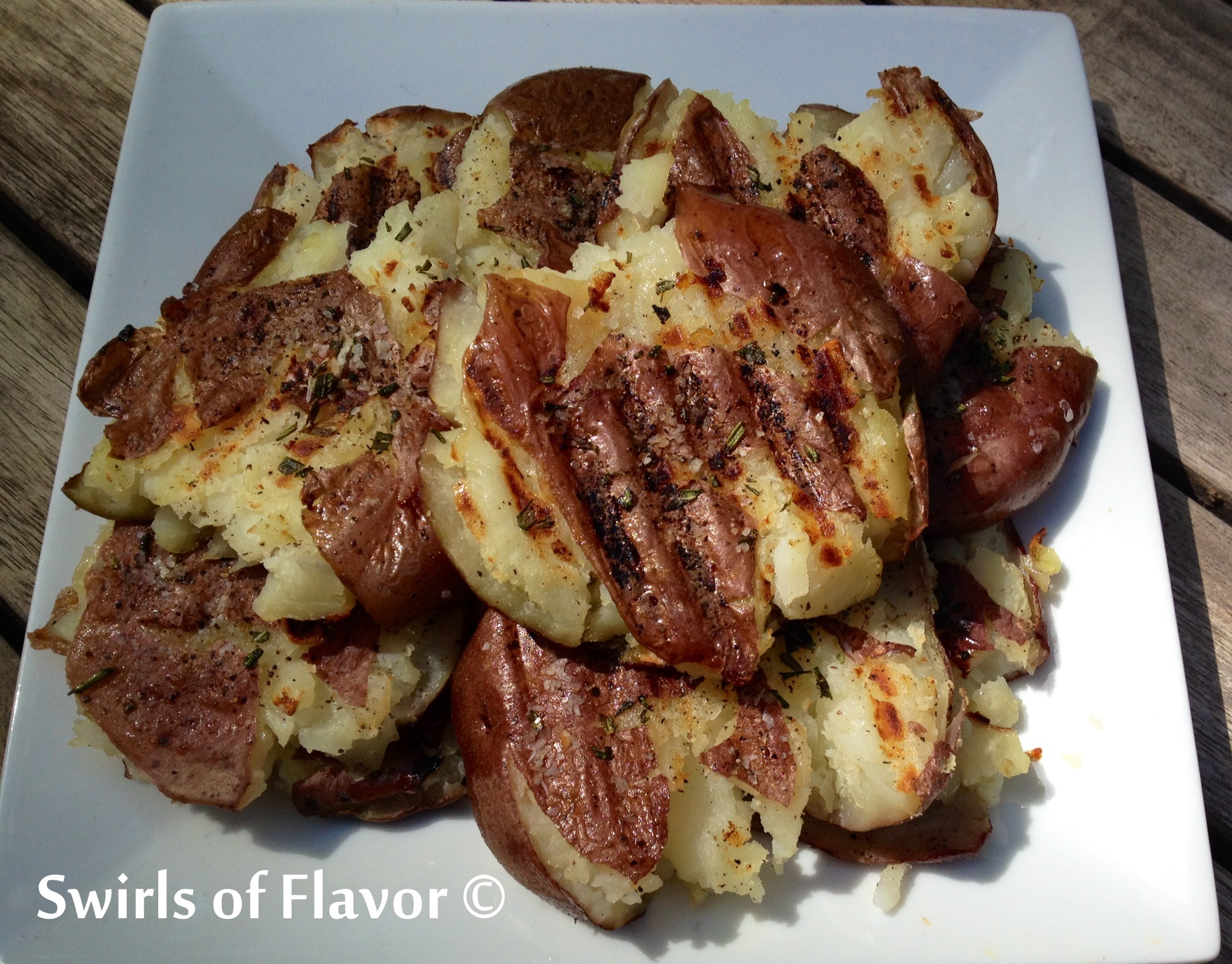 Ok, here I go again.....I'm hopping on another trendy bandwagon on Pinterest! The latest "in" thing for potatoes is to cook and smash them! How much fun is that!!?? I've taken it one step further and am grilling them for my summertime cookouts! Dad will love this with his grilled steak this year for Father's Day! Grilled steak and grilled potatoes, very manly indeed! Just add a salad and vegetable and you're all set to celebrate Dad's special day with a fabulously delicious manly meal! Happy Father's Day to all the dads out there!
If you're in search of ideas for potato recipes, then you'll definitely want to check out our Potato Recipe Round Up! Look no further than our Thanksgiving Potato Recipes Round Up that's bursting with thirty seven delicious white and sweet potato recipes that will compliment any holiday dinner. Choose from mashed potatoes, baked potatoes, creamy potatoes, crumb topped potatoes, instant pot potatoes, slow cooker potatoes and even French fries. Your holiday potato recipe is waiting for you!
Grilled Smashed Rosemary Potatoes
12 medium red potatoes, about 1 1/2 lbs.
1/4 cup olive oil
1 tsp. kosher salt
1/2 tsp. minced fresh rosemary
1/4 tsp. garlic powder
1/4 tsp. pepper
1. Place potatoes in pot of cold water. Bring to boil over medium-high heat. Boil 20 minutes or until potatoes are tender. Drain; run under cold water until potatoes are cool.
2. Arrange potatoes on flat surface. Using a potato masher, smash potatoes, being careful that potatoes stay intact! Potatoes can be made one day ahead up to this point*.
3. Preheat grill for direct heat grilling. Brush both sides of potatoes with olive oil and sprinkle with kosher salt, rosemary, garlic powder and pepper. If potatoes begin to fall apart arrange potatoes on foil and place foil with potatoes directly on grill to cook.
4. Grill until heated through, turning once.
Makes 6 servings/2 potatoes per serving.
* Cover with plastic wrap and refrigerate. Before preheating grill remove potatoes from refrigerator and let come to room temperature. Continue with Step 3.