Quick and easy to make, Chimichurri Sauce combines a multitude of fresh flavors. Our easy Chimichurri Sauce recipe is garlicky, herby, spicy and tangy all at the same time! Guaranteed to be your new fresh herb sauce of the summer!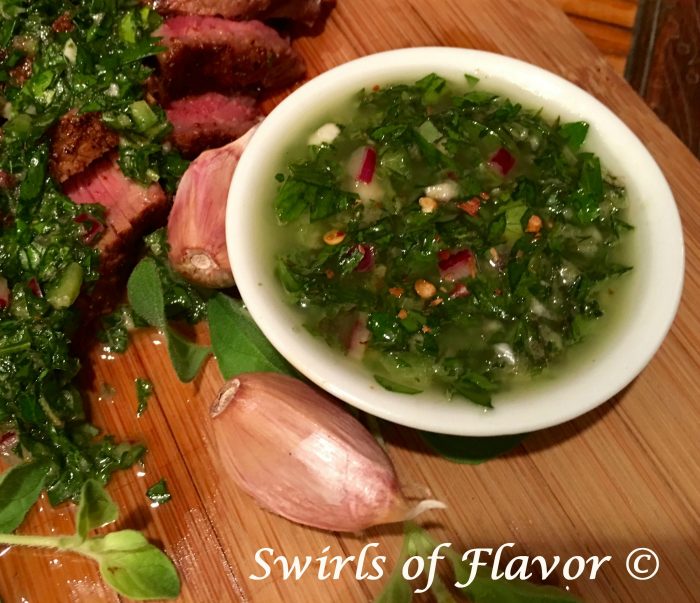 Chimichurri Sauce Recipe
Chimichurri Sauce, the Argentinean fresh herb sauce, is very much like an Italian pesto and is just as versatile. Chimichurri sauce for steak is the typical way this herb sauce is known to be served. But don't just limit yourself to serving it over grilled beef. Let your imagination run wild and drizzle our easy chimichurri sauce over chicken, seafood or vegetables.
First Published: September 15, 2016... Last Updated: July 11, 2019
Take your pasta salad to the next level and serve it tossed with a creamy chimichurri sauce that's been combined with some sour cream or mayonnaise, or just toss it straight up for a fresh herb pasta salad.
As an Amazon Associate I earn from qualifying purchases.
And then there's that loaf of crusty rustic bread that's in dire need of a fabulous dipping sauce. Yep, make a double batch of our easy chimichurri recipe and serve some as a dipping sauce with your bread while sipping on that glass of red wine. Ok, now my mouth is watering, so if you'll excuse me, I need to get back in the kitchen and make another batch and pop a cork on a bottle of red wine!
Chimichurri Sauce, it's not just for grilled beef anymore!
Chimichurri Sauce FAQ's
What is chimichurri sauce made of?
Chimichurri sauce is made of parsley, garlic, olive oil, oregano, red pepper flakes and vinegar. The red version of chimichurri may also contain tomato and red bell pepper.
Should you refrigerate chimichurri sauce?
If you are not using the chimichurri sauce right after making it, it should be refrigerated. However, the flavor of the sauce will actually improve if it sits at room temperature for about an hour before serving. The flavor will also improve overnight in the refrigerator. Always serve chimichurri at room temperature.
How long can you keep chimichurri sauce?
Chimichurri sauce should be kept refrigerated and should be used within 24 to 48 hours of being made.
Ingredients you will need to make this recipe
parsley
extra virgin olive oil
red wine vinegar
garlic
fresh oregano
jalapeno
red onion
kosher salt
Easy Summer Recipes

Grilled Avocados With Mango Salsa is an easy recipe for lightly seasoned avocados that are grilled to perfection and topped with a homemade lime-kissed mango salsa. Delicious as an appetizer or side dish, these grilled avocados will be the hit of your summer time get togethers.
Kale, the trendy super food, combined with toasted almonds, the healthy nut, make for a fabulously delicious and amazingly healthy Kale Pesto! Toss it with your favorite pasta for Meatless Monday, top chicken or fish, serve with vegetables……the possibilities are endless!
Looking to fire up the grill for some summertime goodness? Grilled Chili Spiced Chicken With Cilantro Lime Gremolata will soon become a go-to summertime favorite with it's fresh flavors sprinkled over perfectly seasoned chicken breasts.
Heirloom Tomato & Cucumber Summer Salad is an easy summer side dish bursting with tomatoes and cucumbers lightly coated in a tangy red wine vinaigrette.
Pesto Florentine Campanelle Pasta is the perfect seasonal pasta side dish. Toss pasta with pesto, tomatoes, bocconcini and Parmesan, just 5 ingredients, for a bowl full of fresh summertime flavors!
Peach Arugula Salad With Basil Mint Vinaigrette is an easy salad recipe bursting with the flavors of summer all in one bowl! Peppery arugula leaves combine with toasted almonds and sweet juicy peaches tossed in a fresh homemade Basil Mint Vinaigrette for a refreshing summer salad.
Chimichurri Sauce
Quick and easy to make, Chimichurri Sauce combines a multitude of fresh flavors. Our easy Chimichurri Sauce recipe is garlicky, herby, spicy and tangy all at the same time! Guaranteed to be your new fresh herb sauce of the summer!
Keyword:
chimichurri, herb sauce
Instructions
In bowl combine parsley, olive oil, vinegar, oregano, jalapeno, red onion and kosher salt. Let stand at least 15 minutes before serving.

Serve over steak, chicken, seafood, tossed with pasta or as a dipping sauce with crusty bread.
Recipe Notes
Makes 1 cup sauce, about 1 Tablespoon per serving.
Nutrition Facts
Chimichurri Sauce
Amount Per Serving
Calories 64
Calories from Fat 63
% Daily Value*
Fat 7g11%
Sodium 122mg5%
Potassium 29mg1%
Carbohydrates 1g0%
Protein 1g2%
Vitamin A 336IU7%
Vitamin C 6mg7%
Calcium 16mg2%
Iron 1mg6%
* Percent Daily Values are based on a 2000 calorie diet.