Bursting with the fresh flavors of a strawberry filling with a hint of orange, No-Bake Berry Pie is a quick and easy mini fruit tart recipe. A red white and blue dessert that's a perfect addition on your July 4th menu.
Berry Pie Recipe
No-Bake Sweet Berry Pie will be the perfect ending to your holiday celebration! A simple-to-make strawberry filling kissed with a hint of citrus and crowned with fresh blueberries will surely look festive and patriotic on your table.
Brimming with red, white and blue color, our no bake mini tarts are a snap to make. Fresh strawberries, orange zest and sugar combine with water and cornstarch to make an simple no bake pie filling. Change the zest to lemon or lime for a different hint of citrus.
And how much better can this dessert get? An easy fruit pie with a premade crust that's filled with juicy fresh berries of the season!
Prefer a bigger no-bake pie? Our strawberry filling will also fit into 1 (6 ounce) full size graham cracker crust!
Swirls of Flavor Recipe Tips
Change the orange zest to lemon or lime for a your favorite hint of citrus.
Make it big! Fill a 6-ounce full size graham cracker crust with our fruit filling
Make the filling mixed berry and use a combination of your favorite fresh berries
As an Amazon Associate I earn from qualifying purchases.
Ingredients you will need to make this recipe
strawberries
water
orange zest
whipped topping
blueberries
Recipes for a Barbecue Menu
Let's round out your menu with these recipes that will make your July 4th celebration fabulously delicious, shall we?
I love to kick things off with a cocktail and my cocktail of choice is a wine slushy with just two ingredients! A bottle of sangria and your favorite frozen berries are all it takes to whirl up a Berry Sangria Slushy, your favorite childhood summertime beverage, with an adult twist of course! and you'll love it's deep intense flavor and the beauty of it's gorgeous color.
Everyone loves a dip and Bacon & Caramelized Onion Dip is a guaranteed hit! Onions slowly caramelize making them sweet and tender giving our Bacon & Caramelized Onion Dip a richness like no other onion dip. Add crispy bacon to create a flavor combination that is to die for! This homemade onion dip will definitely become a family favorite and the star of your party!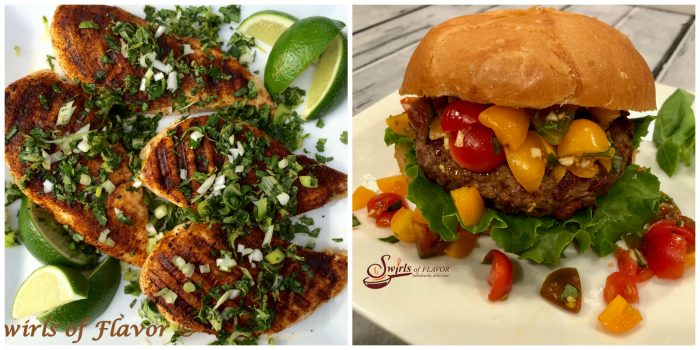 Fire up the grill for Chili Spiced Chicken topped with a cilantro lime scented gremolata and finished with a drizzle of fresh lime juice.
Prefer burgers? Then Bruschetta Burgers With Crispy Prosciutto are the way to go! Crispy prosciutto combines with sundried tomatoes and ground beef to make the most flavorful burgers! And just when you think these burgers can't get any more flavorful we add in a Lemon Basil Aioli and top it all with a Bruschetta Topping bursting with fresh summer flavors!
And don't forget the corn on the cob! Just throw Grilled Corn With Tomato Basil Butter on the grill for a sweet caramelized flavor. Add a homemade Tomato Basil Butter and your corn will be lip-smackin' good!
Quinoa Caprese is a versatile side dish of fresh mozzarella, tomatoes and basil tossed with quinoa…..the true flavors of summer!
A salad tossed in a light coating of Honey Orange Balsamic Vinaigrette will it's perfect balance of sweetness with the crisp edginess of citrus notes round out your menu.
No-Bake Berry Pie
Festive and patriotic mini No-Bake Berry Pies are bursting with a citrus kissed strawberry filling and crowned with fresh blueberries. 
Keyword:
berry pie, no bake berry pie
Instructions
Mash 1 cup strawberries. Quarter remaining strawberries and set aside.

In medium saucepot combine mashed strawberries, sugar, water and cornstarch and bring to a boil over medium-high heat, stirring frequently. Reduce heat to medium-low and simmer until thickened, stirring occasionally.

Remove from heat and stir in zest and reserved quartered strawberries.

Divide strawberry mixture evenly between 12 mini graham cracker crusts and refrigerate until set, at least 2 hours.

Pipe whipped topping around edges and top with blueberries.
Recipe Notes
Makes 12 mini tartlets.
*Strawberry filling will also fit into 1 (6 ounce) full size graham cracker crust!
Nutrition Facts
No-Bake Berry Pie
Amount Per Serving
Calories 111
Calories from Fat 18
% Daily Value*
Fat 2g3%
Cholesterol 1mg0%
Sodium 11mg0%
Potassium 89mg3%
Carbohydrates 24g8%
Protein 1g2%
Vitamin A 27IU1%
Vitamin C 25mg30%
Calcium 16mg2%
Iron 1mg6%
* Percent Daily Values are based on a 2000 calorie diet.
First Published: June 29, 2018… Last Updated: July 3, 2019