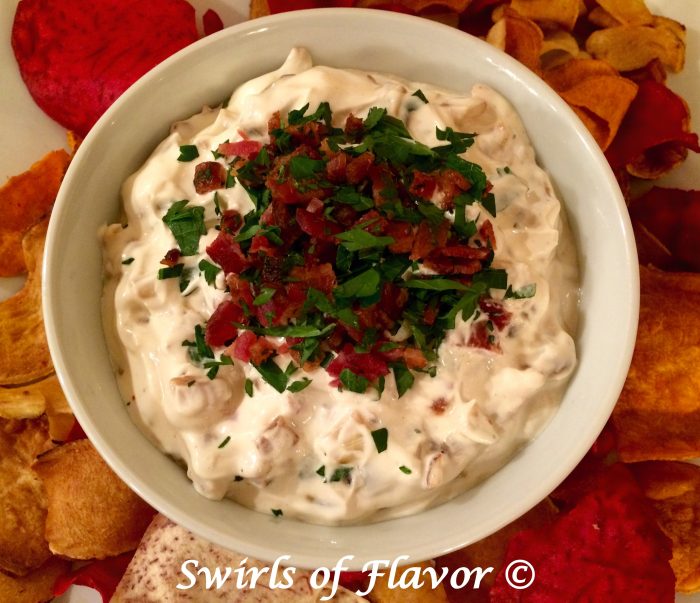 I'm going to admit that sometimes I do buy prepared sour cream and onion dip at the grocery store. And I do like it. But I absolutely LOVE my homemade Bacon & Caramelized Onion Dip. There truly is no comparison! Onions are slowly caramelized making them sweet and tender and then combined with crispy bacon creating a flavor combination that is to die for! This onion dip is the perfect kick-off to the Super Bowl kick-off this weekend!
This post contains affiliate links. If you make a purchase through one of these links, I make a small commission at no extra cost to you. (Privacy Policy)
Bacon & Caramelized Onion Dip
2 Tbs. butter
3 cups chopped sweet onion, such as Vidalia, about 2 large onions
2 Tbs. beef bouillon granules
1 pint (2 cups) sour cream
6 slices bacon, cooked crisp and crumbled, about ½ cup
¼ cup chopped parsley
In large non-stick skillet melt butter over medium heat.
Add onions and cook 25 minutes or until onions are deep golden, stirring occasionally.
Stir in bouillon, reduce heat to low and cook additional 5 minutes; let cool.
Reserve 1 Tablespoon crumbled bacon and 1 Tablespoon parsley.
In bowl combine sour cream, onion mixture, remaining bacon and parsley.
Garnish with reserved bacon and parsley and serve with your favorite chips.
Makes 3 cups.