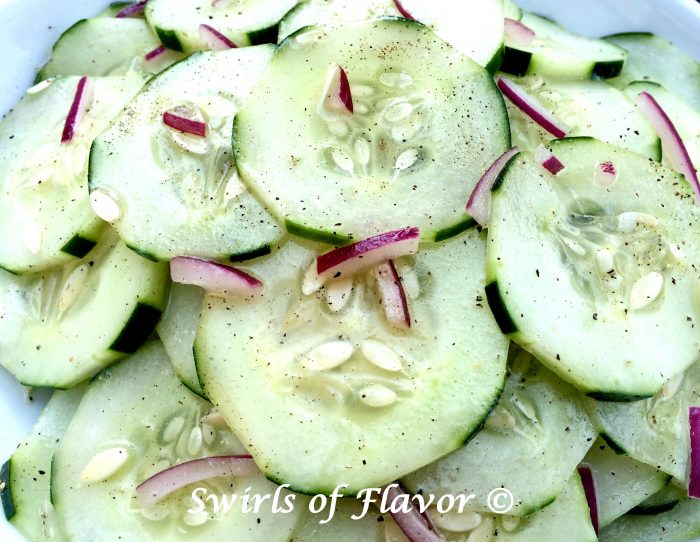 When cucumbers grow with such enthusiasm in summer gardens it's time to make Cucumber Salad! The crisp fresh flavor of the cucumbers are brightened by the sweet tanginess of the light vinaigrette. Cucumbers provide us with valuable anti-inflammatory, antioxidant and anti-cancer benefits. Select cucumbers that are firm and bright medium to dark green in color. Typically cucumbers with thin skins have fewer seeds than cucumber with thicker skins, who knew? Store cucumbers in the refrigerator and they will stay fresh for several days. Cucumber Salad will be a refreshing compliment to you next summertime meal!
Have a bumper crop of cucumbers? You'll love Jalapeno Cucumber Margaritas, Heirloom Tomato & Cucumber Summer Salad and Cucumber Mint Vodka Refresher too!
This post contains affiliate links. (Disclosure policy)
Cucumber Salad
1 lb. cucumbers, peeled in stripes, thinly sliced, 6 cups
1/4 cup thinly sliced red onion
2 Tbs. red wine vinegar
1 Tbs. olive oil
1 Tbs. sugar
1 tsp. kosher salt
1/2 tsp.pepper
Combine all ingredients in serving dish and toss until evenly coated.
Serve immediately. Cucumbers release their water content as they sit so this is best served as soon as you toss it!
Makes 5 cups.*
*Recipe is great for a larger group but can easily be halved for a smaller weeknight side dish.