Lemon Dijon Cod Saute is a panfried cod recipe with a creamy lemon Dijon sauce that's studded with olives and shallots. Topped with sweet and tangy caramelized lemon slices, this fish in mustard sauce will quickly become a family favorite recipe!
Lemon Dijon Cod Recipe
Delicious any time of the year, our sautéed cod recipe smothered in it's lemon Dijon sauce is also the perfect dinner for Good Friday, or any meatless dinner occasions. I love fish, not just because it's healthy for you, but because it's also so fresh, fabulous and easy to prepare!
Cod, a fresh water fish with a mild taste and dense flaky white flesh is bursting with the goodness of Vitamins A, D and E and omega 3! So good for you and oh-so delicious too!
You are probably most familiar with it as one of the popular fishes used in "fish and chips". I love fish and chips and I'm thinking I need to develop a Beer Battered Fish and Chips for you in the very near future, agree? Ok I'm getting off track!
Now back to our Lemon Dijon Cod Saute with it's creamy sauce studded with olives and shallots. The finishing touch is the sweet and tangy caramelized lemon slices on top! Oh my! Trust me, this simple cod recipe will be a family favorite for both the cook and the tasters too.
Serve with green beans and a tossed salad and you'll not only be healthy, you'll have a panfried cod recipe for dinner that's brimming with flavor! And isn't that what we all want? Savor the moment!
As an Amazon Associate I earn from qualifying purchases.
Be sure to visit the Swirls of Flavor Amazon Storefront for GG's personal kitchen recommendations!
Swirls of Flavor Recipe Tips
Don't like olives? No worries, just leave them out of the recipe!
You can also make this recipe with halibut or salmon.
Substitutions
Substitute chicken broth for the white wine
You can use your favorite onion in place of the shallots
Prefer a smooth Dijon? Use regular Dijon mustard in place of the country style mustard
Equipment
Ingredients for dijon mustard fish recipe
lemons
shallots
green olives with pimentos
country style Dijon mustard
white wine or chicken broth
cod fillets
Easy Seafood Recipes

Mojito Shrimp is a twist on the classic Mojito rum cocktail. An easy marinade of mint, rum and lime, flavors the shrimp in just a few minutes. Grill or broil and you'll have a fabulously delicious Cuban cocktail-inspired seafood dinner!
Chipotle Honey Glazed Salmon With Pistachio Butter is an easy recipe for the super fish salmon. Salmon fillets are seasoned with just the right amount of spice then glazed over with honey, a touch of orange and topped with pistachio butter that melts down over the fillets after grilling. Also delicious when you bake the salmon in the oven!
Ancho Salmon With Grapefruit Salsa is an easy recipe for wild salmon seasoned with spices and topped with a Texas Red grapefruit salsa seasoned with jalapeno, lime and cilantro. A refreshing seafood dinner that's sure to please your taste buds.
If shellfish is what you're craving then be sure to add Garlic & Herb Shrimp to the menu! This easy shrimp recipe makes it's own light buttery sauce flavored with garlic and white wine and studded with oven roasted tomatoes, as it bakes in the oven.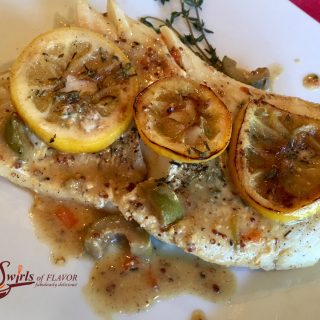 Print
Lemon Dijon Cod Saute
Lemon Dijon Cod Saute is an easy recipe for fish in a creamy mustard sauce studded with olives and shallots and topped with tangy caramelized lemon slices!
As an Amazon Associate I earn from qualifying purchases.
I earn a commission from Instacart from qualifying purchases.
Instructions
Slice each lemon into 6 thin slices.

Cook lemon slices until golden around edges, turning once; set aside.

In same skillet cook shallots and green olives until shallots are just tender, about 3 minutes.

Stir in wine and Dijon and cook 1 minute.

Season cod with thyme, kosher salt and pepper and add to skillet. Arrange lemon slices on top of cod.

Cook, covered, until fish is cooked through and flakes with a fork, about 5 minutes.

Transfer cod to a serving dish and drizzle with sauce.
Nutrition
Calories:
184
kcal
|
Carbohydrates:
9
g
|
Protein:
22
g
|
Fat:
6
g
|
Saturated Fat:
1
g
|
Cholesterol:
49
mg
|
Sodium:
401
mg
|
Potassium:
609
mg
|
Fiber:
3
g
|
Sugar:
3
g
|
Vitamin A:
79
IU
|
Vitamin C:
31
mg
|
Calcium:
51
mg
|
Iron:
1
mg
First Published: April 14, 2017... Last Updated: March 27, 2023, for better readability and user experience