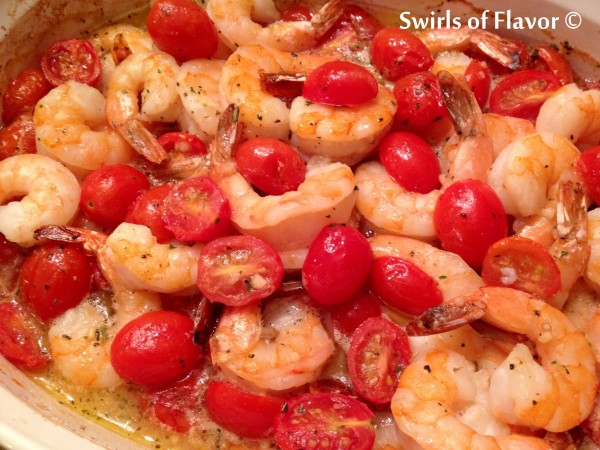 Light, beautiful, simple and fabulously delicious. Must be describing Garlic & Herb Shrimp because it doesn't get more delicious than this and it even makes it's own sauce as it cooks! A light buttery sauce flavored with garlic and white wine and studded with oven roasted tomatoes is the perfect compliment to the delicate flavor of shrimp. Just combine all the ingredients, bake in the oven and serve on it's own, over pasta or with rice.  Beautiful enough to impress company and easy enough for a weeknight dinner……my kind of recipe!
Garlic & Herb Shrimp
1 lb. peeled and deveined shrimp, tails left on
1 pint grape tomatoes, halved lengthwise
1 envelope (0.75 oz.) garlic & herb OR zesty Italian salad dressing & recipe mix
1/4 cup white wine
4 Tbs. butter, melted
1 Tbs. chopped garlic, about 4 large cloves
1/4 tsp. kosher salt
1. Preheat oven to 375F.
2. In 1 1/2 quart baking dish combine all ingredients, tossing until evenly coated.
3. Bake 20 minutes or until shrimp are pink and cooked through.
4. Serve on it's own, over pasta or with rice.
Makes 4 servings.