Meatless Mondays are all the rage now and Smothered Tilapia Provençale fits the bill! It's also perfect for any holy day that requires abstaining from meat. Simply combine the "Provençale" flavors of Herbes de Provence*, artichokes, olives, capers, tomatoes, shallots and garlic with white wine and olive oil, pour over Tilapia and bake! It doesn't gets much easier or more delicious than that! And it makes it's own brothy sauce so you'll want to be sure to serve this in bowls….and don't forget the crusty bread! Change it up from time to time and serve with salmon or shrimp**! Any way you serve it it's fabulously delicious!
Smothered Tilapia Provencale
4 (6 oz. each) tilapia fillets
1 (6.5 oz.) jar marinated artichoke hearts, drained, coarsely chopped
1 pint (2 cups) orange and/or yellow cherry tomatoes, halved lengthwise
1 large shallot, chopped, about 1/4 cup
1/4 cup pitted kalamata olives, halved lengthwise
1/4 cup white wine
2 Tbs. olive oil
2 Tbs. capers, drained and rinsed
1 clove garlic, minced
1/2 tsp. dried Herbes de Provence
1/2 tsp. kosher salt
1/4 tsp. pepper
1. Preheat oven to 375F. Coat 2.5 quart baking dish with cooking spray.
2. Arrange fillets in prepared baking dish, overlapping slightly if necessary.
3. In bowl combine artichoke hearts, tomatoes, shallots, olives, wine, oil, capers, garlic, Herbes de Provence, salt and pepper. Arrange mixture over fillets to "smother".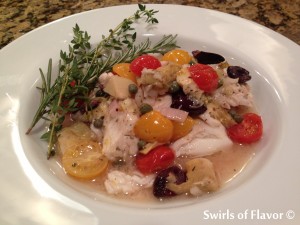 4. Bake 30 minutes or until fish is white and flakes when pulled apart with a fork and edges are hot and bubbly.
**Variations:
1. When preparing with salmon fillets, bake until salmon is opaque and just starting to flake.
2. When preparing with shrimp, first peel and devein the shrimp, then top with the provencale mixture and bake until shrimp is opaque and cooked through.
*Who knew? Herbes de Provence is a blend of spices typical of the cuisine of southern France. There are many variations of this blend and all are versatile and delicious in salads, as well as on fish, chicken and pizzas! Typically found in the spice aisle of your grocery store, you can easily make your own blend by combining 1 Tbs. dried oregano, 1 Tbs. dried thyme, 2 tsp. dried savory, 1/2 tsp. dried basil, 1/2 tsp. dried sage, 1/2 tsp. dried crushed rosemary and 1/2 tsp. dried lavender and store in an airtight container.