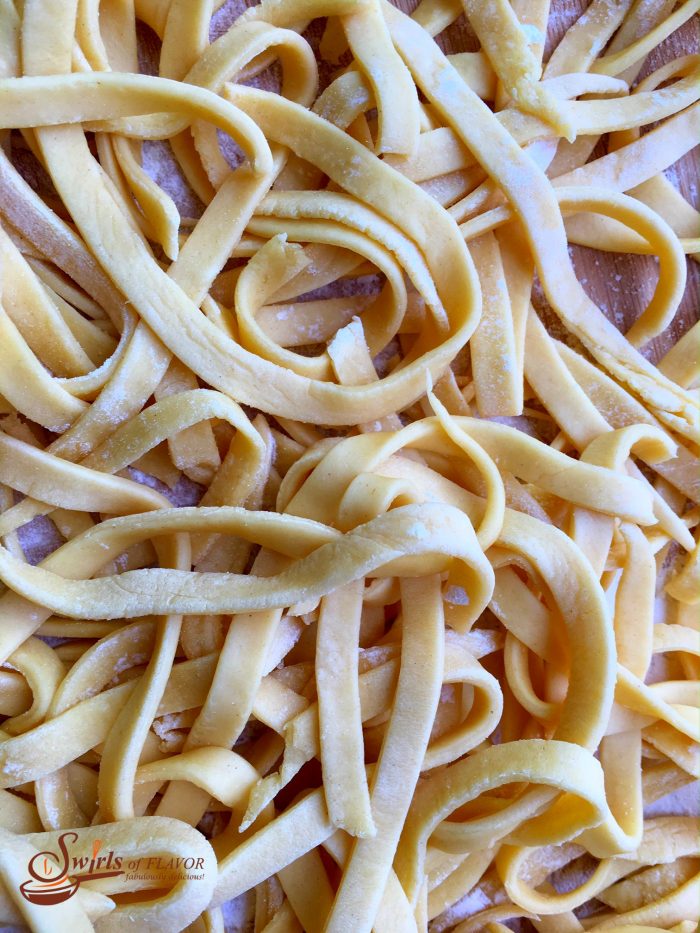 What are your fondest childhood memories? Mine are of my little Italian Grandma Dora making homemade pasta for our Sunday family dinners with my aunts, uncles and cousins. The importance of family was instilled in all of us from a very young age and I am so thankful that we are still close to this day. This post contains affiliate links. Check out our disclosure policy here.
Bum Bum as we affectionately called our grandma, stood tall at just 4 feet 10 inches with beautiful hazel eyes and a heart of gold. A strong, loving, kind woman, she was an amazing role model for all of us. Bum Bum came to this country from Italy as a young girl. She married my Grandpa Lamborghini, 16 years her elder, when she was just 19 years old in an old fashioned "arranged marriage" which were commonplace back in the day. They had four children, my mother being the second oldest, and lived in the Bronx, New York.
Bum Bum was your typical little Italian lady who loved to cook and make everything from scratch. Picking dandelion greens in the yard and making a fabulous soup with them signaled that spring had arrived. Toralles, the classic Italian cookie, formed into shapes including our initials (I loved that!) meant that the holidays were quickly approaching.
And homemade pasta, made with Bum Bum's special pasta machine and laid out to dry on the dining room table, made me a happy little girl because I knew my cousins would be arriving for dinner soon!

My mom carried on these traditions through the generations and now I do my best to carry the torch and make delicious memories with my four sons and their families. The best part of making homemade pasta with my grandchildren, besides the delicious memories we are making, is listening to them rave about how delicious their pasta is as they are eating it! They really love their own cooking! Too cute!

Thank you Bum Bum for teaching us the importance of family by your example, for teaching me how to make your homemade pasta and for making delicious memories that I treasure and savor to this day. xoxo

Homemade Pasta
3 cups sifted flour
4 large eggs
1 Tbs. olive oil
1/2 tsp, kosher salt
1. Arrange flour in a mound on a flat surface and make a well in the center.
2. Place eggs, oil and kosher salt in the well in the center of the flour.
3. Using a fork, lightly beat the eggs, oil and salt and then gradually draw in the flour until a dough has formed.
4. On a lightly floured surface knead dough until smooth.
5. Divide dough into two balls and wrap in plastic wrap. Let rest 30 minutes.
6. Cut each ball of pasta dough into thirds. Beginning with one piece of dough, flatten it a bit. Then, using the thickest setting on a pasta machine *, roll dough out. Sprinkle dough with a dusting of additional flour, fold in half and run through pasta machine again. Repeat this process several times of each setting , and moving to the other thickness settings on the pasta machine, until pasta is desired thickness. Repeat with remaining pasta dough until you have several sheets of pasta.
7. Sprinkle pasta sheet with a dusting of additional flour and run through cutting blade attachment of pasta machine to make 1/4-inch wide fettuccine. Arrange on lightly floured flat surface and repeat with remaining pasta sheets.
8. Pasta can be cooked once it is cut into strips or can be air-dried on a lightly floured counter or cutting board or arranged on a pasta drying rack and cooked later.
9. Bring a pot of salted water to a boil and cook pasta until it floats and is al dente, about 2-3 minutes. Drain and serve with your favorite sauce.
Makes 4 servings.
*No pasta machine? No problem! Just use a rolling pin and roll until pasta dough is desired thickness. Sprinkle pasta sheet with a dusting of flour and then roll up. Using a sharp knife, cut into 1/4-inch strips for fettuccine. Repeat with remaining sheets of pasta.