Easy Saint Patrick's Day Recipes from corned beef to cabbage to mashed potatoes and Irish soda bread. We have a recipe roundup for your Saint Patricks Day dinner. Easy recipes to celebrate your Irish!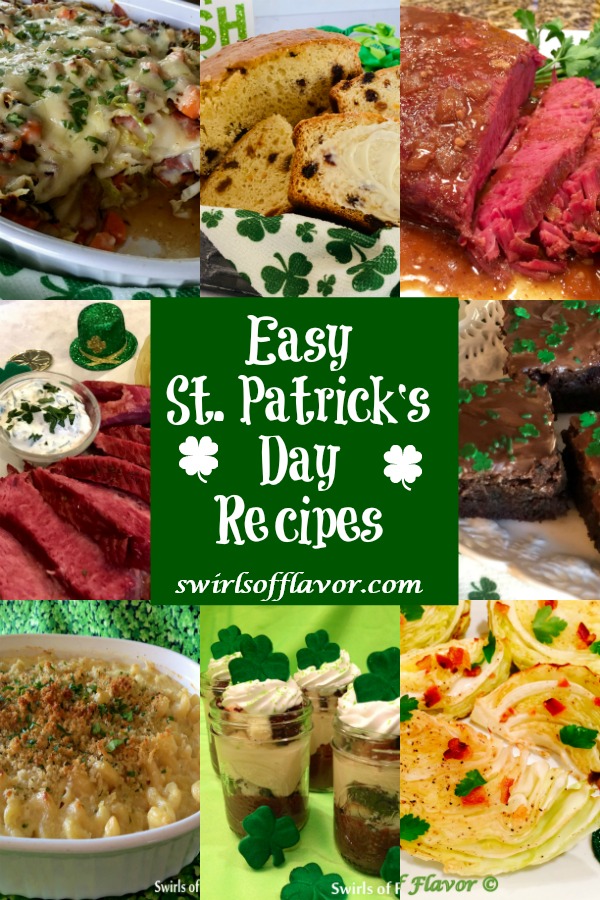 Easy Saint Patricks Day Recipes
Easy Saint Patrick's Day Recipes
Everyone is Irish on Saint Patrick's Day! Kick off your celebration with our Shooter Shakes filled with ice cream, with or without the alcohol. Bake up a sweet Irish Soda Bread that's easy enough you can make it together with the kids.
Then move on to the star of the show, corned beef. We have recipes for corned beef for your slow cooker, corned beef your oven and even corned beef your instant pot. The choice is yours.
Corned beef not your thing? Beef Stew With Guinness is Irish enough for any Irishman's dinner!
There must be side dishes to go with. Oven Roasted Cabbage with Bacon gives cabbage a whole new meaning and Creamy Mashed Potatoes will literally melt in your mouth.
An oven baked Macaroni and Cheese made with aged Irish cheddar cheese will be a hit any time of year. Love potatoes baked with a creamy sauce? Our easy Potatoes Au Gratin recipe was made for you.
Every Irish lad and lassie needs to finish with a sweet treat. No time to bake won't be an issue with Baileys Pudding Parfaits and Chocolate Chip Mint Brownies are so easy to make with their one ingredient frosting!
So go ahead and check out these delicious recipes and get your menu ready. It's time to celebrate your Irish!