Corned beef, cabbage and even potatoes all in a Corned Beef & Cabbage Casserole! Cabbage, carrots and sweet onions sauteed in a Guinness reduction are layered with cheddar & potato filled mini pierogies, corned beef and aged Irish cheddar cheese for a mouthwatering casserole guaranteed to please your favorite Irishman!
Every bite is filled with all the flavors of St. Patrick's Day! The best part is you get to relax and unwind with a tall cold glass of Giunness while your Irish Corned Beef & Cabbage Casserole bakes into cheesy deliciousness!
Being the daughter of an true Irishman with a lilting Irish brogue, I want to share an Irish blessing with you that my dad, my personal leprechaun, always loved. Happy St. Patrick's Day!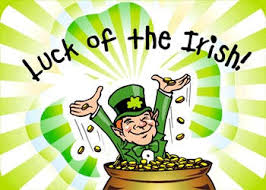 An Irish Blessing
May your troubles be less and your blessings be more
And nothing but happiness come through your door
Corned Beef & Cabbage Casserole
1 pkg. (12.84 ounces) frozen mini classic cheddar peirgoies
2 Tbs. butter
1 cup chopped carrots
1 cup chopped sweet onion, such as Vidalia
3 cups thinly sliced cabbage, about 6 ounces
1/2 tsp. kosher salt
1/4 tsp. garlic powder
1/4 tsp. pepper
1/2 cup Guinness tout beer or chicken broth
1/2 lb. (8 ounces) deli-sliced corned beef, chopped
1 pkg. (7 ounces) aged Irish cheddar, shredded, such as Kerrygold
1 Tbs. chopped parsley
1. Preheat oven to 375F. Coat a 1 1/2-quart baking dish with non-stick cooking spray.
2. Bring a pot of water to a boil over high heat and cook piergoies for 3 minutes. Drain and run under cold water to cool; reserve.
3. In large non-stick skillet melt butter over medium-high heat.
4. Cook carrots, onion, kosher salt, pepper and garlic powder until tender-crisp, about 5 minutes, stirring occasionally.
5. Stir in cabbage and cook until wilted and golden on edges, about 4 minutes, stirring occasionally.
6. Add Guinness and cook 2 minutes. Remove from heat and cool slightly.
7. Arrange half of reserved pierogies on bottom of prepared baking dish. Top with half of corned beef, half of cabbage mixture and 1 cup shredded cheese. Repeat with remaining ingredients ending with remaining shredded cheese.
8. Bake 25 minute or until heated through and cheese is melted.
9. Sprinkle with chopped parsley.
Makes 4 servings.