Colcannon Potatoes With Kale and Leeks, made with the trendy super food kale, is a twist on the traditional Irish side dish. Our Irish mashed potatoes is an easy recipe made with Yukon gold potatoes and buttery leeks making it a delicious and creamy potato side dish.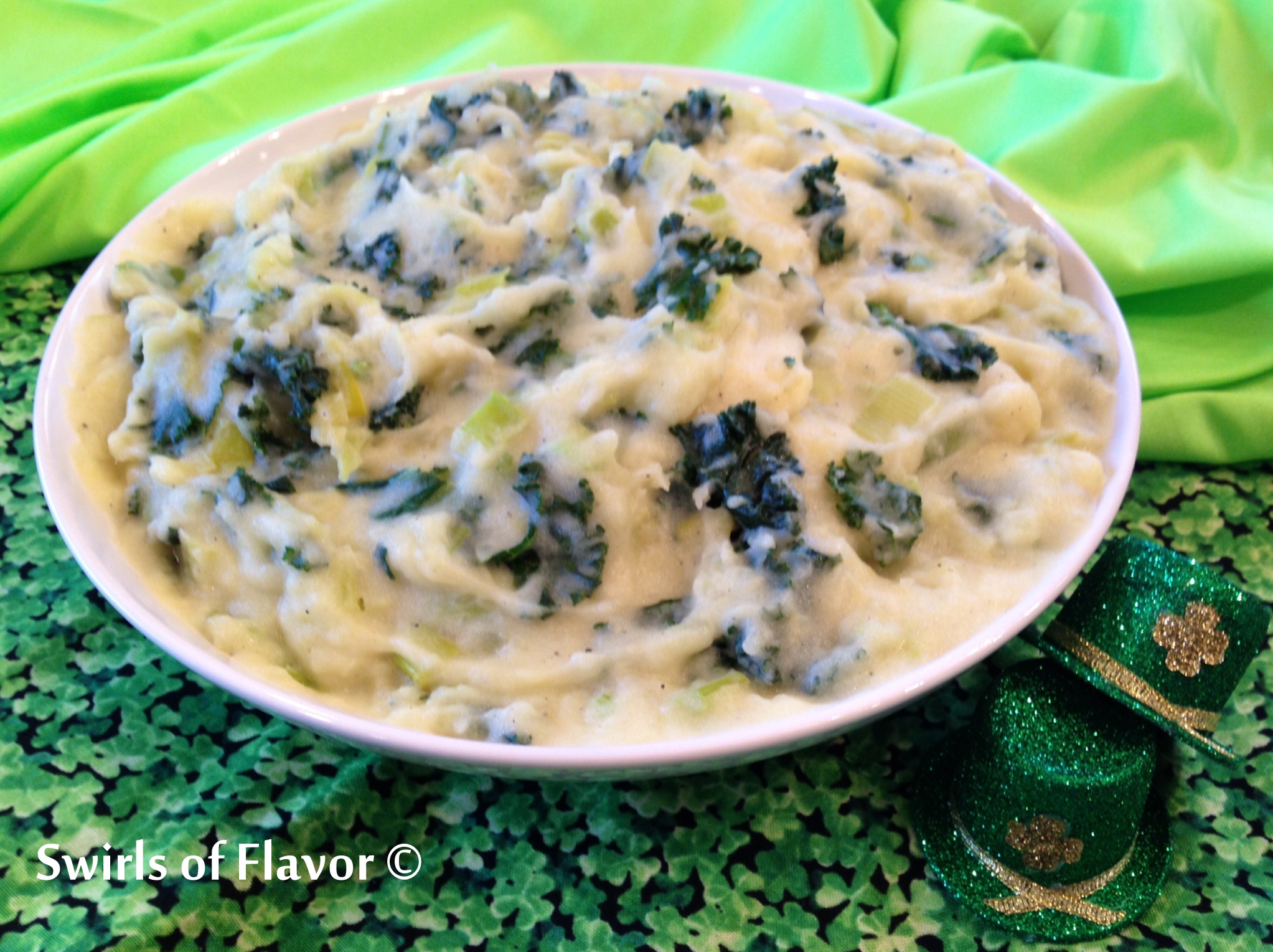 Colcannon With Kale Recipe
I've always made the traditional Irish mashed potato recipe of Colcannon with cabbage.
Then recently I was having a conversation with Phyllis, my daughter-in-law's mother, and she told me, with her lilting Irish brogue, of the fond memories she has of being "back home" as a young child and the delicious colcannon with kale that her mom would always make for them.
Kale? The new trendy super food? I was inspired! During my recipe development process Phyllis and her sister Breda, who also has a lovely Irish brogue, happened to be over for dinner and they absolutely loved my version of colcannon.
Now that's the ultimate compliment. The Irish sisters gave my take on this Irish side dish their seal of approval!
I used Yukon gold potatoes for their creamy texture and buttery flavor.
Leeks give this recipe a mild onion flavor. You can easily use sweet onions in this mashed potato recipe too.
Do you want to be indulgent? Replace the milk with half and half for a richer mashed potato.
Adding the potato water to the potatoes gives the potatoes more texture because you are adding some of the starch back into the potatoes.
Irish mashed potatoes are like no other. You get your buttery mashed potatoes and green vegetable all in one forkful. And man oh man does this easy side dish recipe taste so good.
And so here it is, a creamy mashed potato side dish with kale and leeks!
It is the perfect side dish accompaniment for a Saint Patrick's Day corned beef dinner! And it's Irish sister approved!
Happy St. Patrick's Day!
Check out all of our easy Saint Patrick's Day recipes!
Be sure to visit the Swirls of Flavor Amazon Storefront for GG's personal kitchen recommendations!
What is colcannon?
Colcannon is a traditional Irish mashed potato side dish made with cabbage and sometimes kale.
Swirls of Flavor Recipe Tips
Add cooked bacon to your Irish mashed potatoes
Top potatoes with additional butter
Using the potato water from cooking your potatoes adds additional texture to this recipe
Be sure to remove the stems on your bunch of kale
The dark green part of the leek is very tough. Only use the light green and white parts of the leek
Yukon gold potatoes give this recipe a buttery flavor
Substitutions
Substitute sweet onions for the leeks
Substitute scallions for the leeks
Make your potatoes more decadent and replace the milk with half and half
Substitute baby kale for the bunch of kale and reduce the cooking time to about 2 minutes or until wilted
Substitute your favorite dairy free milk for the milk
What to serve with colcannon
I make commissions for purchases made through links in this post.
Ingredients for Irish mashed potatoes recipe
potatoes
butter
kale
leeks
milk
Recipes to make on Saint Patrick's Day
You're off to a delicious start with Colcannon With Kale as a side dish on your Saint Patrick's Day table. Now add in one or more of these recipes for Saint Patrick's Day and you'll be all set!
Slow Cooker Corned Beef and Guinness Reduction combines the flavors of Guinness, brown sugar and horseradish mustard in your slow cooker all day long to flavor your corned beef. Once you're home just boil up the juices and make yourself a beautiful Guinness reduction to drizzle over your corned beef and mashed potatoes!
Give your cabbage a face lift this Saint Patrick's Day with our Roasted Cabbage Wedges With Bacon recipe! Wedges of cabbage are seasoned and oven roasted to tender perfection, then sprinkled with crumbled crispy bacon and fresh parsley leaves.
Guaranteed to be a family favorite, Irish Cheddar Mac 'n Cheese is both creamy and cheesy, and you don't have to be Irish to love it because everyone loves mac n cheese! Make it with an Irish cheddar cheese and you're all set for an Irish celebration.
No-Bake Bailey's Irish Cream Puddin N Cake Parfaits is an easy dessert recipe combining Irish Cream, pudding and cake. You're guaranteed to delight taste buds and make everyone wish they were Irish when you serve these no-bake Irish parfaits!
Print
Colcannon Potatoes with Kale and Leeks
Colcannon Potatoes With Kale and Leeks, made with the trendy super food kale, is a twist on the traditional colcannon recipe. Our Colcannon With Kale is an easy recipe made with Yukon gold potatoes and buttery leeks making it a delicious and creamy potato side dish.
Ingredients
3

lbs.

Yukon Gold potatoes

, peeled, cut in chunks, 8 cups

8

Tbs.

butter

1

bunch (8 oz.)

kale

, stems trimmed, leaves chopped, 7 cups

2

leeks

, white and light green parts sliced, 3 cups

1 1/2

tsp.

kosher salt

1/2

tsp.

pepper

1

cup

potato water

from pot of boiling potatoes

1

cup

milk
Instructions
In large pot combine potatoes and enough cold water to cover potatoes. Bring to a boil over high heat. Boil 20 minutes or until potatoes are tender. Drain, reserving 1 cup potato water from pot.

Meanwhile, in another large pot melt butter over medium-high heat. Add leeks and cook 4 minutes or until just softened, stirring occasionally. Stir in kale and cook additional 8 minutes or until wilted and tender, stirring occasionally.

Mash potatoes until smooth. Stir in milk, kale mixture and 1/2 cup reserved potato water. Gradually add additional remaining potato water, if necessary, for desired texture.
Notes
Makes 8 cups.
Swirls of Flavor Recipe Tips
Add cooked bacon to your Irish mashed potatoes
Top potatoes with additional butter
Using the potato water from cooking your potatoes adds additional texture to this recipe
Be sure to remove the stems on your bunch of kale
The dark green part of the leek is very tough. Only use the light green and white parts of the leek
Yukon gold potatoes give this recipe a buttery flavor
Substitutions
Substitute sweet onions for the leeks
Substitute scallions for the leeks
Make your potatoes more decadent and replace the milk with half and half
Substitute baby kale for the bunch of kale and reduce the cooking time to about 2 minutes or until wilted
Substitute your favorite dairy free milk for the milk
Nutrition
Calories:
264
kcal
|
Carbohydrates:
35
g
|
Protein:
5
g
|
Fat:
13
g
|
Saturated Fat:
8
g
|
Cholesterol:
33
mg
|
Sodium:
487
mg
|
Potassium:
796
mg
|
Fiber:
4
g
|
Sugar:
4
g
|
Vitamin A:
783
IU
|
Vitamin C:
36
mg
|
Calcium:
73
mg
|
Iron:
2
mg
First Published: March 17, 2014... Last Updated: March 13, 2022 for better readability and user experience