Give your cabbage a face lift this Saint Patrick's Day with our Baked Cabbage With Bacon recipe! Wedges of cabbage are seasoned, oven roasted to tender perfection, then sprinkled with crumbled crispy bacon and fresh parsley leaves.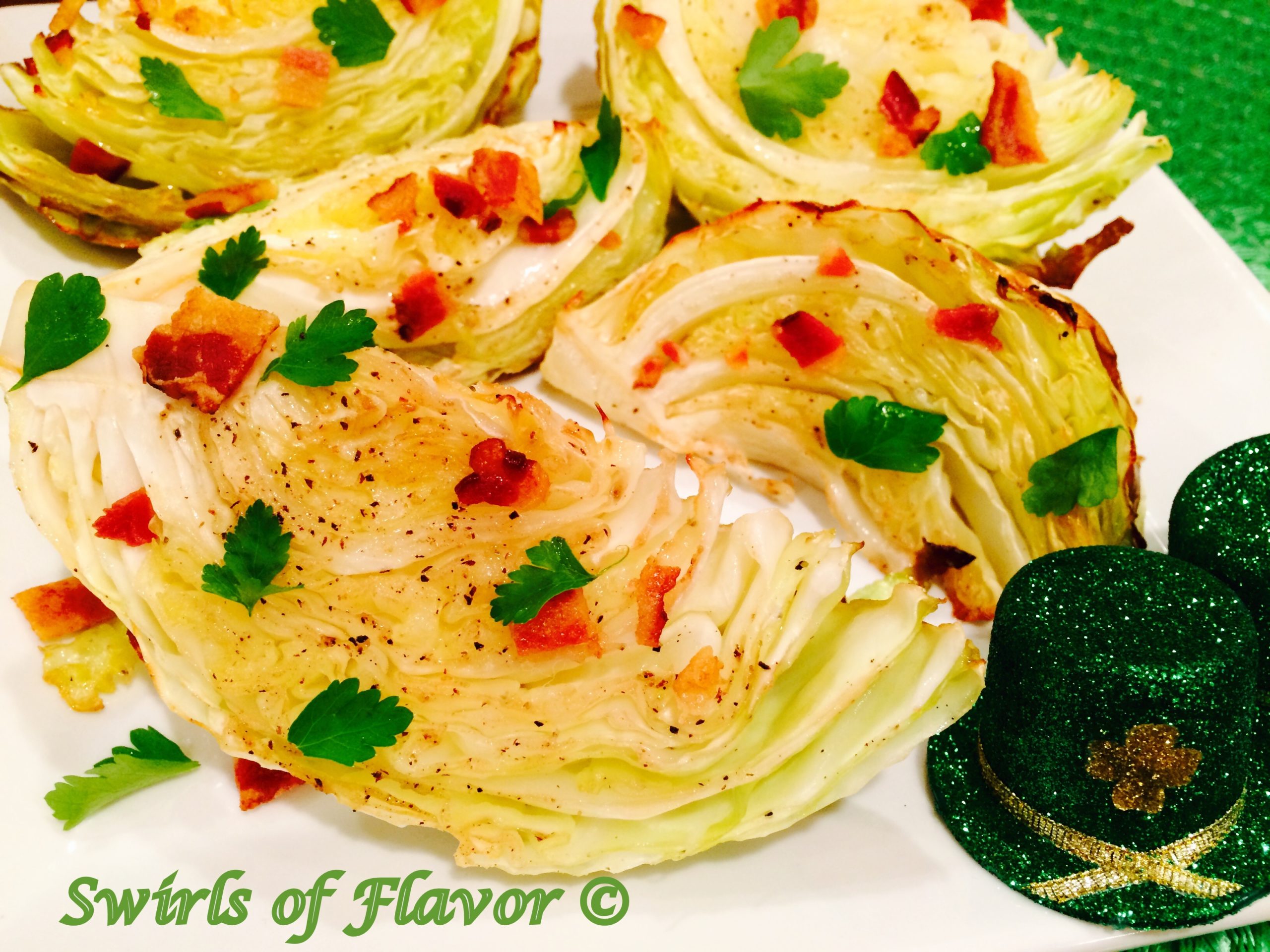 Baked Cabbage
Tired of boiled cabbage that has no flavor? Boiled cabbage gets a bad rap on Saint Patrick's Day, especially when it gets compared to the flavorful corned beef and oh-so buttery potatoes that are on the same plate. Enter Baked Cabbage!
This year will be different with our Baked Cabbage Wedges! Everyone's Irish on Saint Patrick's Day and everyone will want to be Irish when they taste this easy oven roasted cabbage recipe!
Wedges of cabbage are brushed with olive oil and lightly seasoned with garlic powder, kosher salt and pepper. These wedges roast to tender perfection in the oven.
Finish them off with a sprinkling of crumbled crispy bacon and fresh parsley leaves and we are talking a whole lotta deliciousness.
Move over corned beef and potatoes, Roasted Cabbage Wedges are here!
Swirls of Flavor Recipe Tips
Add sliced carrots
Use turkey bacon
Add chopped apple for a hint of sweetness

Cabbage FAQ's
Is roasted cabbage healthy?
Yes, roasted cabbage is definitely healthy.
Half a cup of cooked cabbage contains one third of the amount of vitamin C that you need for an entire day.
Cabbage also provides:
Fiber
Folate
Magnesium
Potassium
Vitamin A
Vitamin K
Is cabbage good for weight loss?
Cabbage is low in fat an high in fiber making it good for weight loss.
Ingredients you will need to make this recipe
cabbage – traditional Irish vegetable
olive oil – helps the cabbage to roast
garlic powder- adds a savory flavor
kosher salt
pepper
bacon – adds crunch and flavor
parsley – a bright fresh herb
Related Recipes
Add these fabulous recipes to your dinner table for a fabulous Irish celebration! They're easy, delicious and will soon become your go-to menu choices for Saint Patrick's Day every year.
Kick off your party with Shamrock Shake Shooters! Our shooters are made with vanilla ice cream, Irish Whiskey, mint flavoring and tinted green, and are sure to be the hit of your Saint Patrick's Day! Kids will love these little shooters too, without the Irish whiskey of course!
Guaranteed to be a family favorite, Irish Cheddar Mac 'n Cheese is both creamy and cheesy, and you don't have to be Irish to love it because everyone loves mac n cheese! Make it with an Irish cheddar cheese and you're all set for an Irish celebration.
Guinness, brown sugar and horseradish mustard combine in your slow cooker and flavor your corned beef. Slow Cooker Corned Beef & Guinness Reduction cooks on it's own during the day for an easy Saint Patrick's Day dinner you can come home too!
Creamy Garlic Infused Mashed Potatoes is an easy recipe that's perfect for holiday menus. Buttery Yukon Gold potatoes cook together with cloves of garlic then are mashed with butter and cream cheese creating creamy garlic potatoes that are bursting with flavor.
Beef Stew With Guinness is true Irish pub comfort food. Tender pieces of beef are surrounded by sweet carrots, potatoes and onions in a savory, rich and flavorful gravy. Our Irish Beef Stew will warm you up on a chilly evening and be a hit on your Saint Patrick's Day table too!
All the leprechauns at your table will think they've found the pot of gold at the end of the rainbow when you finish dinner with Bailey's Irish Cream Puddin' 'N Cake Parfaits! Happy Saint Patrick's Day!
This post contains affiliate links. As an Amazon Associate I earn from qualifying purchases.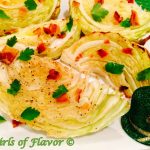 Baked Cabbage With Bacon
Wedges of cabbage are seasoned and oven roasted to tender perfection, then sprinkled with crumbled crispy bacon and fresh parsley leaves.
Keyword:
baked cabbage, cabbage wedges
Instructions
Preheat oven to 425F.

Cut cabbage into 6 wedges.

Arrange wedges on a baking sheet with shallow sides.

Brush all sides of wedges with olive oil and sprinkle with garlic powder, kosher salt and pepper.

Roast 45 minutes or until wedges are tender and golden brown on edges, turning once.

Sprinkle with crumbled bacon and parsley.
Nutrition Facts
Baked Cabbage With Bacon
Amount Per Serving
Calories 83
Calories from Fat 72
% Daily Value*
Fat 8g12%
Cholesterol 4mg1%
Sodium 229mg10%
Potassium 28mg1%
Carbohydrates 1g0%
Protein 2g4%
Vitamin A 112IU2%
Vitamin C 2mg2%
Calcium 2mg0%
Iron 1mg6%
* Percent Daily Values are based on a 2000 calorie diet.
First Published: March 14, 2016... Last Updated: March 2, 2021