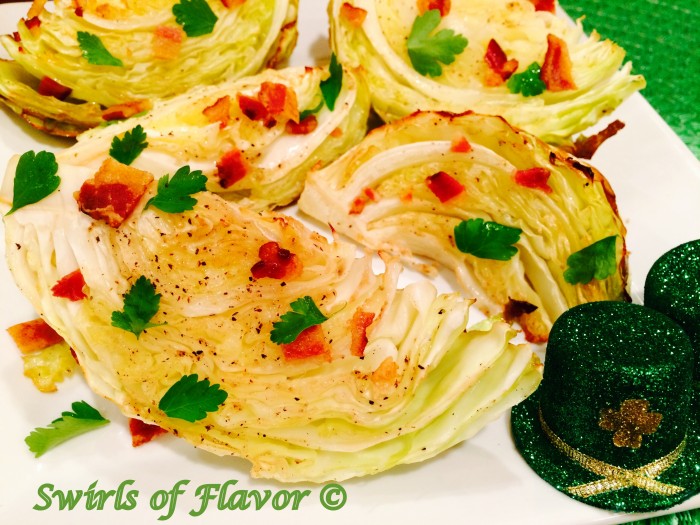 Everyone's Irish on Saint Patrick's Day and everyone will want to be Irish when they taste Roasted Cabbage Wedges With Bacon! Wedges of cabbage are seasoned and oven roasted to tender perfection, then sprinkled with crumbled crispy bacon and fresh parsley leaves. Add Slow Cooker Corned Beef & Guinness Reduction, Irish Cheddar Mac 'N Cheese, Nursery School Irish Soda Bread and Colcannon With Kale and Leeks to the dinner table for a fabulous Irish celebration! And all the leprechauns at your table will think they've found the pot of gold at the end of the rainbow when you top it off with Bailey's Irish Cream Puddin' 'N Cake Parfaits! Happy Saint Patrick's Day!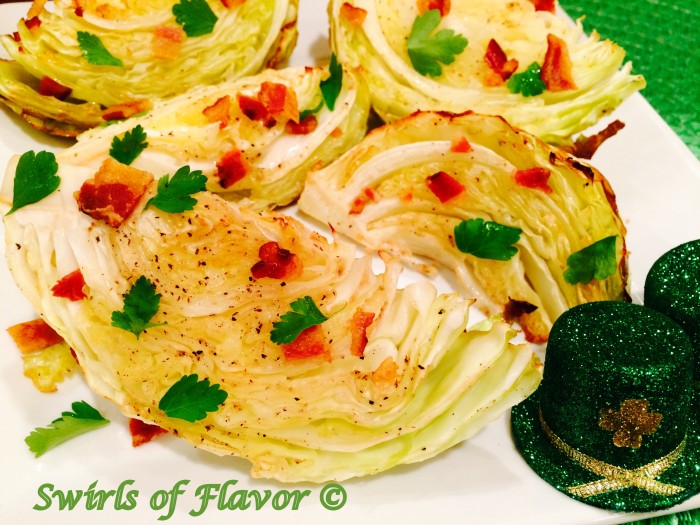 Roasted Cabbage Wedges
2016-03-14 18:16:40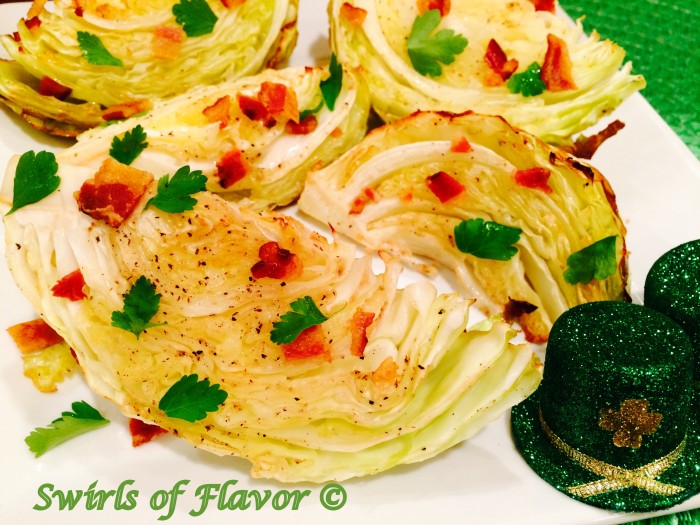 Serves 6
Nutrition Facts
Amount Per Serving
* Percent Daily Values are based on a 2,000 calorie diet. Your Daily Values may be higher or lower depending on your calorie needs.
Ingredients
1 (2 lbs.) cabbage
3 Tbs. olive oil
1/2 tsp. garlic powder
1/2 tsp. kosher salt
1/4 tsp. pepper
3 slices crisp-cooked bacon, crumbled
2 Tbs. parsley leaves
Instructions
Preheat oven to 425F.
Cut cabbage into 6 wedges.
Arrange wedges on a baking sheet with shallow sides.
Brush all sides of wedges with olive oil and sprinkle with garlic powder, kosher salt and pepper.
Roast 45 minutes or until wedges are tender and golden brown on edges, turning once.
Sprinkle with crumbled bacon and parsley.
Swirls of Flavor https://swirlsofflavor.com/