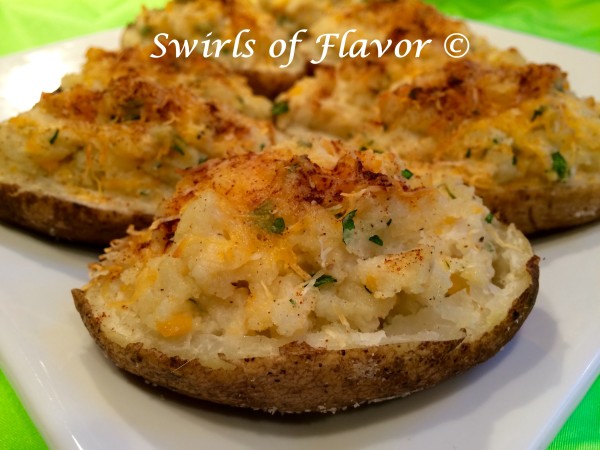 Potatoes, the perfect accompaniment to any dinner! Twice baked potatoes are an ideal way to prepare your spuds ahead and just heat up before serving, making them a welcome addition to a busy holiday meal. I always bake one extra potato for more potato filling and rub the potato skins with olive oil and a sprinkle of kosher salt! The potato skins will taste as wonderful as the filling! Buttery and cheesy, Twice Baked Cheddar Potatoes are lightened with Greek yogurt, giving them just a hint of tangy-ness too!
If you're in search of ideas for potato recipes, then you'll definitely want to check out our Potato Recipe Round Up! Look no further than our Thanksgiving Potato Recipes Round Up that's bursting with thirty seven delicious white and sweet potato recipes that will compliment any holiday dinner. Choose from mashed potatoes, baked potatoes, creamy potatoes, crumb topped potatoes, instant pot potatoes, slow cooker potatoes and even French fries. Your holiday potato recipe is waiting for you!
Twice Baked Cheddar Potatoes
5 baking potatoes, such as Idaho or Russet
2 tsp. olive oil
1 tsp. kosher salt, divided
3/4 cup shredded cheddar cheese, divided
1/2 cup plain Greek yogurt
3 Tbs. butter, melted
1/4 tsp. garlic powder
1/4 tsp. pepper
1/4 tsp. paprika
1. Preheat oven to 400F.
2. Rub potato skins with olive oil and sprinkle with 1/2 tsp. kosher salt. Arrange potatoes on baking sheet and bake 1 hour or until tender when squeezed. Let cool slightly.
3. Reduce oven temperature to 350F.
4. Cut potatoes in half horizontally. Scoop out potato to within 1/4-inch of skin. Discard skin from one potato. Arrange remaining potato shells on baking sheet.
5. In bowl mash scooped potato until smooth. Stir in 1/2 cup cheddar, Greek yogurt, butter, garlic powder, pepper and remaining 1/2 tsp. kosher salt until blended. Spoon mixture into potato skins. Top with remaining 1/4 cup cheddar and sprinkle with paprika.
6. Bake until potato is heated through and cheese is melted, 25-30 minutes.
Makes 8 servings.