`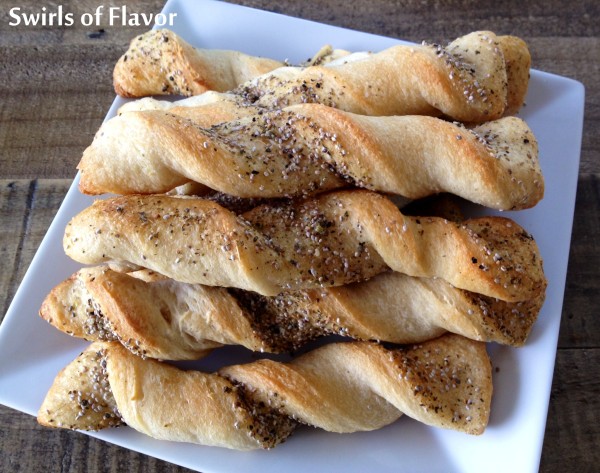 What's higher in omega 3's than salmon, contains more antioxidants that blueberries, and has more fiber than bran flakes? The new trendy superfood chia seeds, of course! So why have just ordinary garlic breadsticks when you can have nutritious, delicious and extraordinary Chia Garlic Breadstick Twists? This nutrient dense nutty-tasting seed is not only rich in omega 3's, antioxidants and fiber it also provides calcium, phosphorous, protein and magnesium! It's beneficial for those dealing with diabetes, hypoglycemia, celiac disease and high cholesterol. Chia seeds are definitely a superfood worth adding to your pantry! Sprinkle them on salads and yogurt, stir into butter, add to your pancake batter, and of course, bake up a batch of Chia Garlic Breadstick Twists! 
Chia Garlic Breadstick Twists
1 tube (11 oz.) refrigerated breadsticks dough
1 Tbs. butter, melted
1 Tbs. whole white chia seeds, Melissa's Produce*
1 tsp. dried Italian seasoning
1/2 tsp. garlic powder
1/2 tsp. kosher salt
1/4 tsp. cracked black pepper
1. Preheat oven to 375F.
2. Unroll breadsticks dough on flat surface. Do not separate at perforations yet.  Brush with melted butter. Sprinkle chia seeds, Italian seasoning, garlic powder, kosher salt and cracked black pepper over dough. Gently press to adhere.
3. Separate dough at perforations and twist. Arrange 2-inches apart on ungreased baking sheet.
4. Bake 12 minutes or until golden.
Makes 12 breadsticks.
*Whole white chia seeds courtesy of Melissa's Produce.