Thirty years ago, yes, a very long time ago, I came across what would become my absolute favorite Irish Soda Bread recipe when the oldest of my four sons ventured off to nursery school. St. Paul's Nursery School in Montvale, New Jersey, compiled simple recipes in a little cookbook that the three year olds would make together at school with their teacher. This is where I came across this delicious recipe that is so easy even a three year old could make it, with a bit of supervision, of course! I have been making it ever since, with some variations every now and then. It tastes delicious warm or at room temperature, with butter or cream cheese, and is especially delicious the next day, toasted, with a cup of Irish tea for breakfast. Makes me so happy to be Irish!
Round out your St. Patrick's Day menu with Slow Cooker Corned Beef & Guinness Reduction , Colcannon With Kale And Leeks and Roasted Cabbage Wedges With Bacon, of course! And don't forget the dessert, No-Bake Bailey's Irish Cream Puddin' 'N Cake Parfaits!
Nursery School Irish Soda Bread
4 cups flour
1 cup granulated sugar
1 cup raisins, preferably Mixed Jumbo Raisins, such as Sunmaid
1 Tbs. + 2 tsp. baking powder
1 Tbs. caraway seeds
1/2 tsp. kosher salt
1/4 tsp. baking soda
1 1/2 cups milk
1 egg, lightly beaten
2 Tbs. butter, melted
1. Preheat oven to 325F. Coat 9-inch round cake pan with cooking spray.
2. In large bowl combine flour, sugar, raisins, baking powder, caraway seeds, salt and baking soda.
3. Stir in milk and egg until a dough forms.
4. To prevent dough from sticking to your hands, either wet them with cold water or coat them with cooking spray, then shape dough into round loaf. Transfer to prepared pan.
5. Bake 45 minutes. Using serrated knife, cut 1/2-inch deep "X" into top of bread. Brush with melted butter. Bake additional 30 minutes or until loaf sounds hollow when tapped.
Recipe adapted from St. Paul's Nursery School "We like to cook" cookbook.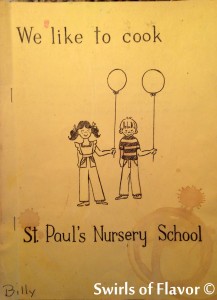 I still have the original St. Paul's Nursery School "We like to cook" cookbook from thirty years ago!
As you can clearly see, it's spent a lot of time in my kitchen over the years!