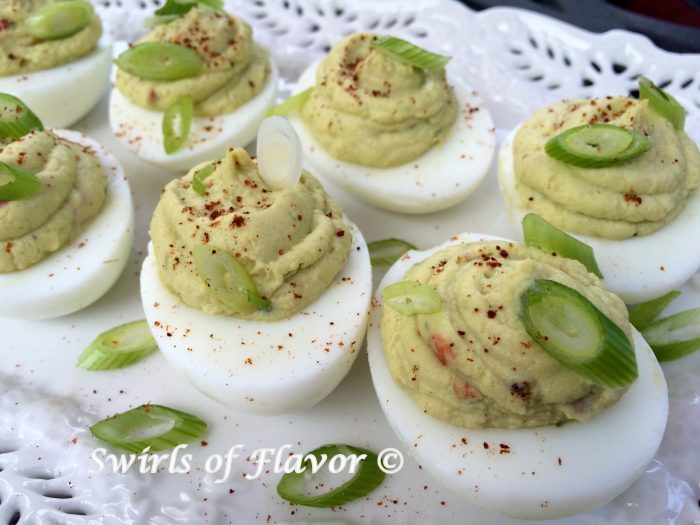 Deviled eggs. An ever popular party and picnic food throughout the years. The long history of the deviled egg includes classic deviled eggs and deviled eggs filled with a wide variety of flavors. And now, with Sabra's Veggie Fusions, deviled eggs just rose to a new level of deliciousness and easiness!
Sabra's latest innovation in fresh dips and spreads is a packaged guacamole that is a blend of fresh, ripe Haas avocados with lots of crisp colorful and nutritious vegetables picked at the height of ripeness, adding antioxidants, fiber and vitamins. Available in three flavor varieties, Garden Vegetable, South Western and Mango Lime, they contain 30% less fat than leading guacamoles and can be found in the deli section of grocery stores and supermarkets nationwide. The flavors are bursting with fresh flavors with the perfect amount of seasonings. I combined Sabra's Veggie Fusions South Western flavor with egg yolks and a hint of sour cream for a flavorful and creamy deviled egg filling!
Guacamole Deviled Eggs
2016-05-16 15:01:56
Serves 12
Nutrition Facts
Amount Per Serving
* Percent Daily Values are based on a 2,000 calorie diet. Your Daily Values may be higher or lower depending on your calorie needs.
Ingredients
12 large eggs
1 pkg. (7 ounces) Sabra Veggie Fusions South Western flavor*
1/4 cup sour cream
1 scallion, sliced on diagonal, 1/4 cup
1/8 tsp. chili powder or paprika
Instructions
Place eggs in pot with cold water completely covering the eggs and bring to a boil over medium-high heat. Remove from heat and let stand, covered, 11 minutes. Drain water and cover eggs with cold water until cooled.
Peel eggs and slice in half lengthwise.
In bowl combine egg yolks, Veggie Fusions and sour cream until blended.
Spoon or pipe mixture into egg white halves.
Top with scallions and sprinkle with chili powder.
Notes
Makes 12 servings/2 halves per serving.
*TIP: Change up the flavor profile and use Garden Vegetable or Mango Lime variety!
Swirls of Flavor https://swirlsofflavor.com/
Disclosure: I received Sabra's Veggie Fusions samples for purposes of reviewing and as products to feature on my blog. All opinions are my own and the recipe is original.