Seasoned with fresh basil and filled with tortellini and springtime greens, our homemade dandelion soup recipe has been a favorite in my family throughout the generations! Spring has arrived when there's a pot of Grandma's Dandelion Soup simmering on the stove!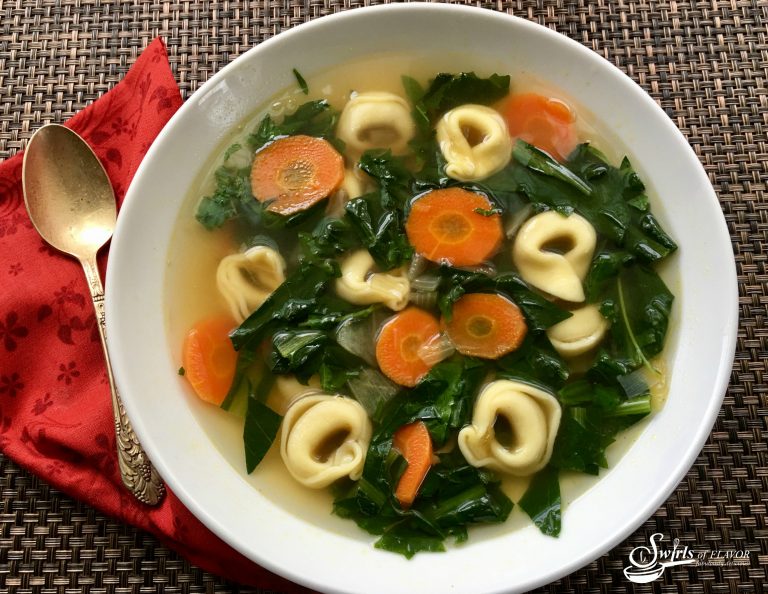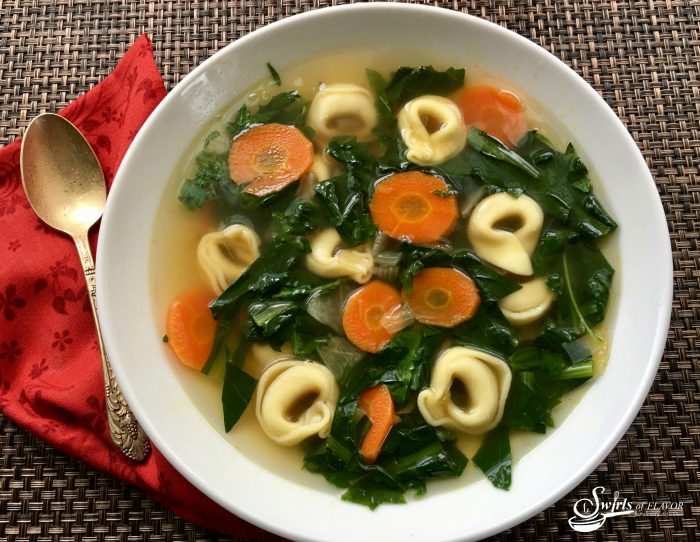 Dandelion Soup Recipe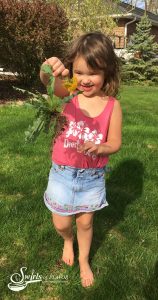 Spring has sprung! And so have the dandelions! And I have to tell you just how happy that makes me! Let me explain.
First Published: May 1, 2017... Last Updated: October 24, 2019
I have such fond memories of my little Italian grandma in our yard, with her apron wrapped securely around her waist. She was happily filling her apron pockets with those newly sprouted dandelion greens and I knew that we would soon be having a fabulously delicious bowl of Grandma's Dandelion Soup!
As an Amazon Associate I earn from qualifying purchases.
Those pesky little yellow "flowers" and their greens signal the start of a new season, a new beginning of growth and a simmering pot of dandelion greens soup.
Bum Bum, as we affectionately called our grandma, taught me by her example, the true meaning of eating" clean and green" and what "yard to table" really is!
She created delicious memories for our family that I treasure to this day and happily pass along through the generations to my own sons and grandchildren.
Start making your family's delicious memories today!

Dandelion FAQ's
Can I pick my own dandelion greens?
Yes, you can actually pick your own dandelion greens but it is important to keep a few things in mind.
If you are picking your own dandelion greens, be sure they have not been treated with any pesticides.
Dandelion greens are best when you pick them before the dandelion flower has bloomed.
Where can I get dandelion greens?
Dandelion greens are available at:
farmers markets
health food stores
the produce section of grocery stores
co-ops in the spring and early summer months.
What are the health benefits of dandelions?
Dandelions are not only delicious but also nutritious! Dandelion greens are:
rich in iron
high in calcium
brimming with many minerals
low in calories
filled with antioxidants
14% protein
a multivitamin green
a detox green
What can I use instead of dandelion greens?
You can substitute several other greens in place of the dandelion greens such as:
Arugula
Baby kale
Baby spinach
Mustard greens

I make commissions for purchases made through links in this post.
Need a break from cooking every now and then? Explore the Best-Selling Meal Plans! Check out the freshly prepared, restaurant quality gourmet meals from Home Bistro that will be delivered right to your very own home. Sometimes you just need to treat yourself because you deserve it!
Ingredients you will need to make this recipe
olive oil
onion
carrots
garlic
kosher salt
pepper
chicken broth
frozen cheese tortellini
dandelion greens
fresh basil
grated Parmesan cheese
Easy Soup Recipes

Our creamy Slow Cooker Broccoli Cheddar Soup is brimming with fresh veggies and two cheeses. Broccoli, carrots and onions simmer in your crockpot with vegetable broth topped with cheddar and cream cheese making a tender mixture that you whirl up into a smooth and creamy soup. An easy broccoli and cheddar soup recipe that will quickly become a comfort food favorite.
The fresh clean flavors of garlic, fresh ginger and lime and the buttery creaminess of chunks of avocados come together to create Avocado Lime Chicken Soup, a new comfort soup favorite!
Slow Cooker Mushroom Barley Soup is bursting with tender mushrooms, carrots, celery and onions complimented with bits of barley in a perfectly seasoned broth. Let your slow cooker do the work for you with this easy beef mushroom barley slow cooker recipe for dinner tonight!

Spaghetti and Meatball Soup is a fun twist on the all-time favorite comfort food. All the elements of a traditional spaghetti and meatball dinner, spaghetti, meatballs and tomatoes, are combined in a bowl of soup! An easy recipe that's on the table in less than 30 minutes and so much fun for kids too!
Thailand has arrived in your kitchen when you make Thai Ginger Vegetable Noodle Soup! Our vegetarian Thai noodle soup is filled with fresh veggies, seasoned with fresh ginger, cilantro and lime, and finished with rice noodles for a Thai flavor experience! Homemade soup never tasted so good!
Slow Cooker Ginger Carrot Soup is avegetarian soup that will fit beautifully into your plant-based vegan lifestyle. Bursting with the flavors of fresh vegetables, ginger, coconut milk and cilantro, our carrot ginger soup recipe will please every palate. Let your crockpot do the cooking for you!
Grandma's Dandelion Soup
Spring has arrived when there's a pot of Grandma's Dandelion Soup simmering on the stove! Seasoned with fresh basil and filled with tortellini and springtime greens, Dandelion Soup has been a favorite in my family throughout the generations!
Ingredients
2

Tbs.

olive oil

1

onion

, chopped, 1 cup

2

carrots

, peeled and sliced, 1 cup

2

cloves

garlic

, minced

1/2

tsp.

kosher salt

1/4

tsp.

pepper

6

cups

chicken broth

1

pkg. (16 ounces)

frozen cheese tortellini

4

cups

chopped dandelion greens

, tough stems discarded*

1/4

cup

chopped fresh basil leaves

1/4

cup

grated Parmesan cheese
Instructions
Heat oil in saucepot over medium-high heat.

Add onion, carrots, garlic, kosher salt and pepper and cook until tender-crisp, about 5 minutes.

Add broth and greens and bring to a boil. Add tortellini and cook until tortellini is al dente and greens are tender, 5-7 minutes.

Stir in cheese and fresh basil.
Notes
Makes 8 cups/6 servings.
*Delicious also with baby kale, baby spinach or mustard greens!
Nutrition
Calories:
106
kcal
|
Carbohydrates:
9
g
|
Protein:
4
g
|
Fat:
7
g
|
Saturated Fat:
2
g
|
Cholesterol:
4
mg
|
Sodium:
1127
mg
|
Potassium:
425
mg
|
Fiber:
2
g
|
Sugar:
2
g
|
Vitamin A:
7211
IU
|
Vitamin C:
32
mg
|
Calcium:
143
mg
|
Iron:
2
mg
This recipe is part of Meal Plan Monday and Weekend Potluck